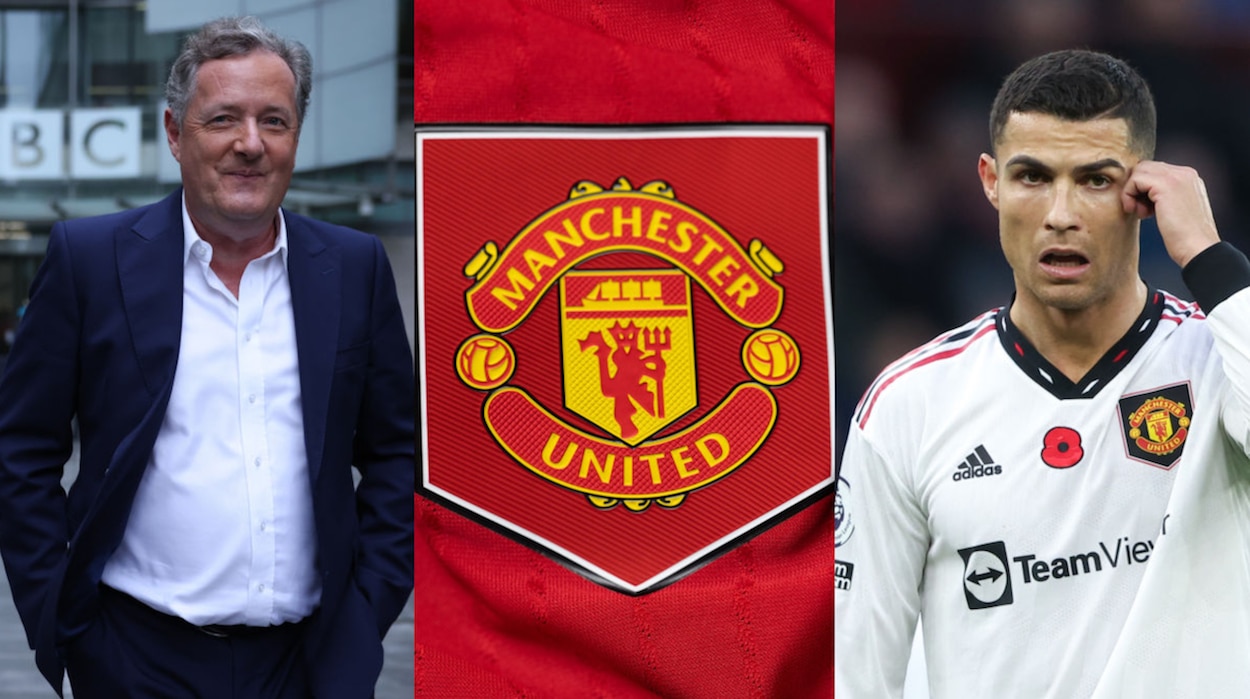 Manchester United Owe Piers Morgan a Massive 'Thank You' for Accelerating Their Rebuild
If everything works out, Manchester United supporters will thank Piers Morgan for helping to get their club back on the right path.
Soccer fandom runs deep. Once you start supporting a club, there's (theoretically) no going back. In the case of Piers Morgan, that means living and dying with Arsenal. Whether he intended it or not, though, the TV personality recently did Manchester United a massive favor.
As you probably know by now, Morgan did an explosive interview with Cristiano Ronaldo, in which the Portuguese superstar essentially took a blow torch to the Red Devils' brass. In light of those quotes, CR7 and the club ended up parting ways by mutual consent.
And while it might seem immediately painful, United owes Morgan a massive "thank you." Moving on from the aging star was probably going to be one of the biggest challenges of the current rebuild. The interview, however, made it relatively easy.
By moving on from Cristiano Ronaldo, Manchester United are one step closer to their goal
While the term "rebuilding" can be touchy — plenty of United supporters would probably argue the club is too big to truly tear it all down — it's fair to say that the Red Devils need to make some changes. The current squad features some big names on massive wages who aren't performing on the pitch. Those players need to be replaced by fresh faces who fit manager Erik ten Hag's vision.
Getting rid of those unwanted names, though, can be quite the challenge. From a financial perspective, very few clubs in the world can match Manchester United's wages. That reality limits the market; very few players are going to take a pay cut in order to move to a theoretically worse team. In a similar vein, there's also a personal component to any move. If you're someone like Harry Maguire, for example, leaving Old Trafford would essentially admit defeat and say, "I'm not good enough to play here."
Those factors were certainly present for Cristiano Ronaldo — he theoretically would have left during the summer transfer window but couldn't find anyone to take on his wages — but his star power further complicated matters. To draw a parallel to Piers Morgan's beloved Arsenal, think back to when Mikel Arteta moved Mesut Ozil and Pierre-Emerick Aubameyang out of the club. There was plenty of debate, disagreement, and concern that those decisions would hurt the club.
Now consider Ronaldo's fan base and how the Portuguese star divides opinion. Dropping him from the squad was controversial enough. Selling him would have kicked off a massive firestorm.
None of that happened, though. His interview with Morgan was so dramatic that United were able to move on and look completely justified in doing so.
This moment could prove to be crucial in Manchester United's turnaround
If you take a big-picture look at Manchester United, their biggest recent failure has been the lack of a cohesive vision. Ever since Sir Alex Ferguson retired, the club has been chasing its metaphorical tale. A new manager will come in, buy players, and then underperform. He'll be replaced by another bench boss, who, in turn, brings in more players before ultimately getting the axe. That creates a bloated, mismatched squad and a culture without consequences. If you don't like the manager, just wait a bit, and he'll be gone anyway.
In a sense, the signing of Cristiano Ronaldo is the perfect example of the club's flaws. CR7 was theoretically going to Manchester City, but United's ego couldn't take that. The club stepped in, going for the star signing, handing him massive sums of money, and figuring the details would sort themselves out later. Spoiler warning: They didn't. The Portuguese striker scored some goals and gave everyone an initial thrill, but when it became clear that he wasn't part of the long-term vision, he couldn't accept that.
Speaking as someone who supports a club other than United, that's what kept me feeling relatively comfortable. Sure the club is a commercial juggernaut with virtually unlimited money, but they'll make plenty of poor decisions and fail to build a cohesive vision. While we've seen plenty of false dawns, bringing in Erik ten Hag and moving on from Ronaldo in a (relatively) painless way could suggest that the Red Devils are on the right track.
While this is all hypothetical, consider the following timeline:
With Ronaldo out of the club, Manchester United put together a strong second half of the season and push for Champions League football. Whether they make it or not, everyone's feeling good about the direction of the club.
Erik ten Hag is backed in the summer, both in terms of moving players out and bringing his targets in. That leads to more Lisandro Martinez-style moves and fewer Harry Maguires.
Then, in turn, we see a situation where ETH is viewed as the long-term manager and gets the trust required to properly lead the project. Ideally, that lets him build with a bigger picture in mind and act as something of a sporting director, which will only create more stability.
If that happens, Manchester United will look a lot more like their old selves. And, if that's the case and they start pushing for titles again, Piers Morgan will have played a role in the turnaround.