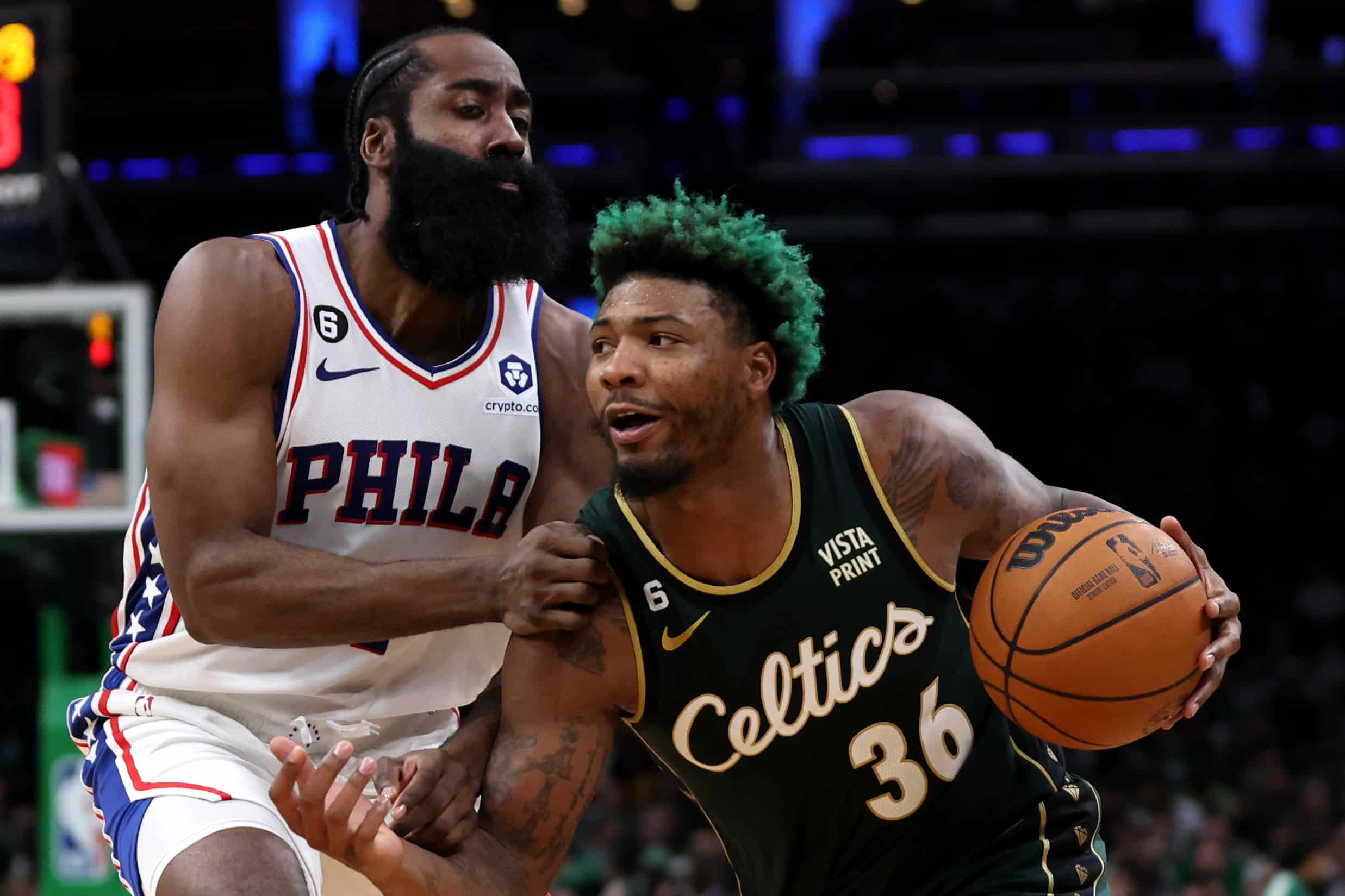 Marcus Smart Talks Boston Celtics Maturity: 'I Could've Cracked His Head Open, but I Didn't'
Marcus Smart and the Boston Celtics are motivated to raise Banner No. 18 to the TD Garden rafters.
These Boston Celtics are different. A year ago, they roller-coastered their way from an underachieving team to an NBA Finals participant. During that run, they grew. They learned a lot about themselves. Veteran guard Marcus Smart said all of that showed during Tuesday's season-opening victory over the Philadelphia 76ers.
During the preseason, players said camp felt like they played as if they picked right up where they left off last year. After Tuesday's game, Smart talked about the team's maturity level. That included him holding back from taking a swing at 76ers star Joel Embiid.
Marcus Smart gathered himself after an incident with Joel Embiid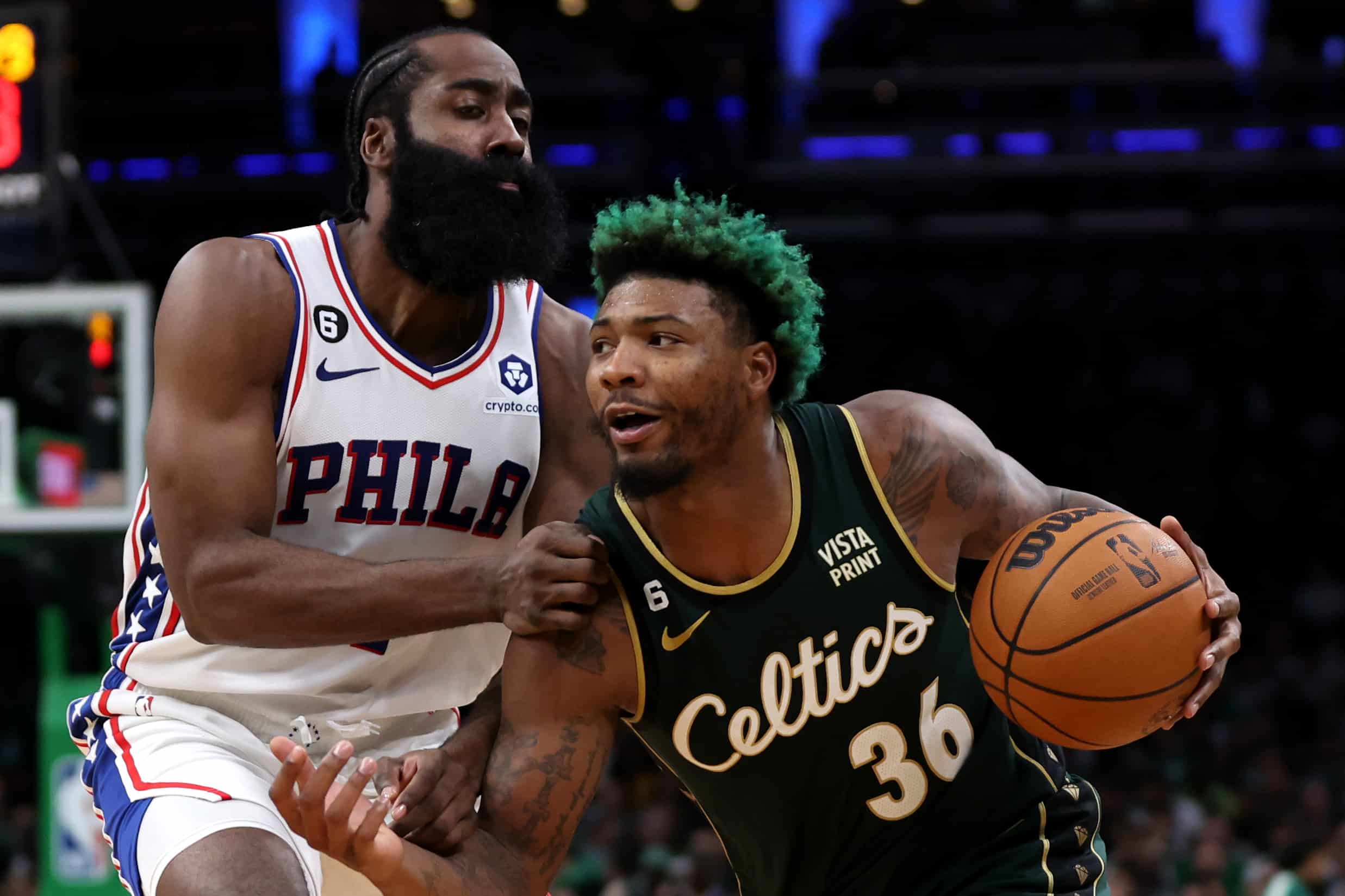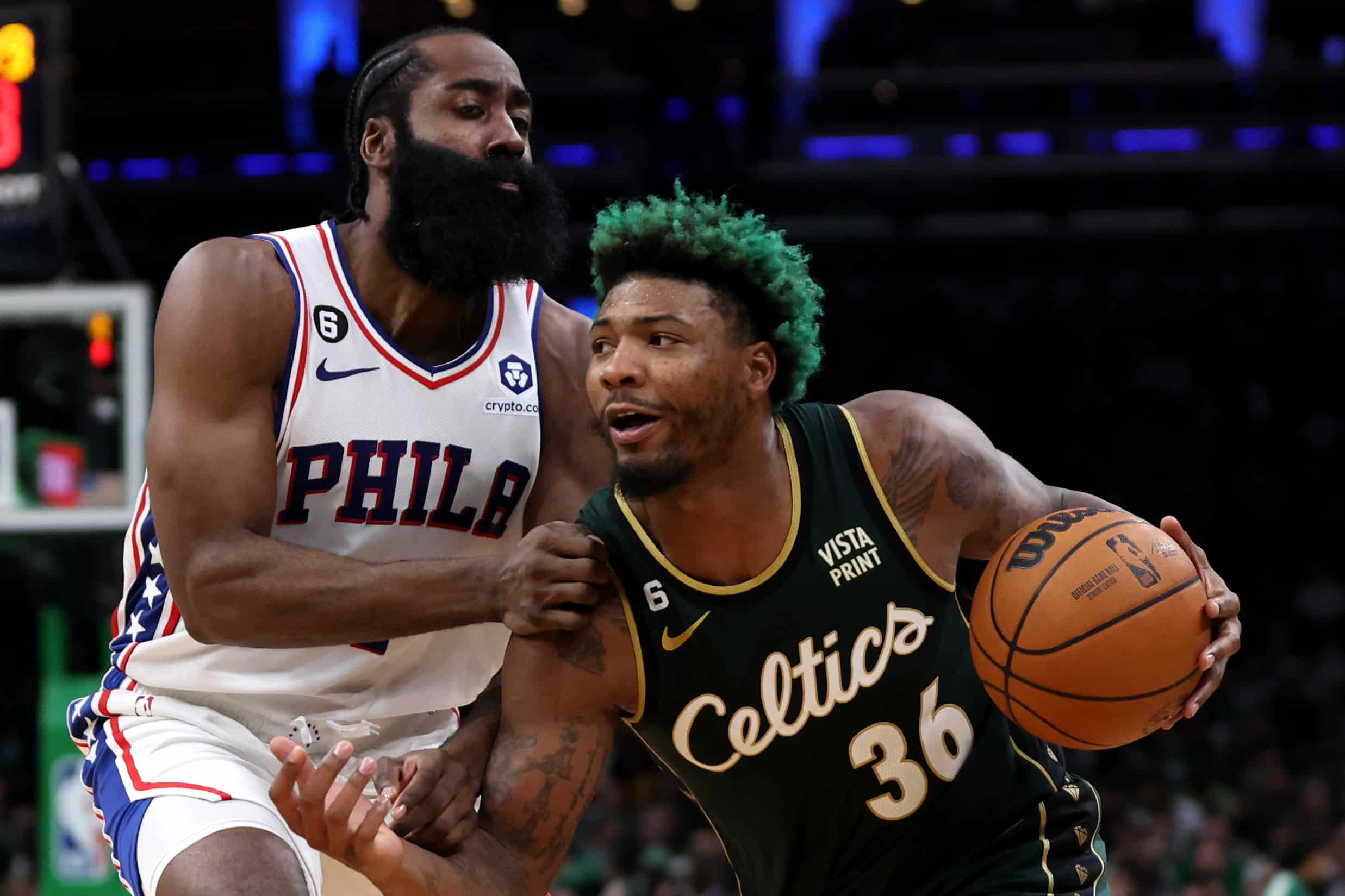 Smart won't back down from anybody. The reigning Defensive Player of the Year had to bite his tongue after getting tangled up with Embiid as the two went for a rebound. Embiid came down with the ball but also had Smart's arm wedged between his arm and his body. Embiid pulled away with Smart's arm still stuck, and Smart fell to the floor.
Smart then grabbed Embiid's ankle as the Sixers center tried to walk away. Embiid flopped his way to the floor, drawing a technical foul on Smart. The fiery Smart held back from escalating the situation. He spoke about the incident after the game.
"If I did that, I'm probably ejected, suspended three games, four games, fined," Smart told reporters after the game. "The fact that I was the only one that got I guess something out of that is kind of beyond me. Especially defending DPOY and that's how he gets treated? It's tough.
"But, like I said, it's maturity. I could have cracked his head open, but I didn't. And that's the maturity we have. So we move on from it. It is what it is. And we control what we can control."
Smart and his teammates have each other's backs
It's only been one game, but the Celtics are a far cry from where they were at this point last year. The Celtics began last year 0-2 and frustration grew early. After a Nov. 1 loss to the Chicago Bulls put them at 2-5, Smart publicly called out stars Jayson Tatum and Jaylen Brown for being too selfish with the basketball.
First-year coach Ime Udoka questioned the team's effort on several occasions. Udoka has since been suspended for the season by the Celtics for violating team rules. Joe Mazzulla replaced Udoka and has the Celtics on track from the get-go.
Throughout camp and in the season opener, the Celtics have played with a purpose. They got a taste of the NBA Finals and are motivated to return. They are a team that has each other's back, and that was evident during the Smart/Embiid incident.
Brown jumped in and had words with Embiid. Brown also said the team won't be taking anything from anybody this year.
"I seen the play," Brown said postgame. "First, I thought Embiid was getting away with unnecessary pushing and shoving. You know, just being a big guy. He was throwing his weight around.
"I said something, but they kind of let it go — brushed it off. It seemed like he was trying to hurt Smart. Instincts just came over. It ended up being nothing. Ended up being a play-on. Nobody got hurt. Just finished the game and played some good basketball.
"We got each other's backs out there. We're not taking no mess this year."
Have thoughts on this topic? Keep the conversation rolling in our comments section below.