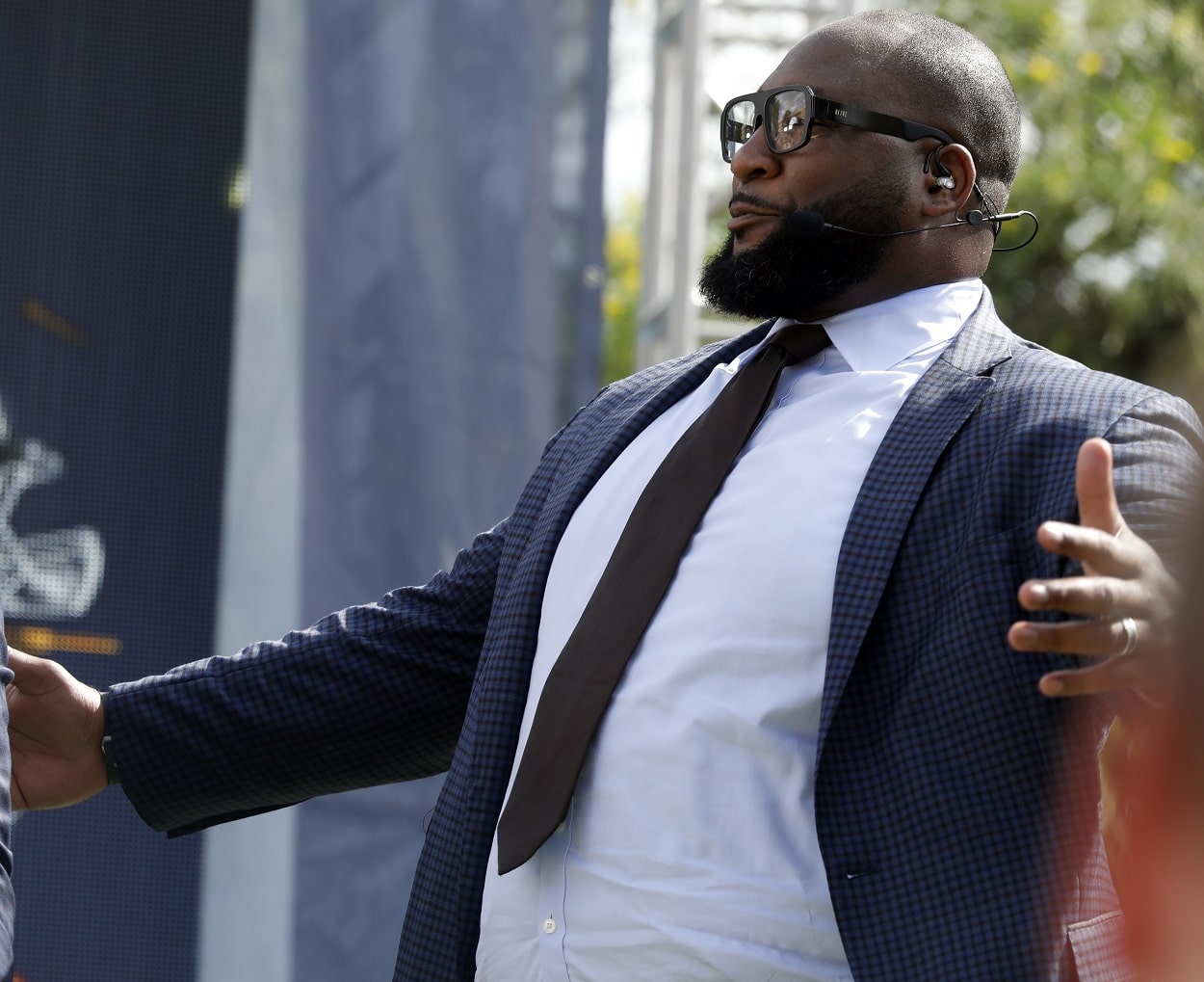 Marcus Spears Heaps the Highest Praise on Micah Parsons, Discusses His Biggest Surprise of the NFL Season, Why the Ravens Are Choking, and Much More (Exclusive)
Sportscasting discusses a variety of NFL topics with former Dallas Cowboys defensive end and current ESPN analyst Marcus Spears.
A Consensus All-American and national champion with the LSU Tigers, Marcus Spears spent nine years in the NFL, eight with the Dallas Cowboys and his final season with the Baltimore Ravens.
The two-time First-Team All-SEC selection has certainly stayed busy in retirement, first joining ESPN as a college football analyst and now serving in that same role on the Worldwide Leader's daily NFL Live program.
And this past weekend, Spears added bartender and waiter to his stacked resume as he surprised some Cowboys fans at a Chili's in Plano, Texas, to help promote the restaurant's incredible new Happy Hour menu, which was designed specifically for football fans.
But despite his busy schedule, Spears took time to talk with Sportscasting this week on a variety of topics. Check out our full chat below.
Sportscasting's interview with Marcus Spears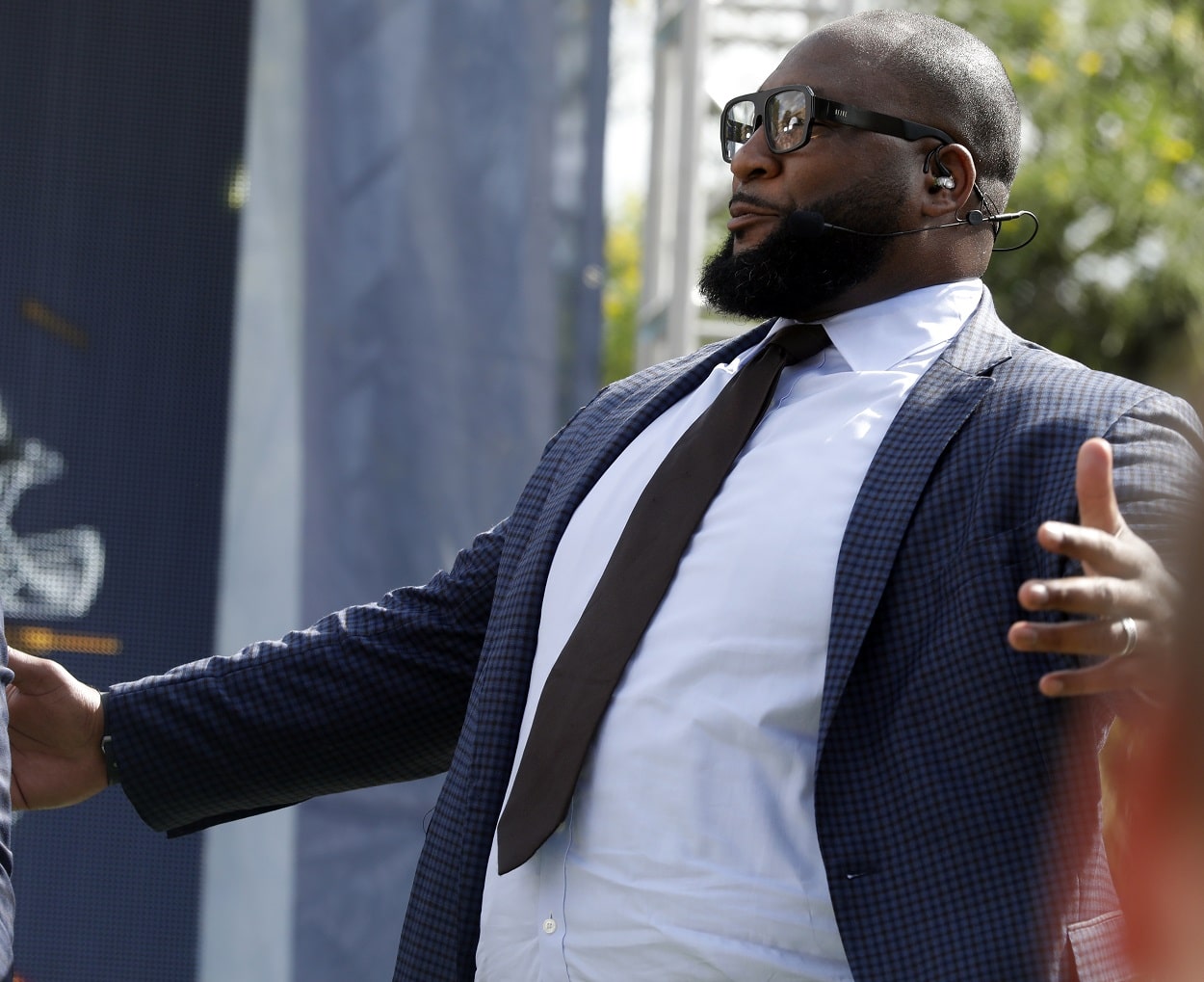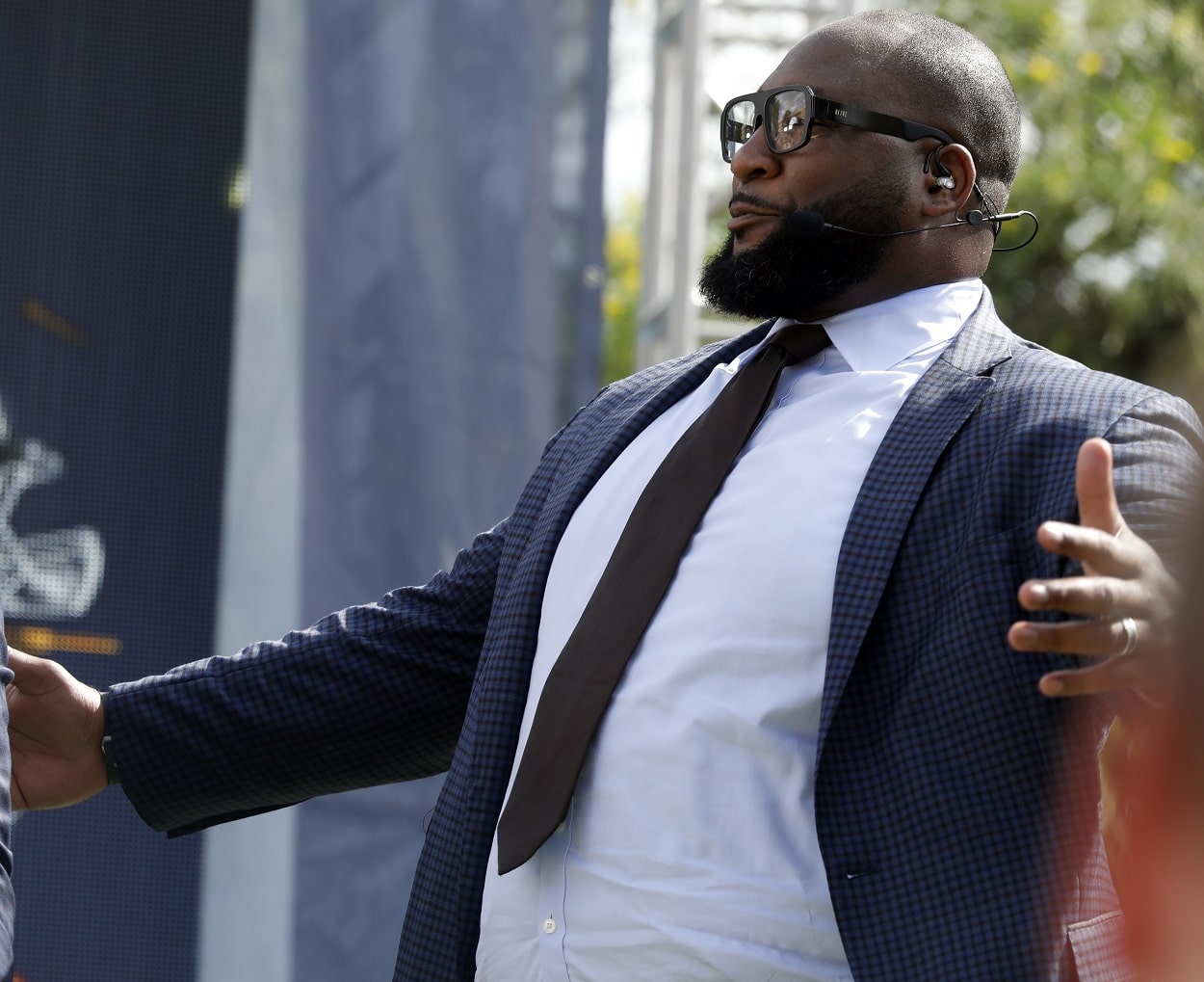 Sportscasting: I'm joined today by former Dallas Cowboys defensive end Marcus Spears, who's now an analyst with ESPN for NFL Live. But, Marcus, you took on a bit of a different role this past weekend as you surprised some folks near your old stomping grounds in Texas by showing up at a Chili's to help promote their new Happy Hour menu. So how'd that go?
Marcus Spears: Yeah, man, I was close to Dallas in Plano, and it was a good time. I think I did more than they wanted me to do, but I kind of get lost in the sauce when I get around people. So I was a waiter and a bartender. I didn't cook, even though I feel like I missed that opportunity. It was fun, man.
Sportscasting: So tell us how you got involved with this whole thing, what Chili's is trying to do with this new menu, and just what that whole experience was like.
Marcus Spears: Yeah, man, it was super dope. Chili's is trying to get a bigger space with a new Happy Hour menu and putting an emphasis on football and fun. They've introduced some new things, and it was cool to be a part of it.
If you look at commercials or see people trying to endorse to get people in the door, you hope that when you go that the experience is like what you see. And it was fun because I was behind the bar serving drinks, and people were ordering wings, and it was really based on a legendary experience because, you know, I'm something like a legend (laughs).
But it was just a really good time and some really good food. They got a Chili Philly, which is like a Philly cheesesteak.
Sportscasting: So you got a bunch of Cowboys fans to eat a Philly cheesesteak on a night when they're playing the Eagles?
Marcus Spears: Yep. Because good food will trump everything, man. But I was downing the wings, bro. I just think wings and football go together. I even got this one lady to eat wings for the first time in her life. But being in there and hyping up the new menu and getting on the mic in this Dallas one — I just couldn't believe it.
Sportscasting: I dig it, and I'll just sit and wait for you to send me my gift cards, brother.
So sticking with this surprise theme, we've seen quite a few in the NFL this year. The Giants and Jets are both relevant for the first time in a long time. So what's been the biggest surprise to you so far this NFL season?
Marcus Spears: Yeah, man, it is that.
The Giants are 5-1, and they're playing really good football. They've got a new head coach, and you just see the culture starting to change and shift around there. And, obviously, it's so good to see Saquon return back to form. Daniel Jones is playing well.
Competency is so important in this league, man, especially when you have a guy that can put a plan together. You've got to have all 53 dudes believing in that plan. And that's what you see from the New York Giants because they're not more talented than all of these other teams.
They're just playing games for four quarters, and they're figuring out ways to win at the end. And Brian Daboll and Wink Martindale, the defensive coordinator, you can see it's visual that these guys are together and they're having a good time. They believe in every game they play, and they've got an opportunity to win.
And with the Jets, they're a young team that's drafted well, and that talent is starting to show up. Robert Saleh told us earlier this year — I remember him texting me — that he's keeping receipts. And that's who he is, man. They're playing well. They've got a lot of young talent that's coming to the forefront.
Obviously, they want to get a little bit more explosive on offense. But, you know, that comes with time, especially when you've got a young quarterback. There have been some injuries, but this team is uber-talented. And when you've been bad for so long, you get all of these early draft picks. And Joe Douglas, the general manager, has done a phenomenal job putting the pieces together. So the two New York teams are the most surprising and the most impressive.
Sportscasting: Yeah, it's been interesting to watch, for sure. So as you're best known for your time with the Dallas Cowboys, what are your thoughts on that defense? And specifically Micah Parsons? As a defensive guy yourself, what are your thoughts when you watch that guy play?
Marcus Spears: That he's the next coming of Lawrence Taylor. And that's a lot, bro.
Sportscasting: Yeah, it is.
Marcus Spears: For me, LT is the greatest defensive player to ever play the game. And Reggie White is right there next to him. So for me to put Micah there — you see traits in guys, right? I mean, nobody's saying he's LT. But you can see the type of impact that he has on the game, his athletic ability, the speed, the ability close, and to play different positions.
The way you determine great players that a lot of people don't pay attention to is how good they make the people around them. And everybody on their defense benefits from Micah. And it's in the same vein as Aaron Donald in LA. Everybody benefits.
During my time there, that was DeMarcus Ware. Certain players transcend just being good by themselves, and it lends itself to everyone else. And everybody else can have success off of that. And that's what Micah is doing. The dude is a freak athlete, bro, and it jumps out on film. He's phenomenal.
Sportscasting: So I wanna mention the other team you played for, the Ravens. You mentioned how the Giants play all four quarters. The Ravens are not. I mean, they just set a bad record, which I'm sure you saw. They're 3-3, but they could easily be 6-0. They've held double-digit leads in every single game. Why can these guys not close football games? What do you see that's making it so difficult for them to close?
Marcus Spears: You know, there's a conservatism part for them when they get in the second half, and they don't stay aggressive. And then, when they realize the team is creeping back up on them, they want to try to restart that aggressive nature that they come out in the first half with.
Another simple thing is Lamar Jackson has got to stop turning the ball over in the fourth. Four interceptions in the fourth quarter this year alone. He only had 10 through the first four seasons of his career. And we're only in Week 7, so that's a part of it.
Defensively, they were struggling early in the year and gave up that 21-point lead. But again, the offense became non-aggressive. I think Harbaugh's gotta address that. And it's that age-old thing. Don't preserve a win. Go get a win.
I think part of it has been that they get these leads, and they get comfortable. And Greg Roman, the offensive coordinator, becomes conservative with his play-calling, and then they realize they've been going three-and-out the last three of four possessions, and teams are creeping up.
But the most detrimental thing that's been happening is Lamar turning the football over, bro. And if you can simply fix that, at least you'll have a shot to be in the game and give your defense an opportunity. Last week, against the Giants, they got a pick and then the ball. They started their drive on the 10-yard line. I don't care what defense you're playing. You're probably going to give up some points.
So that's the biggest issue right now. And if they don't get it fixed, they'll make it very hard for themselves. But they just have to stay aggressive in the second half.
---
We'd certainly like to thank Marcus Spears for taking the time to chat with us, as well as our pals at Ketchum Inc. for setting things up. And remember to hit up a Chili's during the NFL season — you never know who might show up.
Have thoughts on this topic? Keep the conversation rolling in our comments section below.