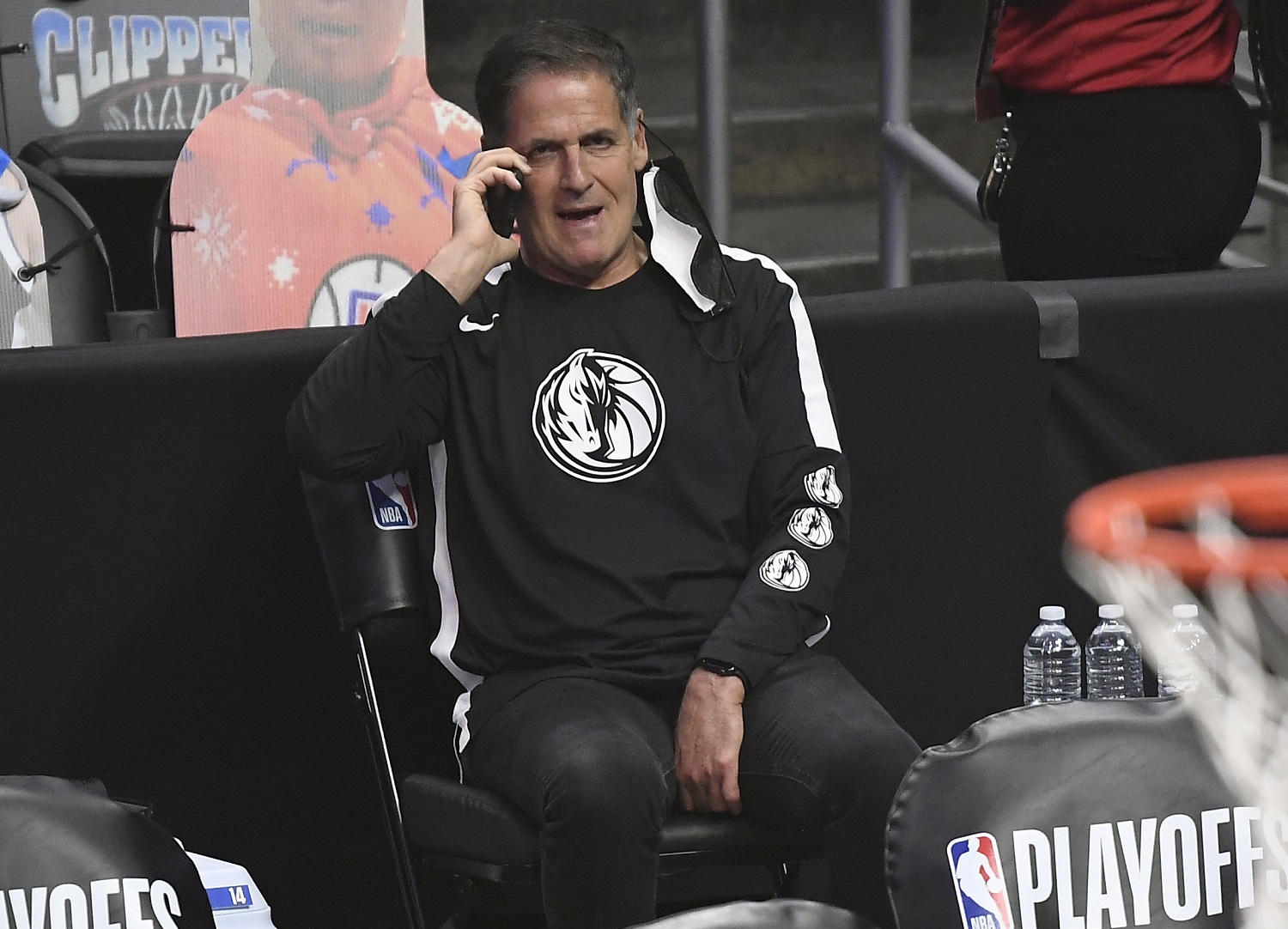 Mark Cuban Has to Restore His Credibility Before He Can Repair the Mavericks
Dallas Mavericks owner Mark Cuban denied there was trouble in the organization, then he fired general manger Donnie Nelson and allowed coach Rick Carlisle to leave.
Billionaire businessman Mark Cuban had skin in the game when a cryptocurrency crashed this week. Amazingly, taking a financial bath on a risky investment wasn't close to the worst development for the Dallas Mavericks' brash owner.
The NBA team with one of the best and most exciting young players skews closer to a disorganization than an organization these days. Cuban can no longer denounce reports of trouble within the Mavericks' brain trust. Management is now rubble, just like the cryptocurrency flavor of the week.
Mark Cuban lost money on something called TITAN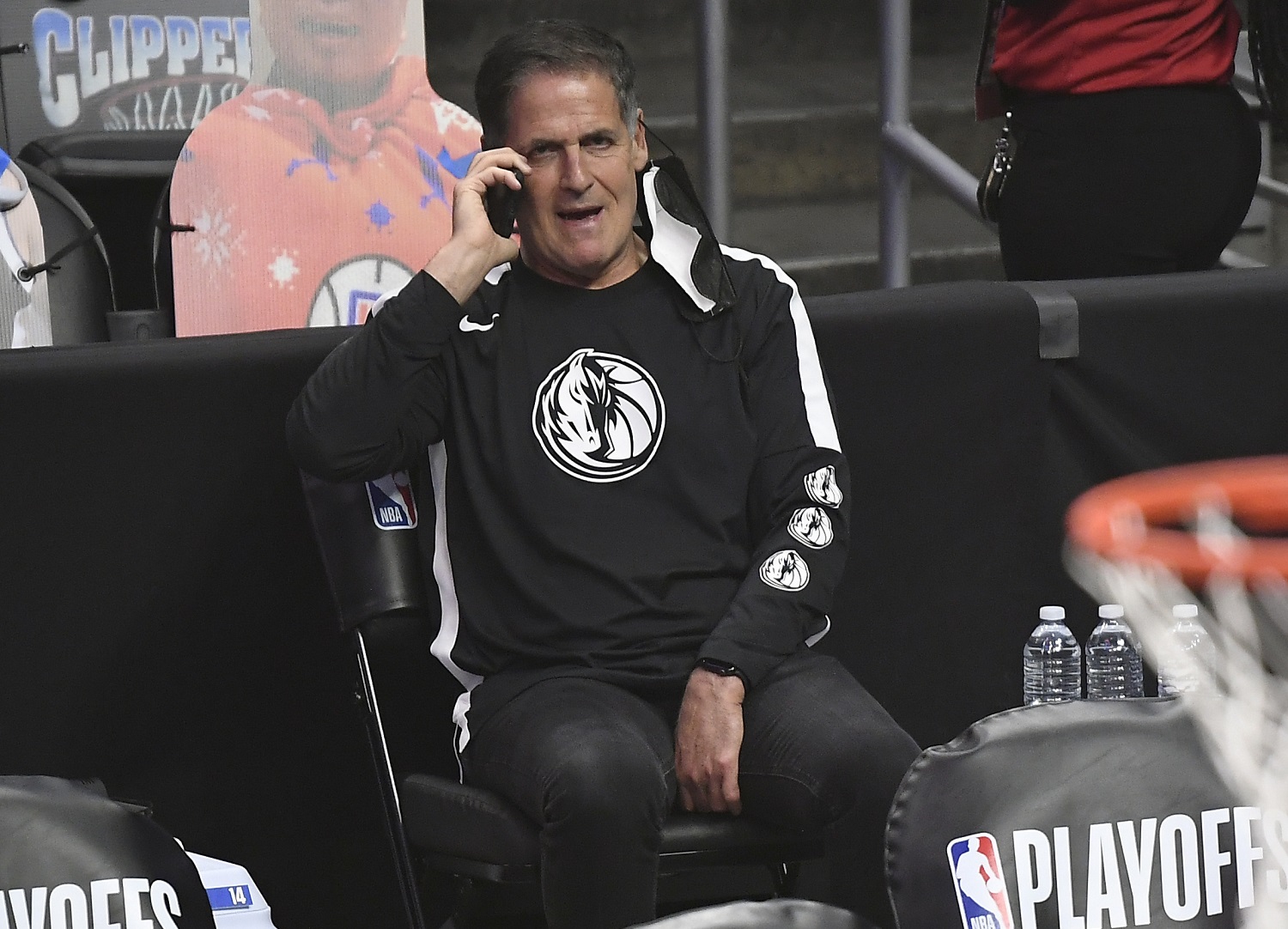 A cryptocurrency called IRON Titanium Token and more commonly known as TITAN plummeted in value this week, crashing from $60 to pennies in a matter of hours after big investors started selling.
"I got hit like everyone else," Cuban wrote on Twitter, though he appeared to indicate that he sold before the value hit bottom.
Cuban has been an advocate of cryptocurrencies, the best known of which is Bitcoin. Bitcoin's value has been as low as $8,975 and as high as $64,823 in the past year. It settled in at $35,556 on Friday. Despite that volatility, Cuban blogged this week that "there are a lot of financial institutions that should be concerned" by competition from cryptocurrencies, according to Newsweek.
On the other hand, other NBA owners have less reason to be concerned about competition from the Mavericks right now.
Cuban reacted angrily to a report on the Mavericks
On Monday, The Athletic published a story about front-office tension in the Mavericks organization, specifically a rift between star guard Luka Doncic and Haralabos Voulgaris, who has become something close to a de facto general manager even though Donnie Nelson actually owned the title.
Cuban fired back immediately with a tweet calling the report "Total bulls—."
Within days, Cuban fired Nelson – the team referred to it as a mutual decision to leave – and head coach Rick Carlisle left with two years left on his contract.
In retrospect, then, Cuban shouldn't have been calling BS on the original report.
Better yet, Cuban could have stayed ahead of the curve and perhaps headed off problems in the business that is both a valuable piece of his financial empire and his passion. Cuban sits courtside at games and often travels with the Mavericks, yet his reaction to learning that Voulgaris rubs Doncic the wrong way was to start sitting with Michael Finley, another front-office executive, rather than Voulgaris in a bit of symbolic solidarity with Doncic.
The owner has to restore his credibility
Nelson ran operations the night the Mavericks acquired Doncic in a swap of draft choices with the Atlanta Hawks, and the 22-year-old Slovenian felt a connection to him.
With Nelson gone, Voulgaris is the go-to guy on trades and draft preparation until Cuban hires a new general manager/president. Here's the problem, though: Nelson coached for 15 years and worked in the Dallas front office for more than two decades, yet he felt that Voulgaris, a former sports gambler who handles analytics, possessed more influence with the owner. Is there a quality GM candidate out there who would feel comfortable jumping into that dynamic?
Cuban doesn't need to fire another guy, but he has to make it clear to the next GM and to Doncic that Voulgaris serves solely in an advisory role with no final say over the roster.
"He isn't any more influential than any other data source on the team," Cuban said in response to The Athletic's report.
Trouble is, that statement would have qualified him as Nelson's equal until this week. And it came at approximately the same time that Cuban called the whole story BS. There's a consistency problem there, which makes it a credibility problem for the owner.
All stats courtesy of Basketball Reference. 
Like Sportscasting on Facebook. Follow us on Twitter @sportscasting19.