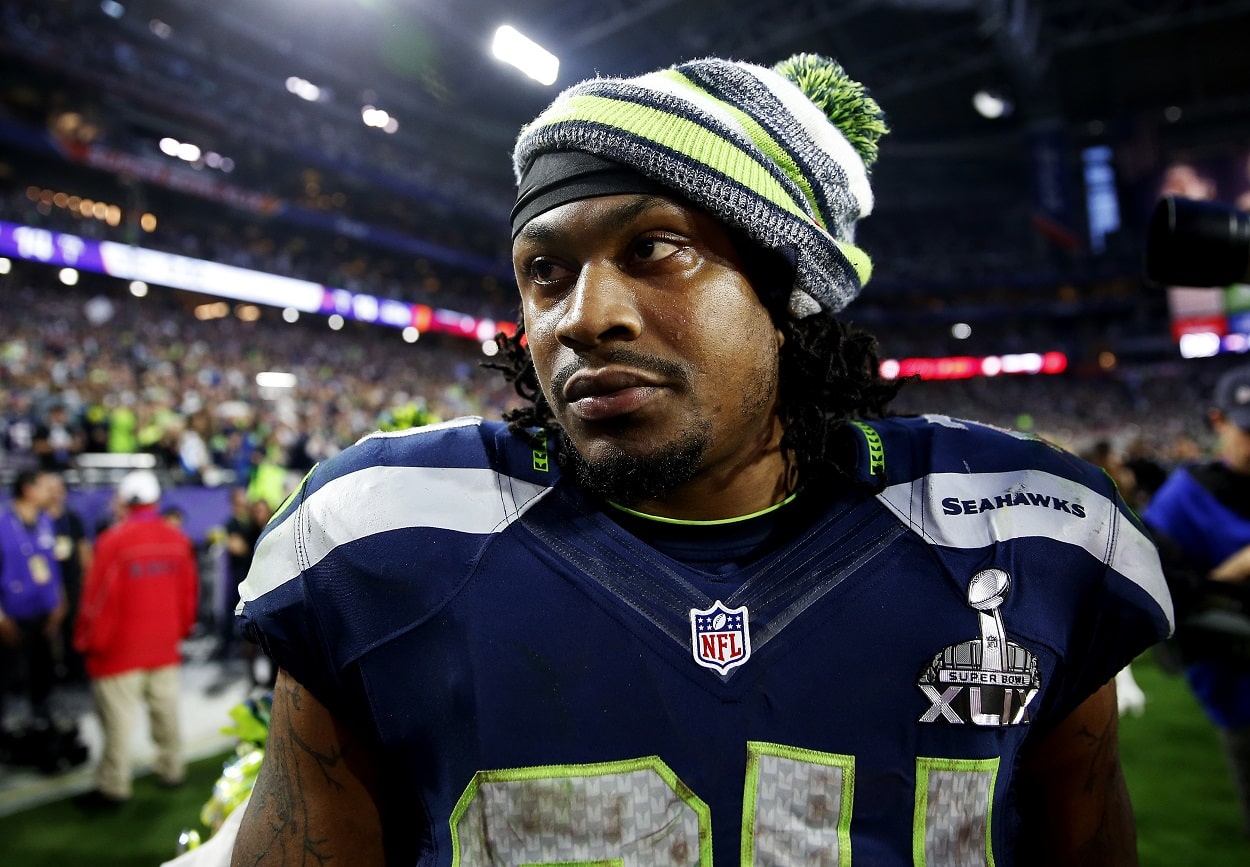 Marshawn Lynch Admits to 'Laughing' in Pete Carroll's Face After Being Snubbed on the Goal Line in Super Bowl 49
Marshawn Lynch still has thoughts about not getting the ball on the goal line for the Seahawks later in Super Bowl 49.
It's been more than seven years since Marshawn Lynch was snubbed on the goal line in Super Bowl 49. But no matter how long the five-time Pro Bowler stays in the public eye, that infamous night in Arizona will be a topic of conversation. But at least Lynch seems to have a sense of humor about it.
A year after the Seattle Seahawks mauled the Denver Broncos and Peyton Manning in Super Bowl 48 by a score of 43-8, Pete Carroll & Co. were back in the title game once again. But this time, they squared off with the New England Patriots and Tom Brady, who, at that time, had won only three Super Bowls. Yes, that word was italicized for a reason. Like it's a bad thing to have only won three titles instead of the seven he has now. But I digress.
So let's get back to Marshawn Lynch.
Marshawn Lynch says he laughed at Pete Carroll for not giving him the ball on the goal line at the end of Super Bowl 49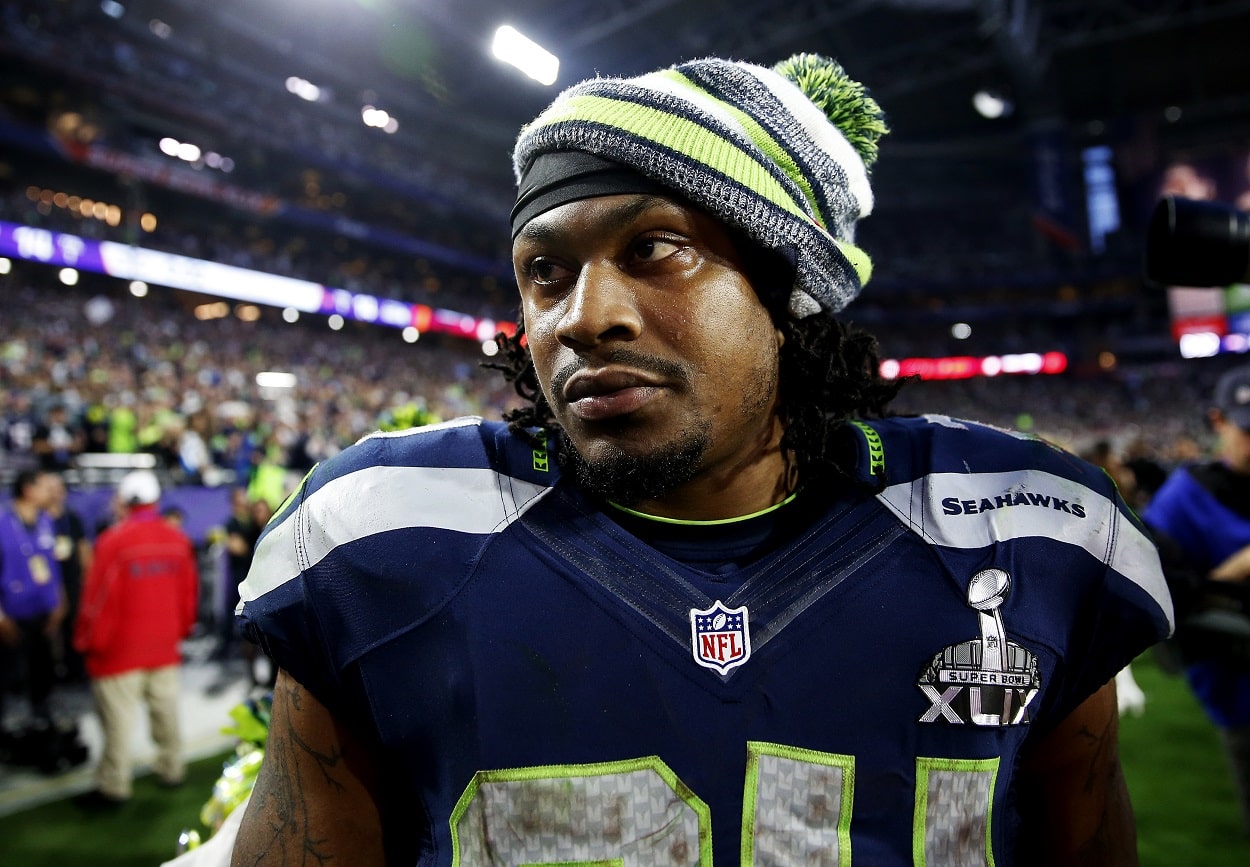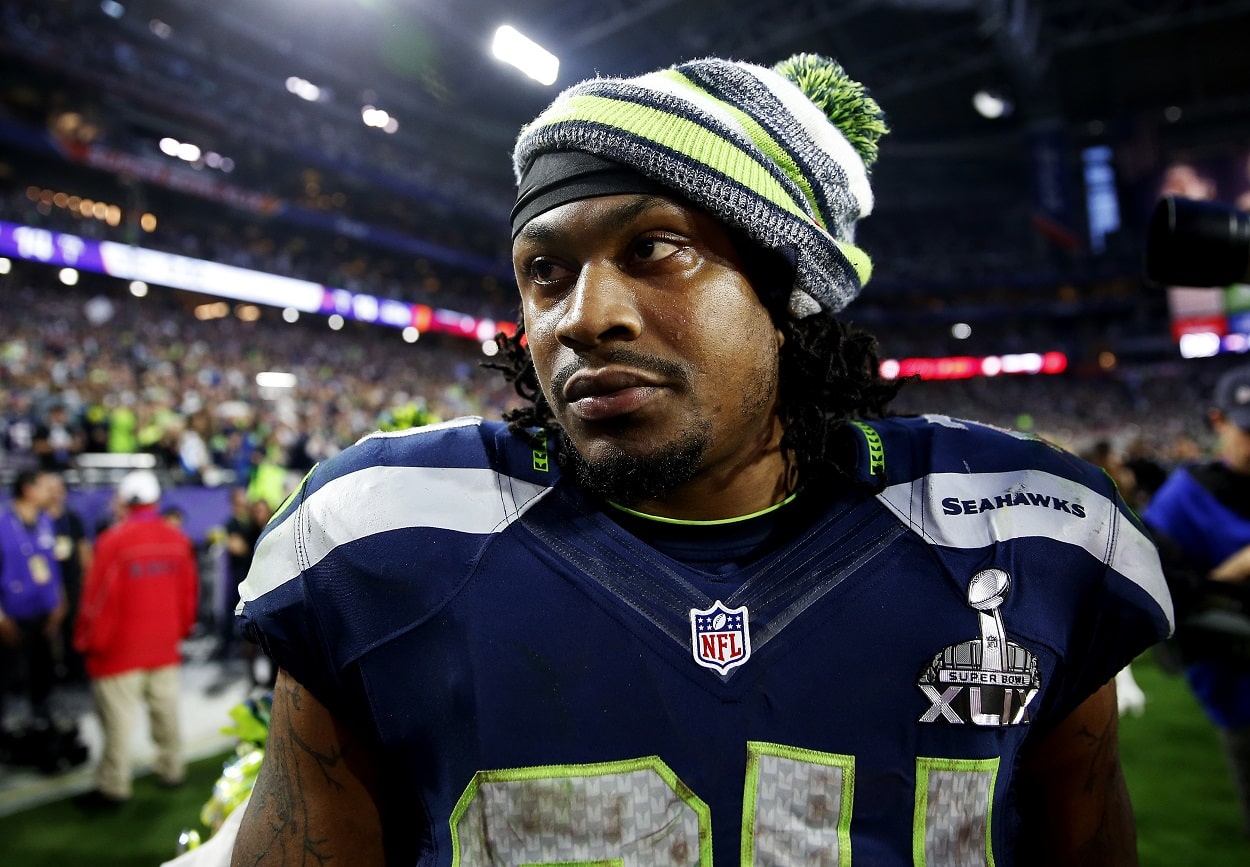 With less than 30 seconds remaining in Super Bowl 49, the Seahawks were trailing, 28-24, but they were essentially guaranteed a score on the 1-yard line. Lynch, who led the NFL with 13 rushing touchdowns in the regular season and had already scored earlier in the game, was a lock to get the ball. Al Michaels and Cris Collinsworth even discussed New England letting Seattle score on the NBC broadcast just to get the ball back in Brady's hands.
And then it happened.
Lynch lined up to Russell Wilson's left, but when the ball was snapped, he didn't get it. But instead of going "Beast Mode," he was essentially a decoy and took off toward the left pylon on a passing route. On a failed pick play, Wilson fired a pass in the direction of Ricardo Lockette, who'd caught just 17 passes all season long, 11 in the regular season and six in the playoffs.
But Malcolm Butler ruined Seattle's plans and intercepted the pass, securing the victory for New England. The Seahawks' decision to pass instead of giving the ball to Lynch remains one of the most second-guessed calls in NFL history.
While one would think Lynch would have been livid and screaming at Pete Carroll or offensive coordinator Darrell Bevell, the two-time All-Pro recently told Kevin Hart on his Cold as Balls show that it was essentially the complete opposite.
"The play called, or whatever, blasé, blasé. You know, the pick. Damn.

"I come off the sideline, and in my mind, I'm confused. And I'm walking by Pete, I'm just laughing at him like, 'Bro, what the…'"

Marshawn Lynch
Again, at least Lynch has a sense of humor about it. Because you know there were plenty of Seahawks fans or Tom Brady/Patriots haters who weren't laughing that night.
Stats courtesy of Pro Football Reference
Like Sportscasting on Facebook. Follow us on Twitter @sportscasting19 and subscribe to our YouTube channel.