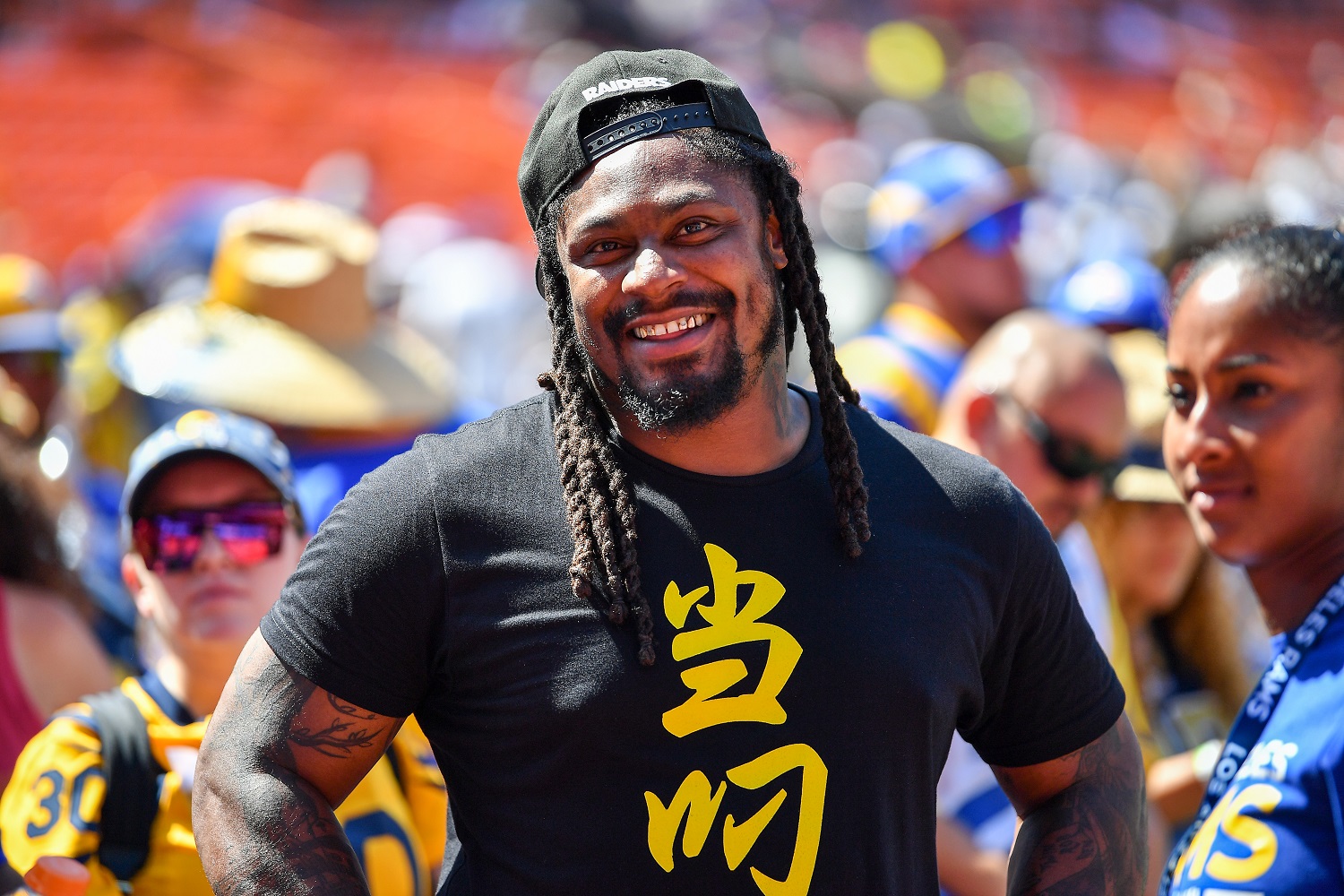 Marshawn Lynch's Idea for Staving off International Panic Is Out of This World
Marshawn Lynch joined ESPN 'SportsCenter' to help bid Kenny Mayne farewell, and his riff on aliens from space was out of this world.
All this chatter about the government preparing to release reports about UFO encounters didn't mean much until we learned Marshawn Lynch wants to sell his home on San Francisco Bay.
The is-he-or-isn't-he-retired NFL running back possesses a Cal-Berkeley education and is talking about dealing with aliens. Clearly, something is up. The the man who posted four straight 1,000-yard seasons for the Seattle Seahawks isn't letting on as to what he knows.
Be afraid, fellow Earthlings. Be very afraid.
Marshawn Lynch helped bid farewell to Kenny Mayne
Kenny Mayne, who just left his ESPN SportsCenter anchor role, possesses a wonderfully offbeat sense of humor when it comes to pulling together feature stories.
Back when a young Lynch starred with the Bills, Mayne captured his attempt to refute Willis McGahee's criticism of Buffalo nightlife. The side-splitting piece meant that Mayne had to ask Lynch to make a cameo on his final night hosting SportsCenter.
Mayne led Lynch into a line of question about the possibility of aliens exploring Earth, and the five-time Pro Bowl selection did not disappoint. Rest assured that we're in good hands if we place him in charge of meeting the landing party.
"We'll politic for a minute," Lynch explained, as transcribed by BroBible.com. "I'll see what they got going on. I mean, if they're some cool aliens, then maybe we can put it together a little later on.
"But if not: 'You know what? Y'all be easy, man. Have a safe ride back to wherever it is y'all going, man, but we're just down here, kicked back, moving and grooving down here on Earth.'"
Problem solved.
On a serious note, Lynch is selling his longtime home
Lynch has placed his 7,000-square-foot home on the market for $5.275 million, The Mercury News reported. Lynch purchased the Point Richmond, California, property on the San Francisco Bay for $3.6 million in 2012.
The modern-style mansion sports five bedrooms and six bathrooms, a game room, and a chef's kitchen. The location helped keep the Oakland native in proximity to his roots. Lynch was a four-sport star at Oakland Tech and went on to the University of California, where he became the school's No. 2 all-time rusher.
He entered the NFL with the Bills in 2007 and recorded 1,000-yard seasons his first two years. Buffalo traded Lynch to Seattle early in the 2010 season, and he rolled up four more 1,000-yard seasons, twice leading the league's running backs in touchdowns.
Lynch did not play in 2020. Though he has not formally announced it, Lynch apparently has retired.
Lynch is joining a new sports venture
The newspaper reported that Lynch has dabbled in supporting the fledgling Fan Controlled Football League as well as the Oakland Panthers indoor team. He is also an investor in the Oakland Roots soccer club, which plays in the USL.
Now, he has signed on with the Professional Fighters League as an investor and brand ambassador, ESPN reported. The mixed martial arts organization made its debut in 2018 after the PFL bought the assets of the World Series of Fighting.
Comedian Kevin Hart and music artist Wiz Khalifa are among those who previously invested in the PFL. However, Lynch brings sports credentials to the MMA upstart.
All stats courtesy of Pro Football Reference.