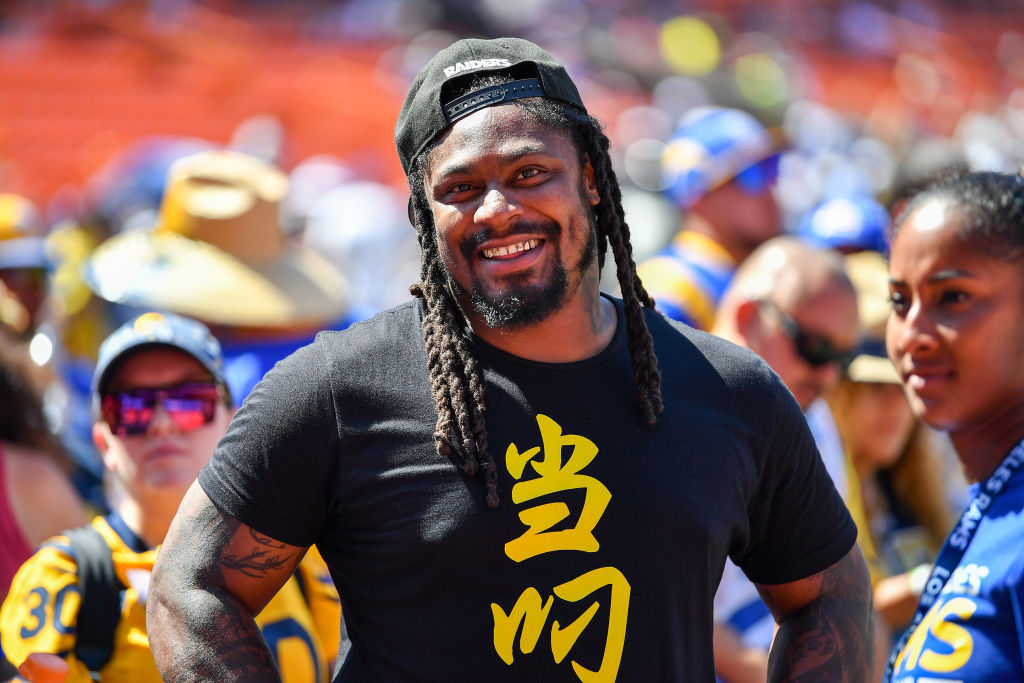 NFL Star's Speaking Gig Has Riled Princeton Students
Princeton University students wrote a letter protesting the selection of Marshawn Lynch as a featured speaker at Class Day this spring.
Marshawn Lynch once famously explained his appearance at a Super Bowl media day by saying, "I'm just here so I won't get fined." The veteran NFL running back now finds himself in a situation in which Ivy League students are telling him they'd be fine with it if he doesn't show up this spring.
In fact, they'd prefer it that way.
The two sides of Marshawn Lynch off the field
Marshawn Lynch's ability on the football field has gained him substantial notoriety – and for good reason. Playing parts of 12 seasons, Lynch has accumulated 10,413 yards and 85 touchdowns on the ground, averaging a solid 4.2 yards per carry. He's also been a weapon out of the backfield with 287 catches.
"Beast Mode" has also been clutch in the postseason, rushing for 970 yards and 12 touchdowns in 13 career playoff games. His average per carry in the playoffs is 4.6 yards.
He's also made a mark off the field with gestures like hosting 25 youths on a trip to London to watch an NFL game and his work with the Make-A-Wish Foundation. They were factors in Lynch, who attended college at UC-Berkeley, being selected the Oakland Raiders' nominee for the Walter Payton Man of the Year Award in 2018.
On the other hand, Lynch, 33, has given detractors more than just token reasons to dislike him. He left the sideline to shove a game official in one 2017 game and gave the crowd the middle-finger salute (on both hands) in another. He was involved in a hit-and-run accident in 2008, pleaded guilty to a weapons misdemeanor in 2009, and was charged with reckless driving in 2012.
An invitation to speak at Princeton
Princeton University has announced that Marshawn Lynch has been invited to campus in June to be the Class Day speaker. The event celebrates the end of the undergraduate work for the Class of 2020.
Princeton's announcement cited his social activism on behalf of communities nationwide. "Mr. Lynch has always prioritized community engagement and empowerment by leveraging his prominence as a professional athlete to promote opportunities for civic engagement and social justice," the school's statement proclaimed.
The selection triggered an angry reaction from a group of students. They wrote an open letter to the campus newspaper lamenting their lack of input in the decision to bring Lynch to the New Jersey campus.
While acknowledging Lynch's accomplishments on NFL playing fields, the students were critical of campus officials for presuming to speak on their behalf. They also noted the irony of inviting a speaker whose past includes fines of $50,000 and $100,000 from the NFL for refusing to speak to the media.
Neither Princeton University nor Lynch has commented on the students' complaint.
What's next for Marshawn Lynch in football?
Marshawn Lynch has retired from the NFL twice only to come back. He sat out all of 2016 before returning to play two years with the Oakland Raiders ad then re-joined the Seattle Seahawks as late-season help for an offensive backfield depleted by injuries.
He rushed 18 times for just 33 yards over two playoff games but did score three touchdowns.
Lynch has not declared his intentions for the 2020 season, but the Oakland native will turn 34 years old this spring.