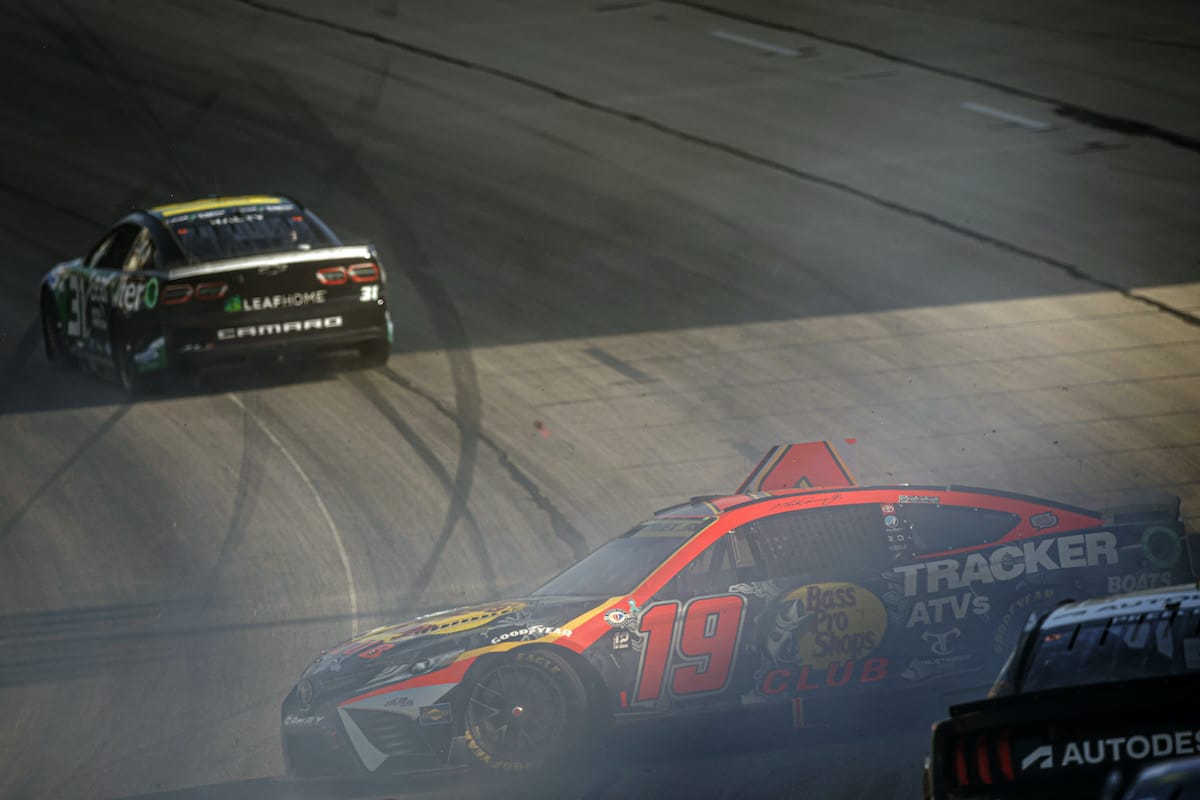 Martin Truex Jr. Doesn't Hide Dejection After Texas, Including Calling Out 'Horrendous' Pit Stops
Martin Truex Jr. couldn't hide his dejection after Texas, even calling out his pit crew for their "horrendous" stops.
Coming into the 2023 NASCAR Cup Series playoffs, many considered Martin Truex Jr. the favorite to win the championship after claiming the regular-season title. In four postseason races, the Joe Gibbs Racing driver has struggled and looked like anything but a contender.
After the race at Texas Motor Speedway, where he scored his best finish in the playoffs, a lackluster 17th, the 2017 champion couldn't hide his dejection, talking about his "terrible" day, including the team's bad pit stops.   
Martin Truex Jr. struggles in playoffs
Martin Truex Jr. won the 2023 regular-season title by finishing strong, including six top-10 finishes in the final seven races, three inside the top five, and one of them a win at New Hampshire.  
Since the drop of the green flag on the playoffs, the No. 19 team hasn't looked anything like it did through the season's first 26 races. Truex has recorded finishes of 17th or worse in the four races, including his season-worst finish at Kansas, where he finished 36th after a failed tire and early crash. 
Putting it in perspective — the previous worst stretch of four consecutive races for the JGR driver this year occurred in the first month of the season from Phoenix to Richmond, when he recorded four results in the teens. However, during that run, his best finish was an 11th. 
Truex doesn't hide frustration after Texas
Before the first Round of 12 race at Texas, Truex was again rewarded for his solid regular season with the format restoring his playoff points and moving him back in a tie at the top with William Byron. However, after starting 16th, it was an all-too-familiar feeling for the driver after the first stage, and it wasn't a good one when misfortune found him again. 
It was a bizarre incident that started after the cars had crossed the start-finish line when Erik Jones drove into the rear of Brad Keselowski, who then drove into the No. 19 car, which went for a spin. He lost track position and struggled with the car's handling the remainder of the race. After finishing 17th, Truex visited with reporters and couldn't hide his understandable frustration.
"So far, nothing has went right at all," Truex said. "Today, we just didn't really run good. I thought we were a top-10 car early, and then once we got spun out there and had to drive around with flat tires. I think it messed something up underneath. Definitely was way tighter after that, and we lost our track position.
"It just piles on when you get back there. Then, on top of that, our pit stops are absolutely horrendous. Nothing really good today at all to speak of other than not getting wrecked. Long, terrible day. We need to fix it."
Knows upcoming races are a challenge
The bad luck and overall poor performances are troubling enough. Truex understands the next two races at Talladega and the Charlotte Roval won't be any easier and are going to present their own set of challenges.
"We've got to find a way to get it going," Truex said. "We got to do it quick. Talladega is a crapshoot wildcard. The Roval, it's a tough place, too, so these next two are going to be really tough. We really wanted to come out of here in a good position, and we just didn't take advantage."
Truex dodged a bullet in the Round of 16 elimination race and advanced. After Texas, he fell to fifth in the points standings. Based on his postseason performances thus far, it looks like there's more playoff drama ahead for the No. 19 team. If they somehow manage to survive and advance again, that just might be a good sign for the future.
To stay up to date on the latest happenings in NASCAR, including breaking stories you can't find anywhere else, follow Kyle on YouTube and Twitter.