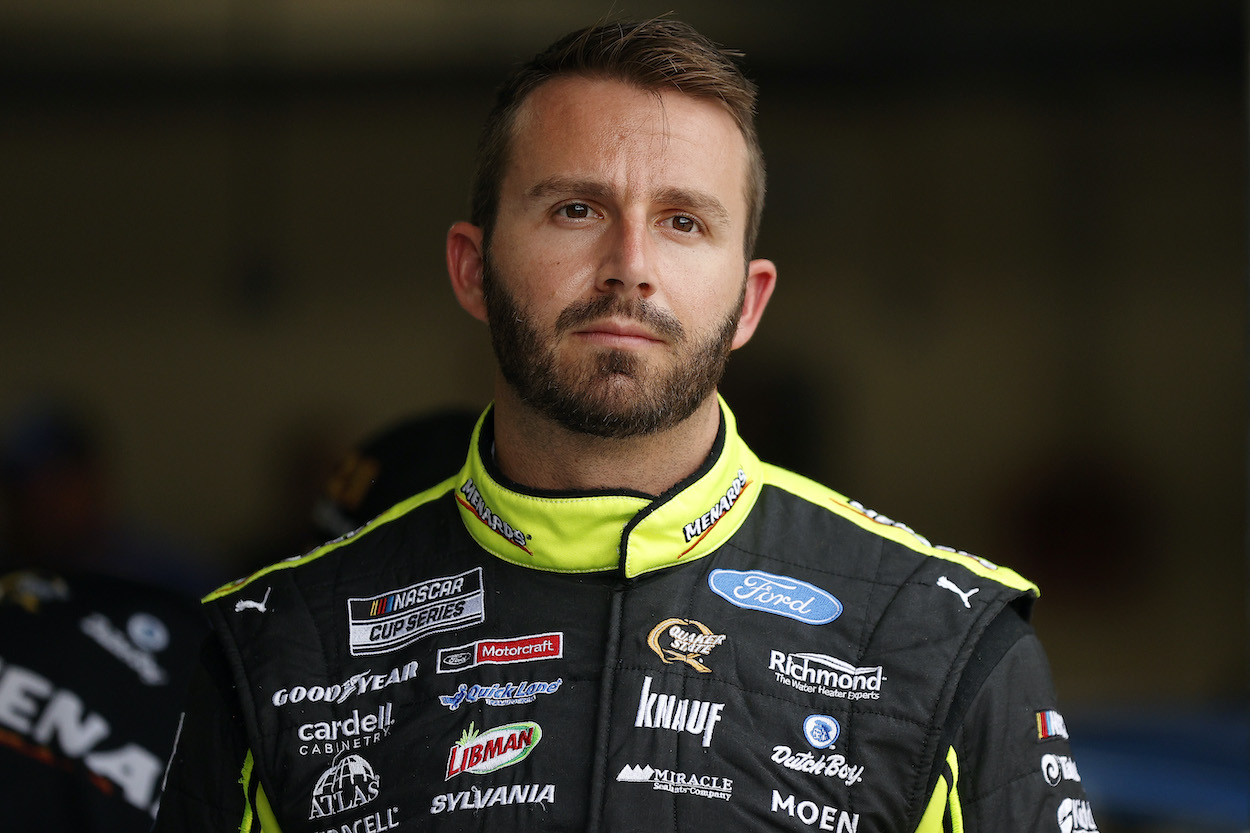 Matt DiBenedetto Provides Update on 2022 Season and Bluntly Admits His Future Looks Grim: 'I've Got Zero; Absolutely Nothing'
Matt DiBenedetto bluntly admitted this week that his future in NASCAR is extremely uncertain.
Matt DiBenedetto disappointingly announced in July that he would not be driving in the Cup Series for the Wood Brothers in 2022. Initially, he indicated that he had no interest in racing with a lower Series like Xfinity or Trucks. He soon reversed course.
Now, two months later and still without any ride, the 30-year-old was interviewed on SiriusXM NASCAR Radio this week and visited with fellow driver Corey LaJoie. The pair had an honest conversation, and the driver of the No. 21 Ford bluntly admitted that his future as a driver doesn't look good.   
Matt DiBenedetto loses ride at Wood Brothers in 2022  
Matt DiBenedetto has competed full-time on the NASCAR Cup Series since 2015. After limited success racing with smaller teams for the first few years of his Cup career, DiBenedetto got his chance to show his skill level when he joined the Wood Brothers for the 2020 season.
Last year at the 30-race mark, he had earned eight top-10 finishes, including three top-5s. He finished the season with 11 top-10 finishes, including three in a row in the final three races. Through 30 races this year, DiBenedetto has almost identical statistics with eight top-10 finishes, three of them in the top-5. However, the most glaring and most important statistic of his career is zero. That's his number of Cup Series wins.
Unable to find victory lane, the team announced in July that Harrison Burton would replace him in the No. 21 car next season. DiBenedetto was understandably unhappy.
"I'm going to be super honest. I'm not going to try and hide how I feel and what I feel," DiBenedetto said in a video on Facebook. "You guys know what you see is what you get. Sometimes good, sometimes bad. Found out yesterday. When I found out, I tried to be like OK, been through this before. How do I handle this? I know God has a plan for me. There's a greater plan. …
"But you know what? I didn't really sleep last night, and I thought about it, and it's OK to have human emotion, and I'm not going to lie to you; it's OK to be pissed off, angry and bitter, and all of the above. It just is what it is. We're humans. We're not perfect."
Matt DiBenedetto reverses course after initially rejecting thought of racing in Xfinity or Truck Series
Interestingly, after learning that he was without a Cup ride in 2022, a report came out that DiBenedetto indicated he didn't have any interest in competing with the Truck Series or Xfinity Series, where he raced sporadically from 2009 to 2016. 
However, after that initial report, DiBenedetto provided clarification and Davey Segal of SiriusXM NASCAR Radio tweeted that the driver hadn't ruled out racing in either series. 
"@mattdracing says he 'will entertain anything' for next year, including the Xfinity Series," Segal tweeted. "Reiterated his focus is all on finishing the last 14 races out for @woodbrothers21 on a great note. He had previously mentioned he would only want to stay in Cup, but clarified."
Provides latest update on his future and it's grim
This week DiBenedetto was interviewed on SiriusXM NASCAR Radio and initially talked about his race in Las Vegas. Then, the conversation transitioned to his future, when show co-host and fellow driver Corey LaJoie brought up the "elephant in the room" and asked him how he was feeling about racing next season. 
"You know me very well, Corey. I'm pretty straightforward and honest about it all," DiBenedetto opened. "There's two answers here, but one is not very good. People are like, 'What have you got working?' And I'm like, 'Nothing.' I am working on everything. 
"It's just crazy because the performance of our team is obvious and the things we've done to make some great improvements and be fast and performing very consistently, but still, as far as pertaining to next year, man, it's odd. Any door that kind of seems to crack open closes. And I'm trying to figure out what God's plan is and what that means because at this moment, I've got zero. Absolutely nothing. It's a very weird landscape. But I'm also thankful that I'm at peace with it going through this process, trying to figure it out, just working as hard as I can because I know it's going to work out as it is supposed to, but it doesn't make it easy as you know."
Will DiBenedetto land a ride in any of the NASCAR series for 2022? Time will tell. But time is running out.
Like Sportscasting on Facebook. Follow us on Twitter @sportscasting19.