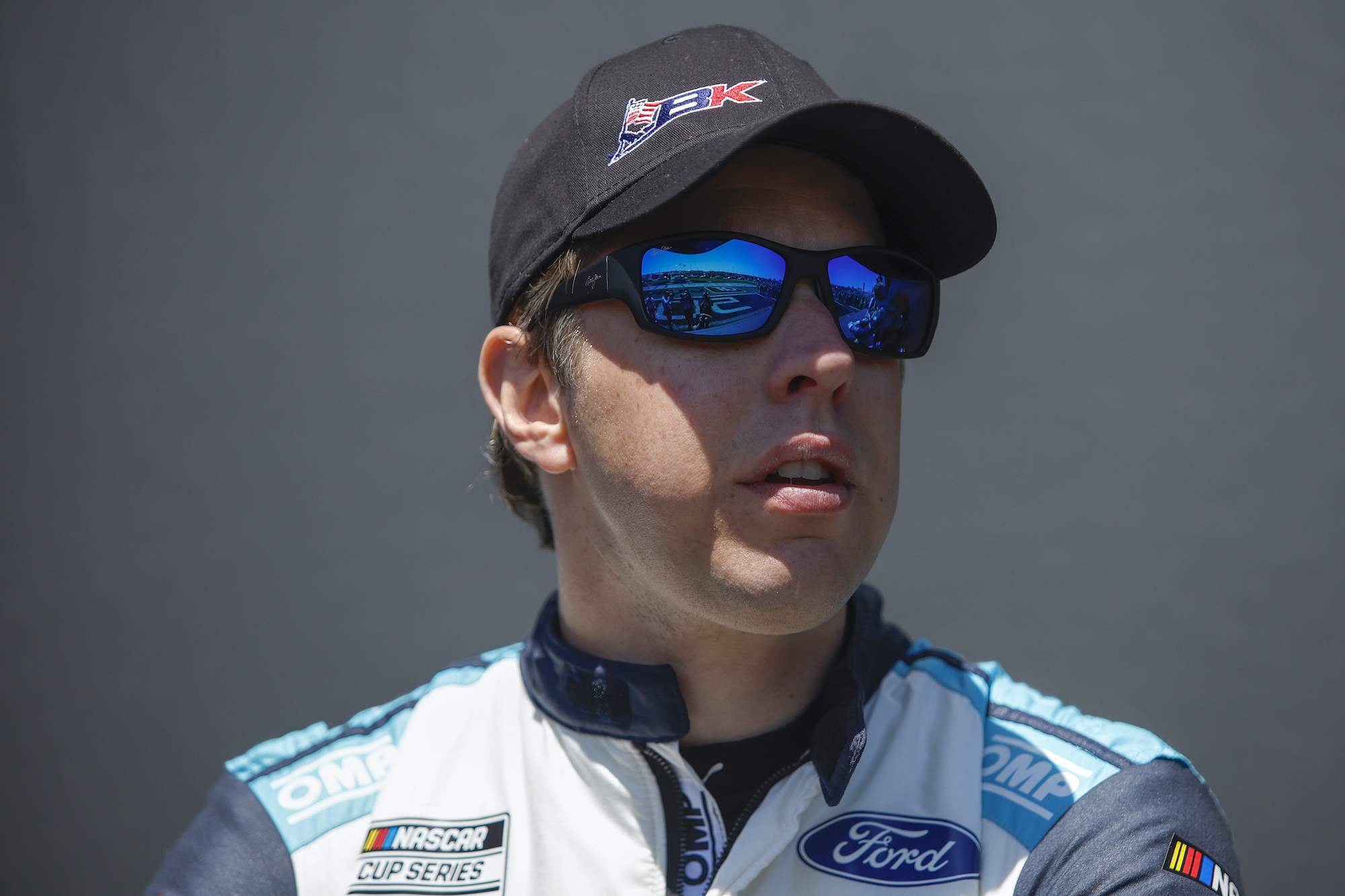 The Message NASCAR Sent to Brad Keselowski Heard Loud and Clear by Other Drivers: 'I'm Pretty Sure It Scares the Hell out of Everyone'
NASCAR harshly penalized Brad Keselowski for violating rules on modifying parts on the Next Gen car and the drivers admitted that they received a message that was loud and clear.
Brad Keselowski was understandably feeling good after the first week of the season at Daytona, in which both RFK Racing cars swept the Duels, and he earned a top 10 in the 500. Unfortunately, it's been a rough ride since on and off the track. 
Last week it got exponentially worse for the 2012 Cup Series champion when NASCAR announced it was penalizing his team for modifying a supplier part and included a huge monetary fine, plus the loss of driver, owner, and playoff points. 
The massive penalties severely damaged the veteran driver's chances of making any noise this season, and more importantly, it sent a message to the garage that the drivers admitted they heard loud and clear. 
Brad Keselowski hit with massive penalty from NASCAR
In February, Brad Keselowski and RFK Racing received a warning during Speedweeks when NASCAR confiscated wheels from the organization after a spot check exposed potential modifications. This month, the governing body took the next step and dropped the hammer. 
After getting caught modifying a single source supplied part, NASCAR meted out a stiff penalty that included the deduction of 100 owner points, 100 driver points, and 10 playoff points. But that wasn't all. Crew chief Matt McCall received a $100,000 fine and will miss the next four races. 
Drivers talk about massive penalty to Keselowski
This past weekend at Circuit of the Americas and days after the Keselowski penalty made headlines, numerous drivers were asked what kind of message NASCAR sent to the teams. All drivers agreed the penalty was massive.
However, some didn't feel comfortable going into details on the matter because they didn't know the scope of the infraction.  
"I don't know much about it. It's hard for me to comment on it," reigning Cup Series champion Kyle Larson said. "I don't even know what happened. Obviously, big penalty. I don't know much more than anybody else does."
Larson's teammate Chase Elliott admitted it was a severe punishment and he wants to know more. 
"Massive. Massive penalty," the 2020 champion said. "I would like to know. I think it might be good for them, they don't have to release it to the public, but I think it would be good for NASCAR to say, 'Hey, this is what they did.' If there was any gray area there, if they were fixing damage, if there was something not intentional, I think it would be good to learn more about the situation."
Joey Logano admits drivers received scary message
Joey Logano worked with Brad Keselowski for years at Team Penske. He admitted the punishment to his former teammate got everyone's attention in the garage.
"I'm pretty sure it scares the hell out of everyone, which is probably some of the attention of NASCAR," Logano said. "They said they were going to put their foot down. We don't know what it was. What happened. But we do know the penalty was huge. I know we probably shouldn't screw around."
Kevin Harvick said it's good that NASCAR is trying to maintain a level playing field.
"I don't know the severity of it," Harvick said. "Obviously, it must have been pretty severe for that type of penalty. I know it's a priority of the garage to try to keep this process clean, and it's better for everybody if it's clean."
Kurt Busch said while it's a severe punishment, it's one the teams knew was possible. "It's a harsh penalty and it sets a tone of these parts are distributed and you're not supposed to mess with them," he said. "I don't know what they did to be able to really comment on it. You've got to try and stay on the straight and narrow."
Brad Keselowski and RFK Racing's appeal of the penalties will be heard on April 7. With everything that's happened, including the drivers' reactions, it's hard to imagine NASCAR will change its mind on the original ruling because it's already sent a message that the rest of the teams heard loud and clear. Doing anything counter to that would send a very different message that would unquestionably undermine the organization's authority and defeat the whole purpose of the Next Gen car and its goal of leveling the playing field.
Like Sportscasting on Facebook. Follow us on Twitter @sportscasting19.