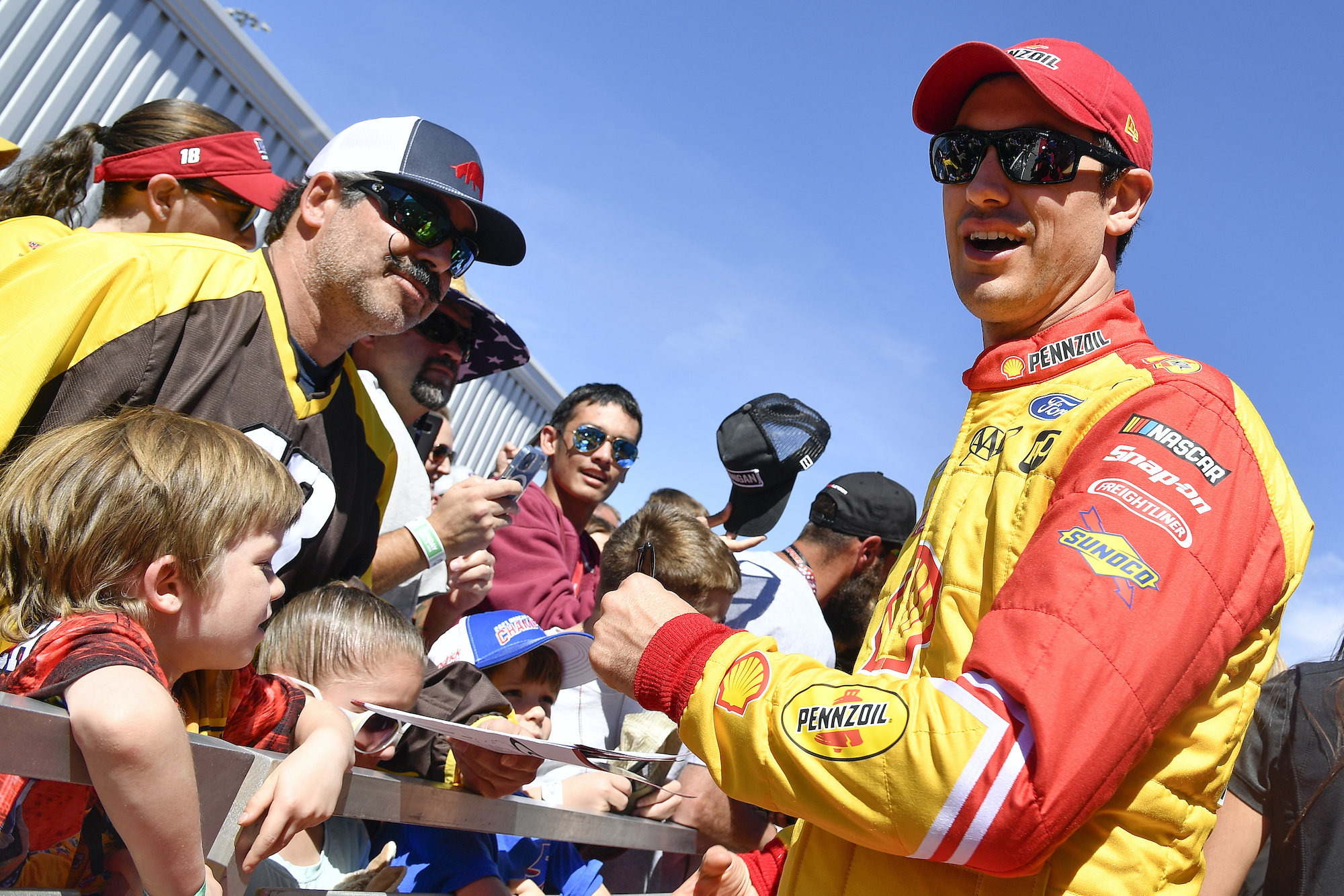 Joey Logano Doesn't Hold Back and Offers Choice Words for Fans Who Think NASCAR Is Becoming More Like WWE
Joey Logano didn't hesitate in sharing his strong thoughts on SiriusXM NASCAR Radio about fans who think NASCAR is becoming more like WWE.
Joey Logano has mixed emotions after racing on the newly reconfigured Atlanta Motor Speedway for the first time. As a NASCAR Cup Series driver, he's not a fan of superspeedways, which is what the new track is now considered by most accounts. As a race fan, he thinks the race provided entertaining action, and more importantly, put butts in the seats.
This week during his regular appearance on SiriusXM NASCAR Radio, the 2018 champion said while he's not necessarily a fan of the racing from a driver's perspective, he understands why the change was made. And he also didn't hold back in directly addressing those fans who think NASCAR is becoming more like WWE.
Joey Logano has mixed emotions on new Atlanta track
While Joey Logano never won at Atlanta (had a runner-up in 2013), like many drivers, he enjoyed competing on the 1.5-mile track. This week during his "Behind the Wheel" segment on SiriusXM NASCAR Radio, the Team Penske driver revisited this past weekend's races on the new reconfiguration and offered his own point-counterpoint perspective.
"I'm not absolutely in love with superspeedways," he admitted. "As a driver in the sport, I look at it as a tax I have to pay to go race fun tracks and tracks that I can make a bigger difference in. So I'm not crazy about it.
"I also sat up in the booth on Saturday (during Xfinity Series race) and thought it was a great race and it was entertaining to watch and a lot of action, sparks flying, and things were good. I also haven't seen that many people in Atlanta since 2001 or '02 when I was there watching it as a fan. It's hard for me to criticize what we did because it seemed like from my point of view, it worked." 
Logano has choice words for fans who think NASCAR becoming more like WWE
With Atlanta becoming a superspeedway style of track, some drivers like Kyle Busch suggested with the possibility of more late-lap drama or crashes, as is often the case on the tracks, that it's more about entertainment than it is racing. 
Some fans have even taken it a step further and said NASCAR is becoming more like WWE. The 31-year-old driver completely disagrees.
"I just shake my head and laugh," Logano said of those fans. "At that point, you just don't get it. Do you think we're out there with a script on how this thing is supposed to go? No. It's competition. No matter what track you go to, whether it's a superspeedway or it's COTA this weekend at a road course, there is competition. There is a lot of work that goes into how do you beat your competitors. 
"It'd be a lot easier if I had a script on how this was supposed to go. I wouldn't have to go to work every day. I'd just show up and drive. This would be easy. Just tell me what to do. But it's not like that. And that's why when someone says that, I'm like, what have you been watching? We're not even close to that. 
"Think about these race teams that are spending millions and millions of dollars. You think they're doing that for something fake? No. They're doing it because they have a reason to spend that money because they can make a whole bunch of money by winning the race. That's how it works." 
Not the first time the two have been compared 
Interestingly, it's not the first time NASCAR has been compared to the wrestling brand. And the previous time, it wasn't by fans, but Tony Stewart.
In 2007, the three-time Cup Series champion was not happy about the race in Phoenix that he dominated but lost after exchanging the lead multiple times late with Jeff Gordon, which included four caution flags for debris on the track. Stewart skipped the postrace press conference but aired his grievances on his SiriusXM radio show a few days later.
"It's like playing God," he said. "They can almost dictate the race instead of the drivers doing it. It's happened too many times this year."  
The former driver said NASCAR was ignoring the fans complaining about debris cautions.
"I guess NASCAR thinks, 'Hey, wrestling worked, and it was for the most part staged, so I guess it's going to work in racing, too,'" he said. "I can't understand how long the fans are going to let NASCAR treat them like they're stupid before the fans finally turn on NASCAR."
NASCAR responded and called Stewart's comments disappointing.
Joey Logano may not rave about how much he likes the new Atlanta track, but he's smart enough to know, as he described, the racing action proved entertaining, and a much larger than normal crowd enjoyed it. 
Fans are the lifeblood of NASCAR and all sports. They show up and watch on TV to be entertained. Fortunately for NASCAR, more of them have been doing just that in 2022 than in years past. And all without a single piledriver.
Like Sportscasting on Facebook. Follow us on Twitter @sportscasting19.