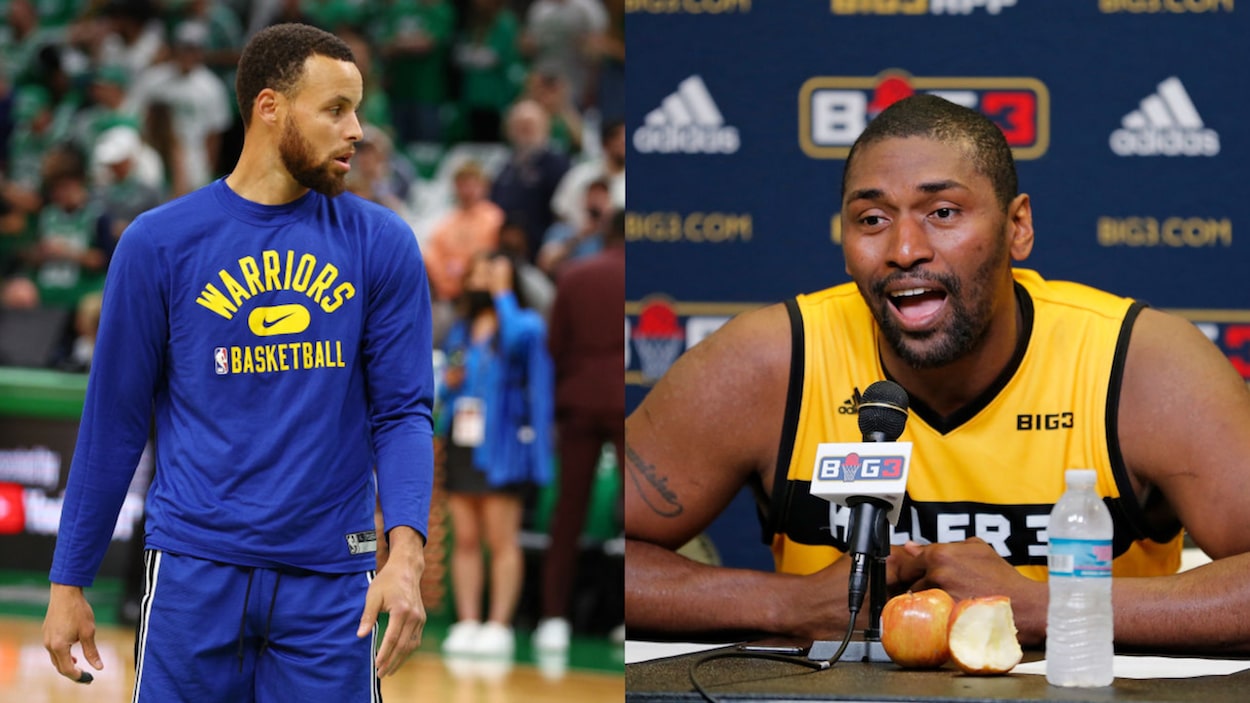 Metta World Peace Just Disrespected Stephen Curry, Even if He Didn't Mean To
Metta World Peace was probably trying to pay Steph Curry a compliment, but his comments about the guard's place in history didn't exactly land.
At this point in time, there's nothing groundbreaking about saying Stephen Curry is an incredible NBA player. The Golden State Warriors guard has literally changed the game of basketball and captured four championships along the way. That reality, however, hasn't always earned Steph the largest amount of respect. Just consider Metta World Peace's recent comments.
During a recent episode of the I Am Athlete podcast, World Peace (who has since changed his name to Metta Sandiford-Artest, but we'll stick with the podcast's identification for clarity) provided his top five NBA talents. While it's understandable that Curry didn't make that list, his place in the all-time rankings still overlooks the guard's greatness.
And, to make things worse, this isn't a one-off incident. Curry has never quite received the respect he deserves.
Metta World Peace didn't intend to disrespect Steph Curry, but he still seems to be overlooking the guard
Sometimes a compliment doesn't exactly land as you intended. At the risk of trying to get inside of his head, it seems like that's what happened to Metta World Peace during a recent interview.
Speaking on the I Am Athlete podcast, the NBA veteran named his top five players, which included four former stars and LeBron James. He was then asked for his take on a more contemporary name, like Curry or Kevin Durant.
"I think, a couple of years ago, before Steph got MVP, I was like Stevie P.' It's on my Twitter," World Peace explained. "I said, 'Stevie P.' That means MVP. This is two years before he got it, and people was like, 'Nah, he ain't getting MVP.' You can look at my Twitter. I said that he could be top 15. I said that like three years ago. I think he gonna be top 15, top 20."
Again, it genuinely seems like World Peace is trying to speak highly of Steph and show that he's been in the guard's corner for some time. With that being said, there's a disconnect.
If we're taking World Peace at his word, he thought that Curry could be a top 15 player of all-time three years ago. While Steph did miss some time with injuries, shouldn't leading the Warriors to the 2022 championship and capturing the NBA Finals MVP title change the equation a bit?
It's also worth noting that the former forward said that Steph is "gonna" be within the top 20 at some point, presumably when he finishes his career. That would imply he's somewhere lower in the rankings as of right now.
At this point, Curry has more than 20,000 points to his name, making him 51st in NBA history. He's made more three-pointers than anyone else and has made long-range shooting an inescapable reality of the modern game. He's averaged 24.2 points per outing for his entire career, and if you're someone who thinks silverware determines all-time greatness, he has four championships, two regular-season MVPs, two scoring titles, and one NBA Finals MVP to his name.
Everyone's rankings will be different, but Curry is certainly worthy of being considered a top 15 or top 20 player in NBA history as of today. If we assume he'll play for at least four or five more NBA campaigns, he can easily crack the top 10. To suggest anything less is either willfully naive or disrespectful of his body of work.
At this point, though, there's nothing new about underestimating Curry's game
Whether World Peace meant to slight Curry or not — again, it really seems like he was trying to compliment the guard, even if it didn't come across that way — his comments aren't exactly unprecedented. Ever since he's burst onto the NBA scene, Steph hasn't received the flowers he deserves.
This isn't a new phenomenon, either. In a 2016 story titled "It's OK to Admit That Stephen Curry Is One of NBA's All-Time Greats," Bleacher Report's Dan Favale cited four different NBA alums who took issue with the guards game. Oscar Robertson, for example, suggested that Steph's success was due more to modern defenses than his own shooting ability.
While things have changed on the court since then, there are still some shots fired in Curry's direction. In August 2021, for example, Kendrick Perkins and Domonique Foxworthy stated that the guard wouldn't win a title within the next four seasons. After claiming the 2022 NBA title, Steph made sure to remind them of that failed prediction.
In 2019, Brando Simeo Starkey tried to get to the bottom of that disrespect in an Andscape (then The Undefeated) post. His theory was that Curry doesn't fit the mold of a conventional superstar. He's (comparatively) small and lacks massive muscles. He came from a Davidson, rather than a blue-blooded college, and was never supposed to be this good.
The source of Curry's success — shooting — probably doesn't help things, either. Depending on how far you want to push things, his skillset is either unmanly/weak (it's not like he's banging bodies in the paint) or less impressive (it's easier to see a jump shot and think, "I can do that," than with a slam dunk, for example). While it's unlikely that anyone is watching the Warriors and actively thinking those things, it can still unconsciously color our judgments.
With all of that being said, though, try to watch Steph Curry with some fresh eyes when the 2022-23 NBA season begins. Like it or not, he's going to go down as one of the all-time greats. It would be a shame to fail to appreciate him while we have the chance.
Stats courtesy of Basketball-Reference