Michael Jordan Admitted His Fear of a Man Nicknamed 'The Lumberjack' but Still Taunted Him Anyway: 'I'd Hit Him and Run'
Chicago Bulls icon and NBA great Michael Jordan is generally thought of as a fearless leader and individual. However, Jordan admitted he wouldn't dare get in a fight with a former Bulls center nicknamed "The Lumberjack." Of course, that notion didn't stop MJ from blitzing him with some patented smack talk.
The name "Michael Jordan" tends to conjure up thoughts of this practically invincible force with a totally impenetrable outer shell and a certain sense of fearlessness. But something about former Chicago Bulls centers always seemed to drag something extra out of MJ.
His Airness had an on-again, off-again sort of contentiousness with guys like Bill Cartwright and Will Perdue. He and Luc Longley also had a bit of a strange dynamic. In fact, Michael Jordan's strange relationships with Bulls centers date back to his first couple of seasons in the NBA, when he was particularly wary of Dave "The Lumberjack" Corzine.
Michael Jordan and Dave Corzine got into it during a Bulls practice in 1986 while MJ was still recovering from a broken foot
Michael Jordan's first Chicago Bulls teams needed a bit of prodding. After all, the Bulls won 56 combined games before selecting MJ No. 3 overall in the 1984 NBA Draft.
Jordan's stellar individual and unparalleled competitiveness helped Chicago make strides. The Bulls won 38 games and made the playoffs in his rookie season. However, a broken foot suffered early in the 1985-86 season rendered Jordan inactive for much of his sophomore campaign.
The Bulls struggled to find footing without their young superstar. They needed to string together wins at the end of the regular season. So when Jordan returned, he sought to instill some fight in his teammates. Literally.
Jordan got into it with multiple teammates during a practice in April 1986, just before a pivotal matchup with the Washington Bullets. He barked at former Bulls swingman Orlando Woolridge before nearly coming to blows with Dave Corzine, whose burly physique and facial hair earned him the nickname "The Lumberjack."
According to the Chicago Tribune, Corzine and MJ got tangled underneath the basket. Corzine didn't seem to make much of the dust-up initially, but went after Jordan after the young Bulls guard kept taunting him. He had to be restrained by other teammates.
Jordan had successfully stoked the fire within his teammates. Admittedly, though, he wouldn't dare try to take Corzine in a fair fight.
Jordan had no interest in challenging Corzine to fisticuffs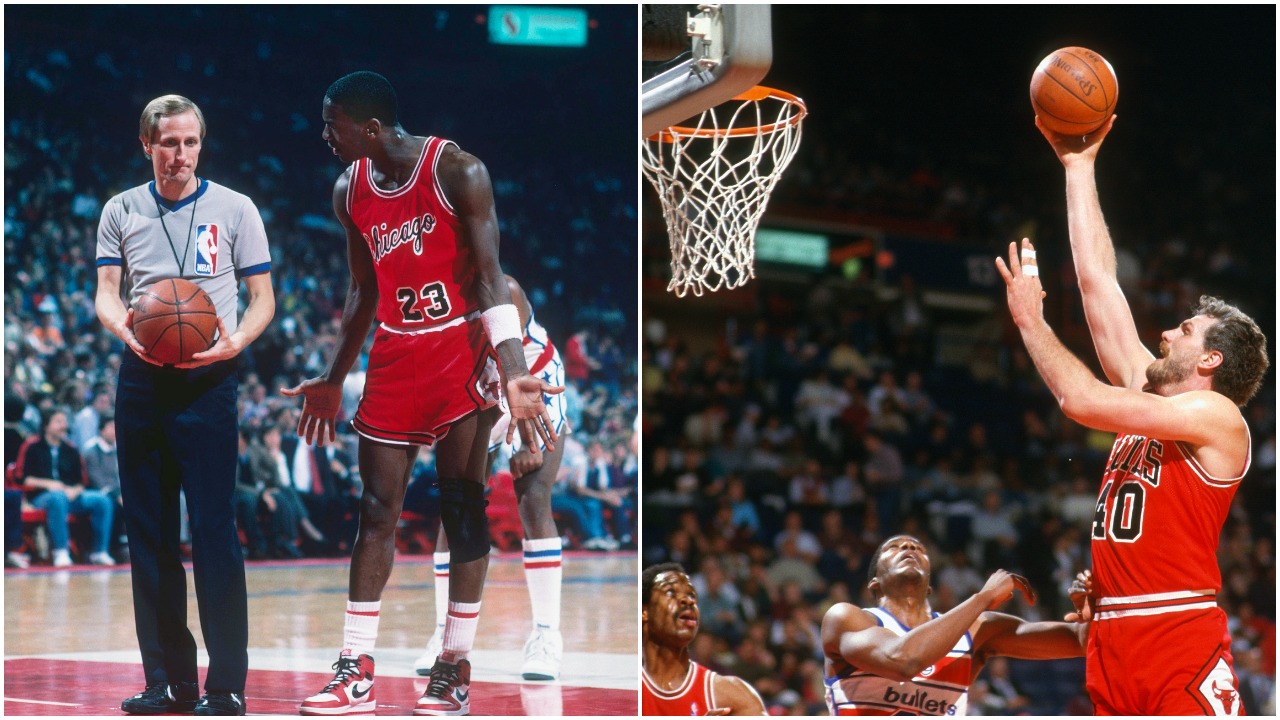 It's not as if Michael Jordan shied away from physicality. He mixed it up with Reggie Miller, Danny Ainge, Greg Anthony, and others. Of course, the Bulls star also had to deal with the "Bad Boy" Detroit Pistons teams.
Still, when it came to scrapping with Corzine, Jordan had less than zero interest. After the altercation, he told the Tribune that he wouldn't have the gall to stand and bang with the veteran center.
To Corzine's credit, he seemed to understand Jordan's objective, even if backup Bulls center Mike Smrek claimed he had "never" seen Corzine get that angry. But "The Lumberjack" brushed the incident aside.
"It was no big deal," Corzine said at the time, via the Chicago Tribune. "There are no personal problems between us. It's something that just happens. You're fighting somebody every day in practice, and you lose your temper. It was an intense practice and got us ready for the Bullets."
Realistically, Corzine probably understood there was no way a second-year guard like Jordan, no matter how athletic or feisty, would genuinely want to scrap with him. That had to help him forgive and forget.
The Bulls made the playoffs and Michael Jordan had one of the most iconic performances of his career
The scrappiness Michael Jordan instilled in his teammates yielded results against the Bullets.
Chicago shot the ball horrendously, with Jordan shooting just 12-of-36 from the field despite scoring 31 points. But the Bulls grabbed a whopping 23 offensive rebounds, with Dave Corzine scooping up six offensive boards. The dominance on the glass helped the Bulls stay in the contest long enough for John Paxson to hit a game-winner in the closing seconds.
The victory clinched a playoff spot for the Bulls, who earned a daunting date with the Boston Celtics. Jordan responded spectacularly, scoring a record 63 points in the old Boston Garden in Game 2. Chicago got swept, but the moment nonetheless put Jordan on the map for legends like Larry Bird and Magic Johnson.
In all, Jordan's scrap with Corzine was symbolic of the tactics he'd use to motivate his teammates throughout his career. But he was also savvy enough to know he wouldn't stand a chance against "The Lumberjack" if all things were held equal.
Stats courtesy of Basketball Reference.