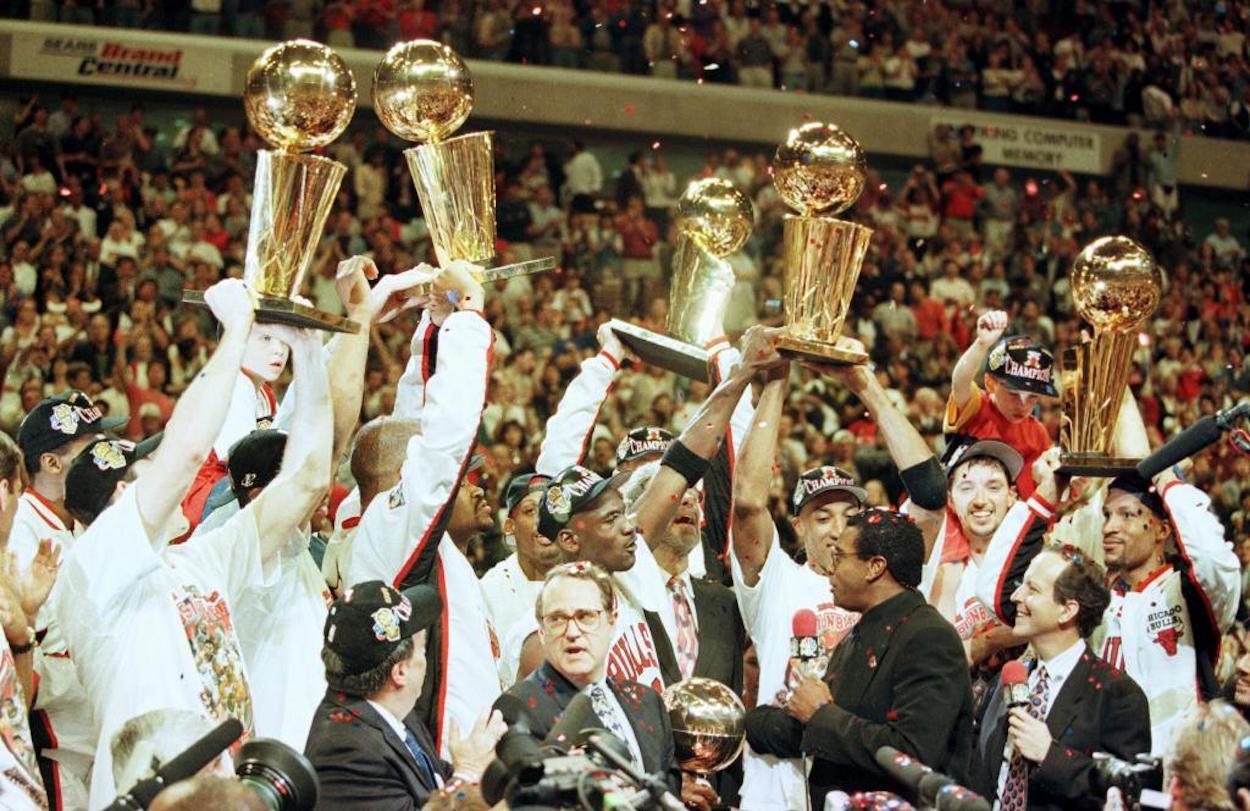 Michael Jordan Can Tie Tom Brady With 7 Championships at the Daytona 500
Tom Brady just one-upped Michael Jordan by winning his seventh Super Bowl, but MJ can get him right back with a win at the Daytona 500.
There's been a ton of GOAT talk (that is, Greatest of All Time) on the Internet and in the national media ever since Tom Brady led the Tampa Bay Buccaneers to a Super Bowl victory to secure his seventh NFL championship trophy. Is Brady now the greatest athlete to ever live? Has he surpassed Michael Jordan as the true GOAT?
Those might be humorous talking points, but it's about as subjective a debate you can find in sports. If you want to judge it on championships alone, Brady now has the upper hand. But Jordan can actually get one back with a win at the Daytona 500 this Sunday.
Michael Jordan now trails Tom Brady in championships
For the last decade, Michael Jordan has been forced to listen to the GOAT debate in the NBA between him and LeBron James. Fans and media pundits alike just need to have one player they can call the greatest. We can't simply appreciate what each player accomplished during their respective eras and go on about our day.
But now, the GOAT debate has evolved to the point where people are comparing the greats from different sports and deciding who the GOAT of GOATs is. An impossible task, yes, but don't tell them that.
After Tom Brady won his seventh Super Bowl this month in his first season with the Buccaneers, sports fans around the country exploded with hot takes about Brady being the greatest athlete to ever live. For some, MJ held that title for over 20 years, but you can't argue with rings. By winning his seventh championship, Brady officially passed Jordan and his six rings from his iconic career with the Chicago Bulls.
With Brady's career not even over and Jordan being out of the NBA since 2003, "His Airness" had to find another way to win his seventh title. And we're not talking about the Charlotte Hornets.
Michael Jordan is now an owner of a NASCAR team
Michael Jordan has always had an affinity for auto racing. He's been a diehard NASCAR fan for years, and Denny Hamlin is one of his closest friends in the sports world.
Last year, Jordan and Hamlin teamed up to start their own NASCAR team —23XI Racing — to debut at the start of the 2021 season. The driver they pegged to steer their No. 23 car to championship glory? None other than Bubba Wallace.
This isn't just a hobby for Jordan, either. Nothing is for that matter. When MJ puts his time and effort into a project, his only goal is to win.
"My main goal for 23XI Racing is to be competitive for a championship as soon as possible," Jordan said in a statement last year. "Our partnership with Toyota and Joe Gibbs Racing gives us the equipment, resources and expertise to do it."
Jordan can tie Brady with a win at the Daytona 500
Tom Brady might've just surpassed Michael Jordan in championships with his seventh Super Bowl, but MJ can get one back this weekend on the race track.
The Daytona 500, which is the Super Bowl of NASCAR, is set for this Sunday at 2:30 p.m. ET. It's also the debut of Jordan's 23XI Racing with Bubba Wallace behind the wheel. Jordan already wants to win with every bone in his body, but a victory at the Daytona 500 would undoubtedly mean even more with Brady recently beating him to seven rings.