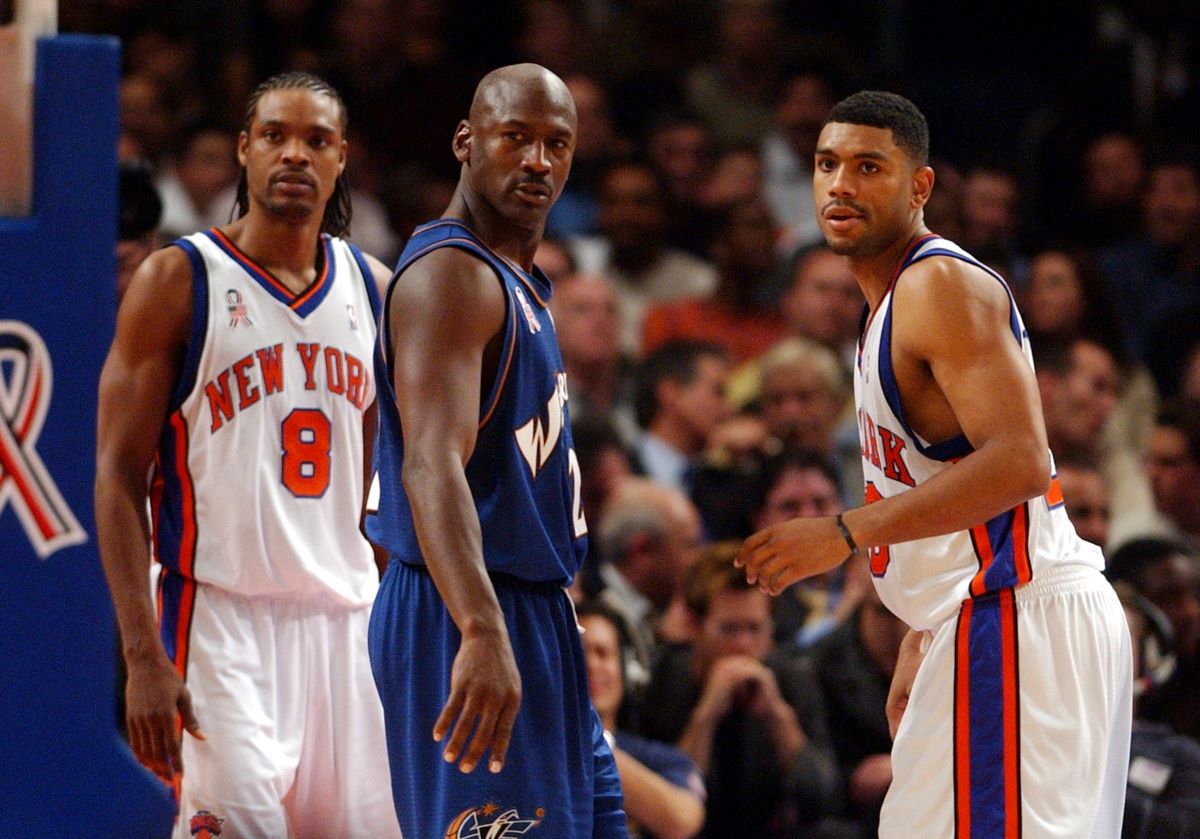 Michael Jordan Didn't Hold Back While Discussing Latrell Sprewell Choking His Coach: 'He Has to Pay a Penalty for That'
Michael Jordan watched Latrell Sprewell punch his coach on the Warriors and opened up about it.
The 1997-98 season was a wild one for Michael Jordan and the Chicago Bulls. Not only did they have to deal with management — specifically general manager Jerry Krause — prematurely ending the dynasty by stating that head coach Phil Jackson wouldn't be back in 1998-99, but they also had to muster up the energy and emotion to defend their championship and win title No. 6.
The Bulls weren't the only team dealing with turmoil in 1997-98. The Golden State Warriors had many distractions, and it all stemmed from what Latrell Sprewell did to P.J. Carlesimo in December 1997.
Latrell Sprewell choked and punched P.J. Carlesimo
During a December practice, Carlesimo yelled at Sprewell and told him to make better passes. The Warriors star, who had a short temper, ran up to his coach and started choking him in front of the team. He also threatened to kill Carlesimo.
After Warriors players broke up the altercation, Sprewell went into the locker room to take a shower. Everyone hoped he would be calm after taking a long shower, but they were wrong.
Sprewell came back to practice after his shower and punched Carlesimo in the face. It was a dark and ugly day for the Warriors, who were one of the worst teams in the NBA at the time. They voided the remainder of Sprewell's contract, and he didn't play the rest of the season.
The Warriors went 19-63 in 1997-98. Sprewell was suspended by the NBA for a year and didn't return to the court until January 1999. Golden State traded him to the New York Knicks once he became eligible to play again.
In Chicago, Jordan had issues with Krause. However, he never thought about choking or punching him despite how much he hated the Bulls' architect. That's why the six-time champion couldn't believe what Sprewell did.
Michael Jordan talks about Latrell Sprewell
During a Christmas interview with Ahmad Rashad in 1997, Jordan didn't hold back while discussing the Sprewell choking incident. The Bulls superstar said it should have never taken place.
"I can't fathom the idea of choking a coach by no means no matter what he says," Jordan said. "You gotta walk away. I have a conversation with a higher being, higher position person in that organization to voice my opinions about this coach, but the problem is that he (Sprewell) acted, and he has to pay a penalty for that."
Jordan never had a problem with Jackson. The duo won six titles together and went 6-0 in the Finals. Even if the Zen Master did say something that pissed His Airness off, Jordan wouldn't have choked or punched him since he knows he would have paid a huge penalty for his immature actions.
Many Bulls fans wanted to see Jordan punch Krause since the general manager made several questionable decisions during the dynasty era. However, the six-time Finals MVP was much calmer than Sprewell.
Michael Jordan had no problem punching Reggie Miller and Steve Kerr
During a Bulls-Indiana Pacers game in 1993, Jordan and Reggie Miller got into a fight. MJ landed a solid punch on Miller's face before the two were separated.
He never punched a coach, but Jordan did hit Steve Kerr in the eye when they were teammates on the Bulls before the start of the 1995-96 season. The five-time MVP apparently had no problem punching players since they were on his level and didn't have a higher status than him.