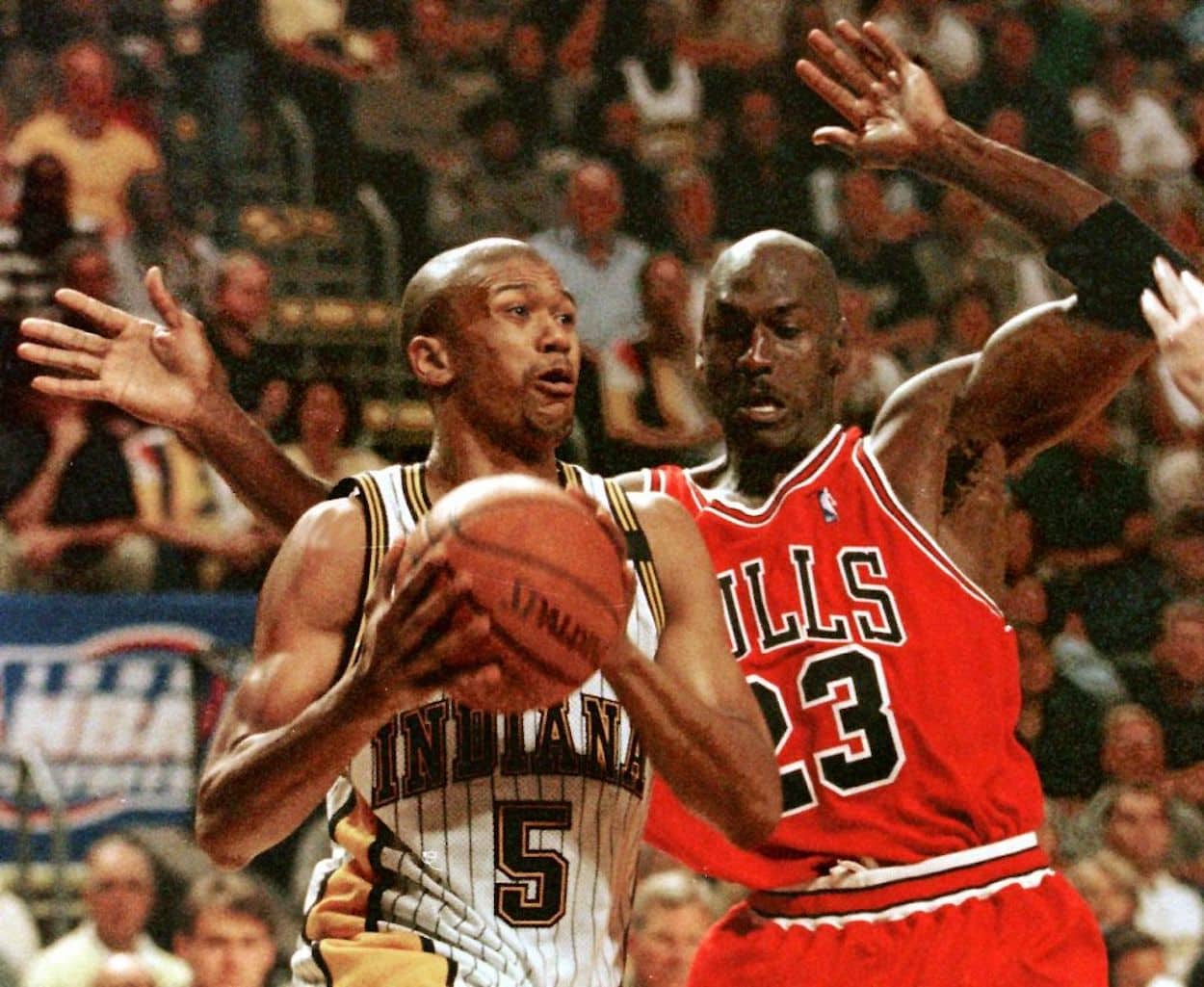 An Aging Michael Jordan Got the Last Laugh After Jalen Rose Hit Him With Some 'Disrespectful' Trash Talk
During his NBA career, Jalen Rose saw an opportunity to go after an aging Michael Jordan. That went about as well as you'd expect.
While Michael Jordan was an incredibly talented player, His Airness also possessed an unbreakable will to win. No challenge was insurmountable; if anything, the obstacle only gave him more motivation. When the chips were down, MJ always seemed to find a way to come out on top. Just ask Jalen Rose about that.
During his early days in the NBA, Rose had faced off against prime Michael Jordan. When the living legend returned to the hardwood as a member of the Washington Wizards, though, the forward saw a chance to flex his muscles against an aging star.
Rose did just that, scoring 27 points and throwing some "disrespectful trash talk" Mike's way, but things didn't end happily for the former Michigan man. He got ejected, and his Pacers lost the game, giving Jordan the last laugh.
Jalen Rose trash-talked Michael Jordan but ended up getting ejected and losing the game
For most basketball fans, Michael Jordan is a living legend worthy of the utmost respect. As a Michigan native, however, Jalen Rose felt a bit differently.
"I'm a Detroit native, a Piston fan, a 'Bad Boys' fan," he explained in an old ESPN clip that recently crossed his Twitter timeline. "So, while I've always respected the greatness of Michael Jordan, I actually rooted against the Bulls because I was rooting for the Pistons."
So when MJ made his comeback with the Washington Wizards, Rose felt he had a chance to strut his stuff. This version of Jordan seemed human and, therefore, beatable.
"So, I'm like, 'I can actually make some moves against this guy that he can't stop,'" Rose remembered. "So when we go to Washington, I'm in his face. I'm taking him on the post, jump-hooking over him, scoring buckets. I had like 30 that game. I did a play, and I actually dunked, not on him, but around him. And I was hanging on the rim, and I started talking trash. I came down off the rim, I said something that can't be repeated on our airwaves. It was very volatile, very rude, and disrespectful. And I got ejected. Had 30 points late in the third quarter against Michael Jordan and the Wizards, I get ejected."
While Rose didn't specify when that exchange took place, the game in question seems to be from February 3, 2002. He scored 27 points that afternoon and received a technical foul for taunting in the dying seconds of the third quarter. Then, with just over four minutes left in the contest, Rose and Jordan received a double technical, which earned the Pacer an ejection.
One part of the story that Rose conveniently left out, however, is that the Pacers lost that nationally televised game. They were down by 14 when he received his first T and trailed by the same margin when he was ejected. The final score was 109-89, which was probably all the famously competitive MJ needed to feel like he got the last laugh.
And, if that wasn't enough, Jordan got some physical revenge the following year. As documented in an AP report (h/t ESPN) from March 1, 2003, MJ elbowed Rose in the mouth during a game. He even went as far as explaining why he did it after the final whistle.
"He was advocating for all the trash-talking and trying to dirty up the game," Jordan said at the time. "They didn't have any other purpose other than to try to dirty up the game and get our heads out of the game. He was an advocate for that, and I felt that was inappropriate — especially when you've got young guys and you're trying to teach them the right way. He's the leader of the ball club. … I felt liked it was getting out of hand. Did I foul him hard? Yes, I did. … I just felt that he was not being true to the game."
And there you have it, not only did His Airness win the individual battle against Jalen Rose on the night in question, but he gave him a bit of extra love the following year.
As the saying goes, "You come at the king, you best not miss." Or, in this case, get ejected.
Stats courtesy of Basketball-Reference