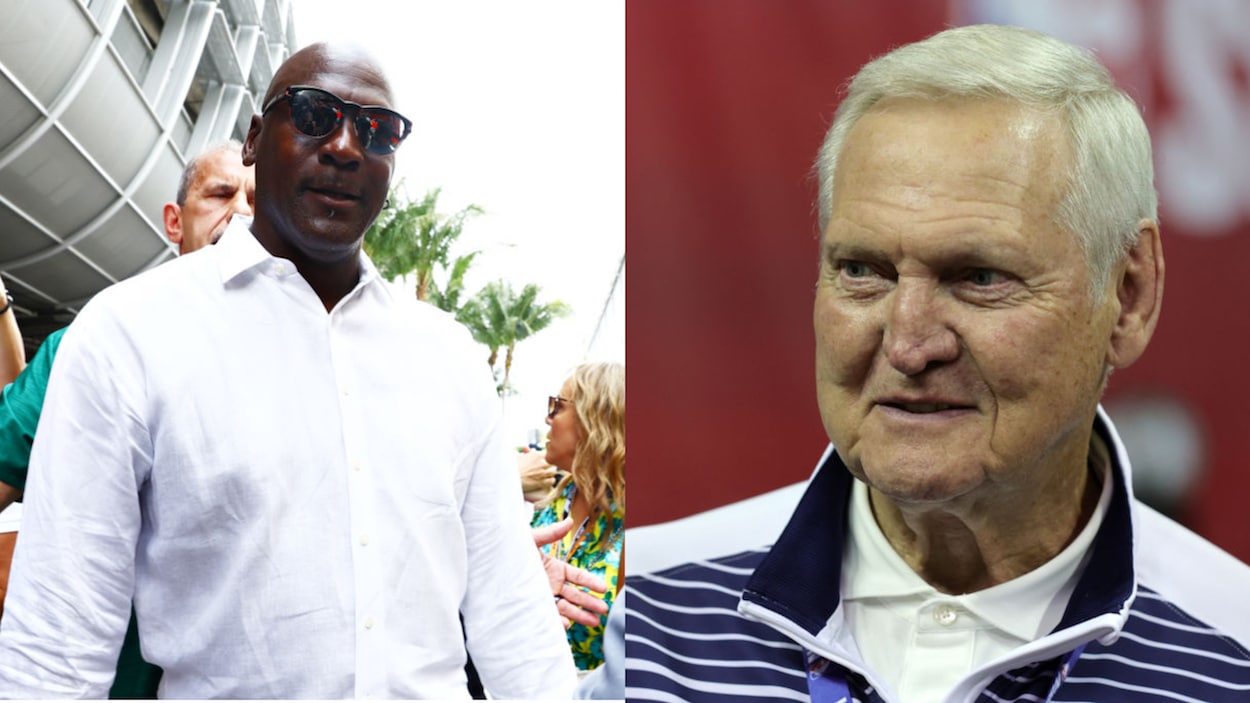 Michael Jordan Is Jerry West's All-Time Favorite NBA Player, but the Most Important Reason Happens Off the Court
While Michael Jordan is largely considered the NBA GOAT, Jerry West praised him for one particular part of his off-court personality.
While he might not receive the same hype as some other NBA players, Jerry West certainly has earned a place in the game's pantheon. As the inspiration for the Association's logo, not to mention a star in his own right, the Lakers legend is someone worth listening to. He's been there, done that, and seen it all.
So when West weighs in on his all-time favorite NBA player, it's time to listen.
Unsurprisingly, the iconic point guard handed that honor to Michael Jordan. While that take isn't exactly flaming hot, West did include somewhat of a curveball. The "most important" reason he cited has very little to do with basketball itself.
Jerry West picked Michael Jordan as his favorite NBA player and cited his personal consistency
If you asked 100 basketball fans why they loved Michael Jordan, you'd probably hear the same few answers. Some would cite MJ's winning resume; others would explain that the Chicago Bulls star captured their imagination with his highlight-reel dunks. Jerry West, however, has a slightly different perspective.
In a video clip shared by NBA TV, West is seen discussing His Airness. While the current Clippers executive hit most of the familiar beats, he still managed to provide his own insider's perspective on MJ.
"Probably my favorite player of all time. Michael Jordan," West began. "A lot of other incredible players I know and frankly been involved with, but, to me, he epitomizes what I think is great in a basketball player. Someone who can play both ends of the court. His teams win. In the last quarter, he's gonna be there."
While you could hypothetically take issue with some of those arguments — individual championships, for example, aren't a perfect metric of success — West largely cited the standard talking points. Then, he provided a bit of a personal perspective on Jordan.
"More importantly, I love Michael like a brother," he continued. "You get a chance to spend some time with him, so, he never changes. And, that's why I like him."
Given what we know of MJ, West's final point isn't surprising, but it is interesting. Generally, we think of Jordan's refusal to accept anything less than the best as somewhat of a double-edged sword. While it made him a living legend, it also caused him to punch teammates, cheat at cards, and, on the whole, be somewhat of a jerk.
West, however, provides something of a different perspective. For better or worse, that's who Jordan is. While it might not be everyone's cup of tea, it's (theoretically) better for him to be true to himself and never change than it is to move through life pretending to be someone he isn't. As fans, we might not get to know Jordan in that light, but if we take West at his word, no amount of fame, fortune, or success has changed His Airness.
It's probably not great to act exactly as MJ did, but there's something to be said for knowing who you are and embracing it. In that sense, maybe we can all be a little more like Mike.
Like Sportscasting on Facebook. Follow us on Twitter @sportscasting19 and subscribe to our YouTube channel.