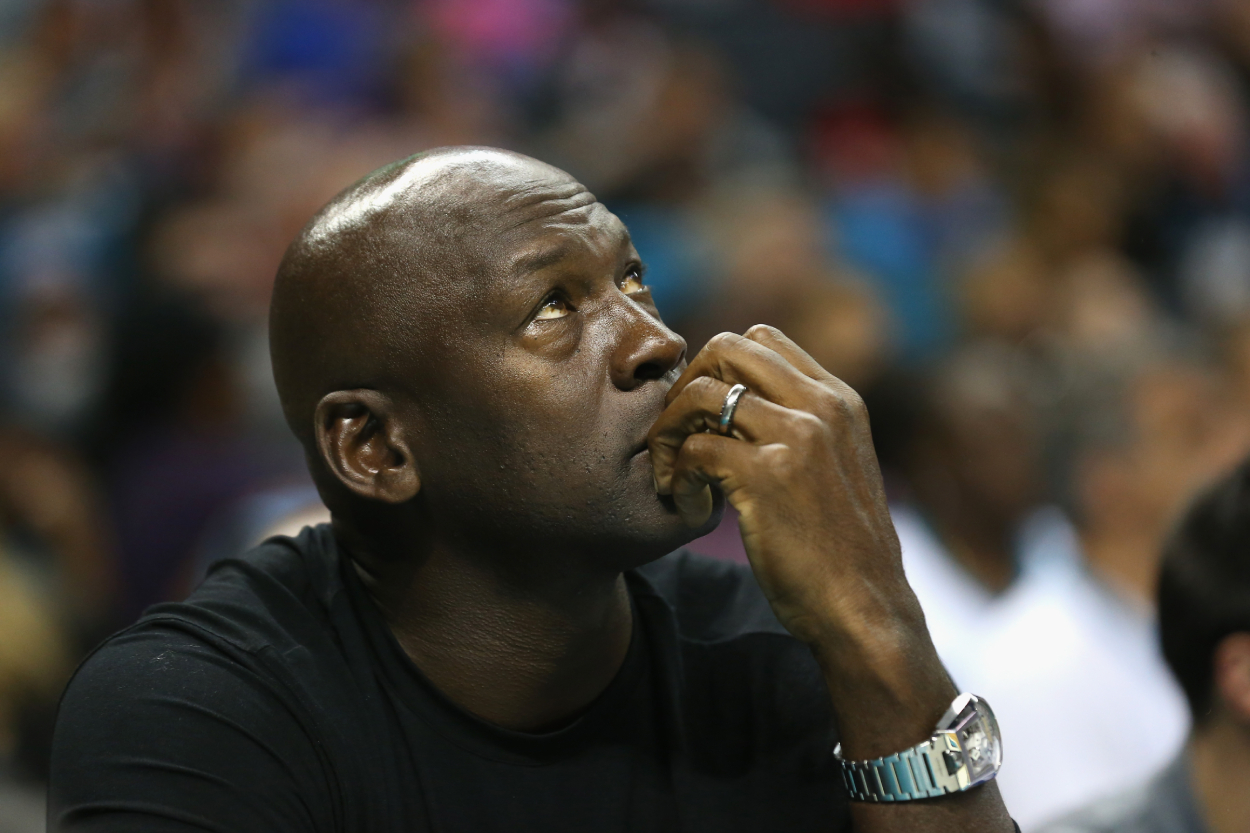 Michael Jordan Might Be an NBA Executive, but the Bulls Legend Still Acts Like a Player Among His Hornets Stars: 'It's a Crazy Dynamic'
Michael Jordan may be an NBA GOAT, but he treats his Charlotte Hornets players like his peers rather than acting like their boss.
Michael Jordan was arguably the greatest NBA player to ever play for the Chicago Bulls, but as an executive for the Charlotte Hornets, he has been anything but great. Throughout Jordan's tenure as governor, Charlotte has been one of the worst teams in the league, either failing to make the playoffs entirely or just losing in the first round.
However, it appears MJ has one excellent quality as an exec that could significantly help his organization during its potential rise to the top. According to Jordan's player, Kelly Oubre Jr., His Airness talks to the Hornets' stars like he's their peer and not their boss.
Michael Jordan's Charlotte Hornets have been perennial losers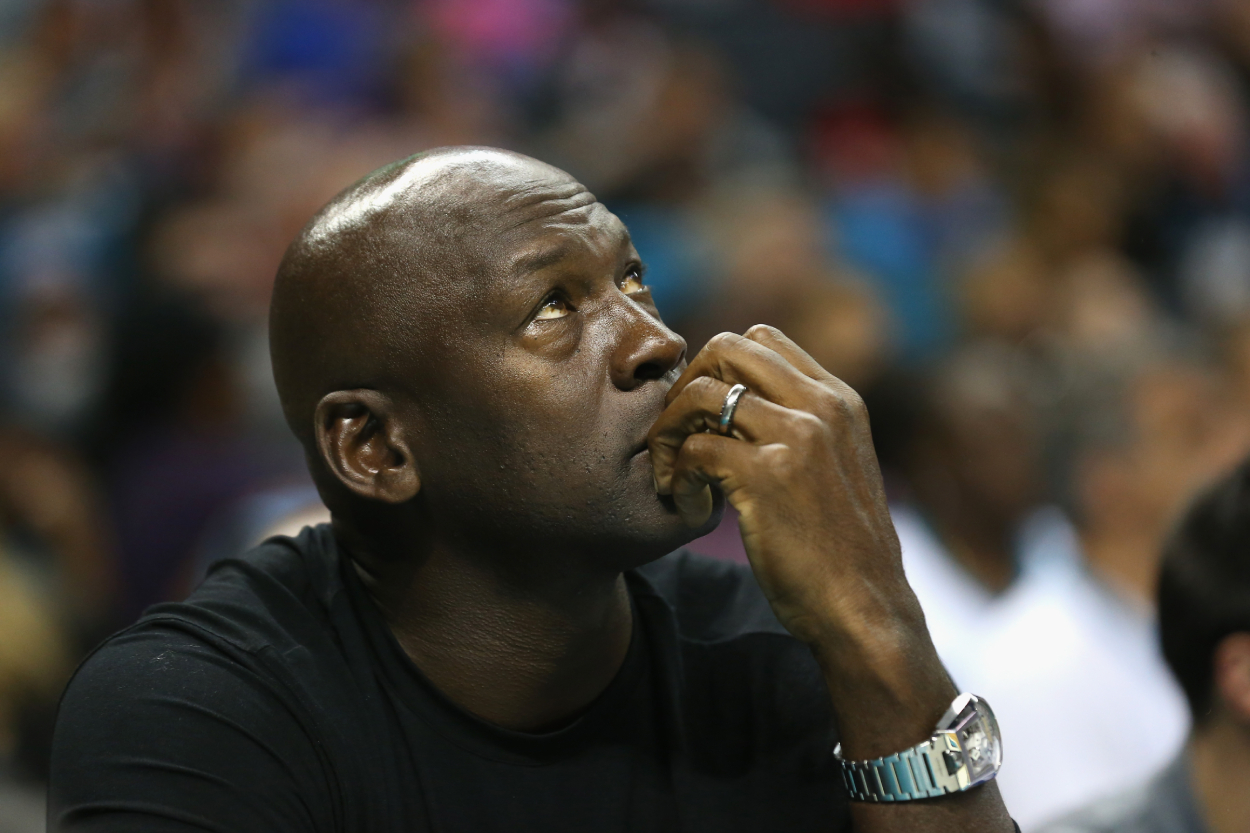 Michael Jordan bought the Hornets (previously known as the Bobcats) in 2010, and while they didn't have much success before he took over, they have somehow managed to achieve less under MJ.
Charlotte has only been around since 1988-89, and they made the playoffs seven times between that season and 2008-09. But with the former Bulls great in charge, they have only made three postseason appearances and lost in the first round each time.
However, the 2020-21 campaign was one of their most promising seasons in years. They improved from 23-42 to 33-39 and made the NBA play-in tournament. Guys like LaMelo Ball and Terry Rozier were crucial to their success and have since helped make MJ pretty happy about the team's direction. So far this year, the Hornets are 16-16 and have not only seen Ball improve, but Miles Bridges has also taken a massive step forward.
So, maybe just maybe, Jordan's squad actually has a bright future ahead of itself. And if that's the case, his positive quality could become pretty valuable.
MJ treats his Hornets players like peers
Kelly Oubre Jr. has had a nice season in his first year with the Hornets so far. He's averaging 16.7 points and 4.1 rebounds, and he's shooting career-bests from the field (45.7%) and 3-point range (37.7%).
In a recent interview with the Arizona Republic, Oubre discussed what it's like to play for one of the greatest players ever.
"It's a crazy dynamic because that's the best player to ever play the game of basketball, in my opinion," he said. "So, for him to be technically my owner and my boss is crazy. … He's the greatest competitor of all time, so whenever he's around, he just pushes me; he pushes us as a group. But more so, he has that like, 'Come on, man, you know better than that s***.' But he talks to you like a player, like a peer, instead of a boss or an owner. So, that's one thing I respect about that, especially from his stature and who he is as a person."
As Oubre alluded, Jordan's status as one of the NBA GOATs could lead to him thinking he's too good for his players and that he doesn't need to treat them like his peers. But it seems that he does the opposite, which could be crucial for the organization moving forward.
Michael Jordan's positive quality could be crucial for the Hornets' future
Michael Jordan knows a thing or two about not having a good relationship with a franchise's front office. As a player, his issues with former Chicago Bulls general manager Jerry Krause were well-documented. So, he seems to understand that as long as he treats his stars with respect, there's a good chance they will want to stay in Charlotte.
His Hornets team is filled with a bunch of youngsters, and only one is signed past the 2023-24 season in Terry Rozier. If MJ wants his squad to continue moving in the right direction, his players need to be happy and dedicated to winning in Charlotte, nowhere else. We have seen what happens when there's a disconnect between a superstar and the front office; just ask LeBron James about when he first left the Cleveland Cavaliers. Owner Dan Gilbert may not have been the main reason LeBron left, but had they had a good relationship, maybe James would have stayed.
All in all, Jordan finally has a talented squad in Charlotte, and if he wants to keep this young core together, his relationships with his players could become crucial.
Stats courtesy of Basketball Reference