Michael Jordan Savagely Taunted a Top Defensive Foe by Counting Down From 40 After Every Basket: 'If He Gets to 0, He Got 40'
Former NBA All-Star Steve Smith has ample experience going back-and-forth with Michael Jordan. The former Michigan State product often took on the responsibility of checking Jordan during his years with the Miami Heat and Atlanta Hawks. Smith undoubtedly heard and saw quite a bit, but one of the most memorable instances was when Jordan began counting backward after made baskets.
Michael Jordan enjoyed going against Steve Smith
Michael Jordan loved challenges and going against the best players in the NBA. He also seemed to enjoy playing against guys who matched his competitive spirit and weren't afraid to mix it up with the trash talking.
Jordan and Smith shared a good rapport in the latter regard.
The Chicago Bulls legend said back in 1997 he was always excited to lace up the sneakers and go head-to-head against Smith. He also explained the two were able to maintain friendly banter on the floor.
"I enjoy playing against Steve," Jordan said, via Sports Illustrated. "We have the same kind of personality out on the court. We like to exchange a few words out there, but we're careful not to cross the line."
One time, Jordan exchanged numbers with Smith. That is to say, he played mind games by counting down from 40 after every made basket.
Smith revealed a Jordan story in which MJ counted backward from 40 after every made basket
Any and all basketball fans interested in player perspective and the game's history should scan the web for episodes of TNT's "Open Court." It features insights and analysis from former players, who typically share stories from their playing days.
In any event, one particular episode of "Open Court" had a segment dedicated to the best trash talkers in the history of the NBA. Of course, Michael Jordan featured prominently. So, too, did Steve Smith.
Everyone on the panel wanted to know more about Smith's interactions in his one-on-one matchups with MJ. He obliged with a story about how His Airness said "38" after his first bucket. It took Smith a bit to realize what Jordan was getting at until it dawned on him that the Bulls star was counting backward from 40.
"Now, if he get to 0, he got 40," Smith joked to the panel.
Jordan excelled at mental warfare and the game within the game. He would do whatever he could to gain the slightest of mental edges over his opponents, even by confusing them with a counting game.
Smith said he relished going against Jordan and fed of the talk. However, as was the case with so many in that era, Jordan frequently got the better of his defensive foe.
Jordan typically owned Smith's teams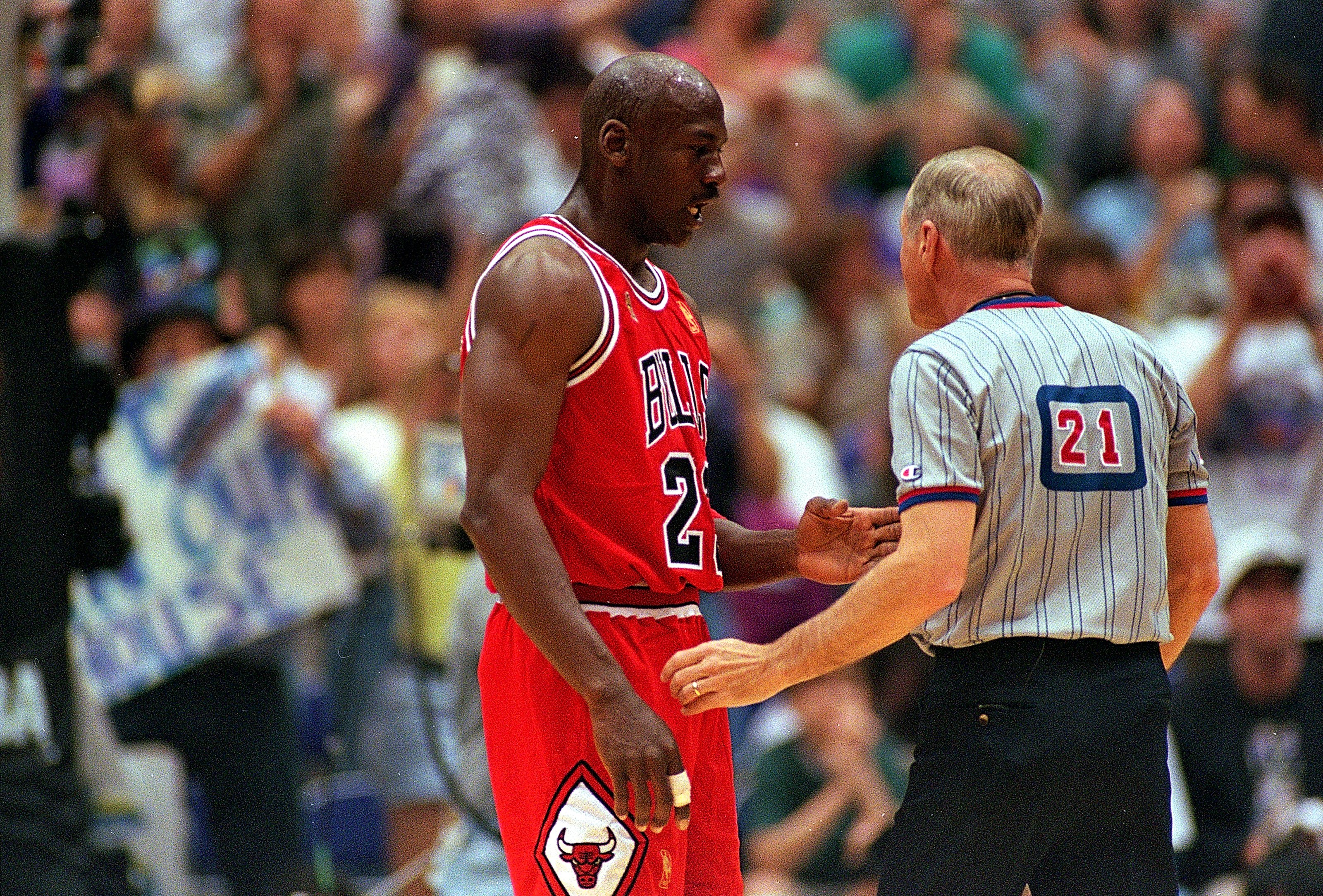 Smith was only in his rookie season with the Miami Heat when he had the chance to go against Jordan and the Bulls in the first round of the playoffs. Money was marvelous.
Jordan dominated the series. He averaged 45.0 points, 9.7 rebounds, 6.7 assists, and 3.0 steals in a three-game sweep, including a 56-point performance in Game 3.
The two were matched up again in the 1997 Eastern Conference semifinals, when Smith was a member of the Atlanta Hawks. Smitty actually did a decent job on MJ, holding him to 26.6 points and 45.4% shooting from the field. But the Bulls still won the series handily, dispatching the Hawks in five games.
Credit to Smith for routinely taking on arguably the toughest individual assignment in NBA history. Unfortunately for him and his teams, the W's were few and far between against Jordan. At least the matchup made for some fantastic stories.
Stats courtesy of Basketball Reference.