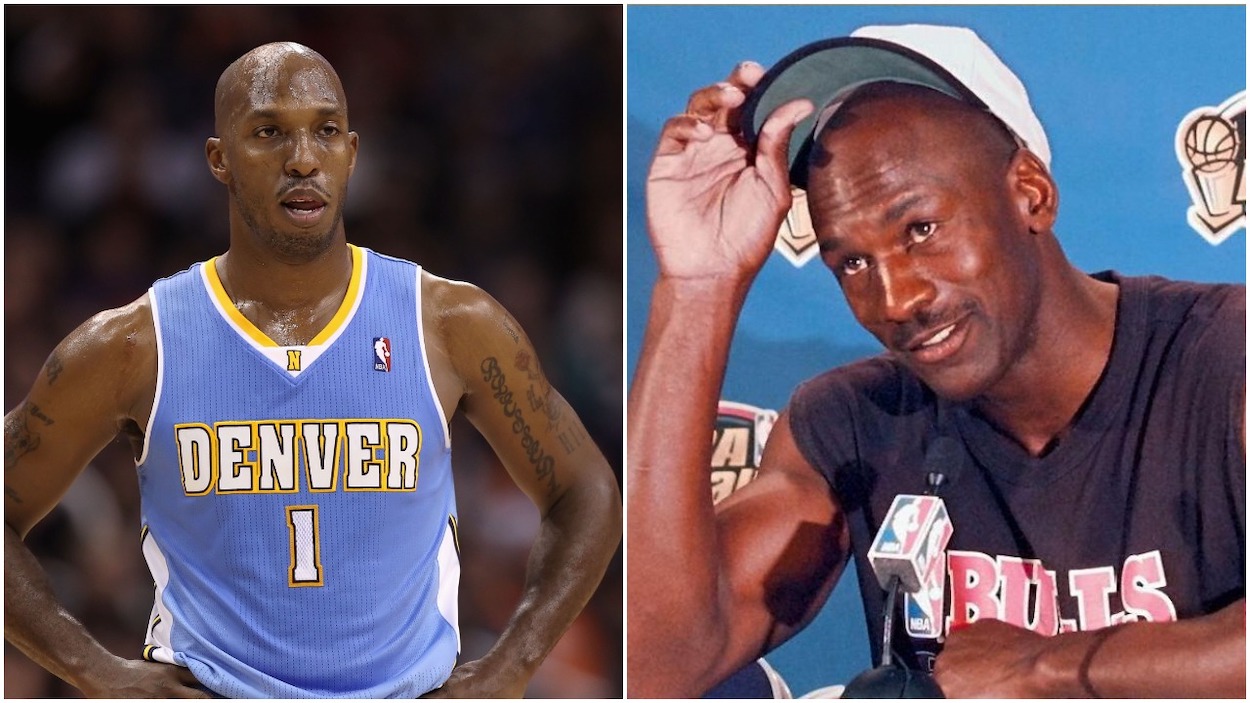 Michael Jordan Called Out a Starstruck Chauncey Billups the First Time They Ever Met: 'What the Hell You Looking at Young Fella?'
Before Chauncey Billups became an NBA veteran, he found himself starstruck and starting at Michael Jordan.
Even though he's been retired for quite some time, Michael Jordan still looms large over the sports landscape. To basketball fans around the world, His Airness isn't just a professional athlete; he's a living legend, more than capable of stealing the show in any situation. Even fellow pros can be starstruck by meeting MJ in person. Just ask Chauncey Billups about that.
While the guard spent 17 seasons in the Association before becoming a coach, there was a time when he was the new kid on the NBA block. It was in that context that he first encountered Jordan.
Chauncey Billups arrived on the scene at the height of Michael Jordan's greatness
As Detroit Pistons fans can confirm, Billups was a talented point guard capable of leading a team to the highest heights. With all due respect to the Colorado product, though, he couldn't come close to touching Jordan's star status.
During his time with the Buffaloes, Billups proved to be a legitimate talent. While Colorado isn't exactly a college basketball blue blood, the guard still led his squad into the 1997 NCAA Tournament, where they upset the Indiana Hoosiers. That campaign ended in the Round of 32, but the point guard had shown enough to garner some serious NBA attention.
When the 1997 NBA draft rolled around, the Boston Celtics snagged Billups with the third overall pick. He earned a place on the roster and, come opening night, found himself playing against Michael Jordan and the Chicago Bulls.
At the time, MJ had ascended to the top of the basketball mountain. He'd won four championships to date and, after returning to the hardwood after a brief detour into baseball, seemed capable of doing virtually anything he wanted. Jordan was already a living legend and the face of global basketball.
Billups understood that reality all too well, despite being Jordan's peer.
Michael Jordan called out the young guard during his first NBA game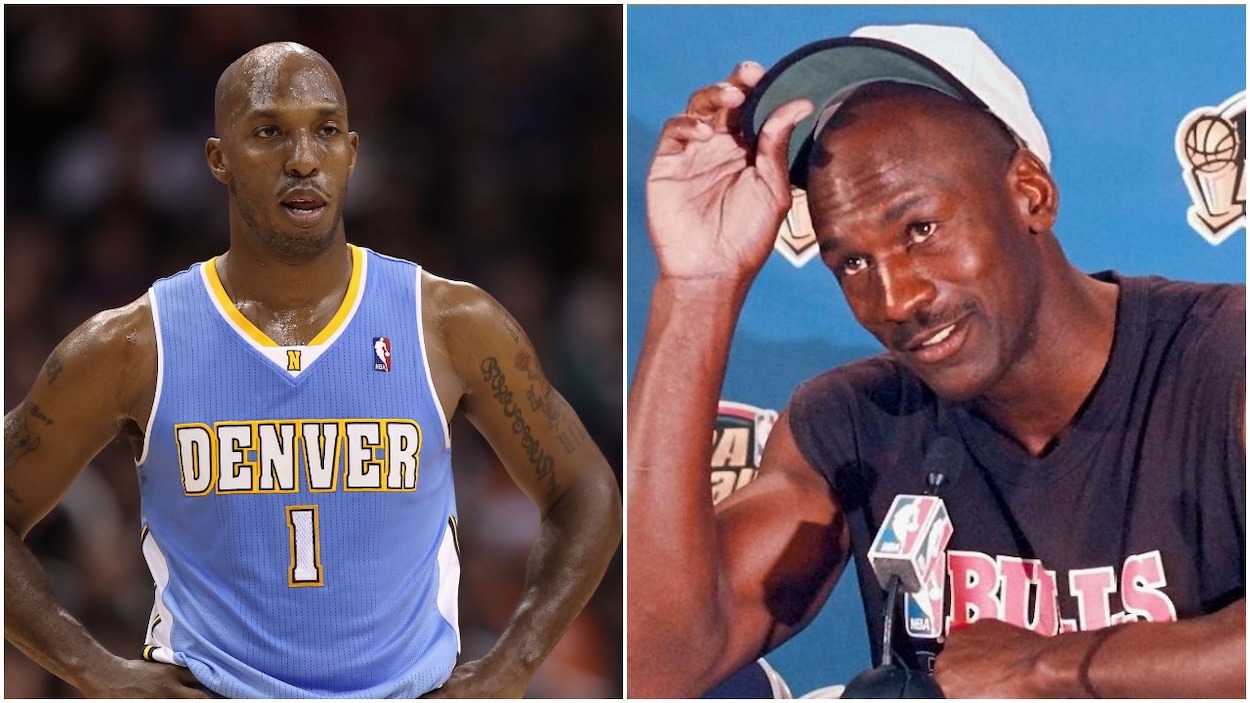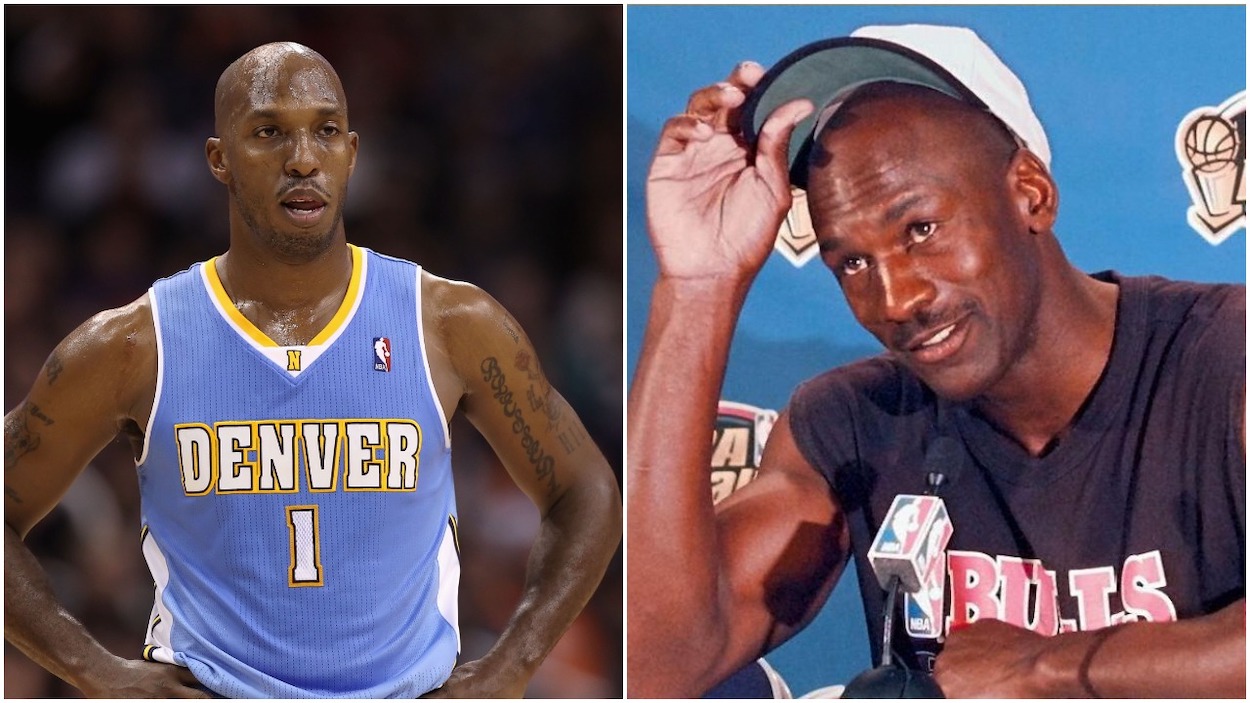 On the whole, it's safe to assume that no NBA player will ever forget their first professional game. For Chauncey Billups, though, things were a bit more memorable thanks to His Airness.
"You gotta think, shoot, I come from a few months before that having Michael Jordan posters in my dorm room, and then my very first game is against Jordan and the Bulls," the guard explained in The Athletic. "I'm in Boston, and we are playing the Bulls at home. I mean, like anybody else, I was in awe. I really was, I was in awe watching him."
During the game, Billups found himself lined up outside the lane as Dennis Rodman shot free throws. While he had to help box out in case of a miss, the guard couldn't help looking over at MJ.
"Well, it was like, Steve Kerr was on the right side of me, and it was me, and then about five, six feet away it was MJ, and then on the other side of him was Ron Mercer, my other rookie buddy," the guard continued. "So, I'm kind of leaning over, grabbing my shorts on my knees a little bit, and I just, I can't stop looking at this dude. And I'm looking over to the left, I look a little bit past him. Ron Mercer is looking over to the right."
Before long, though, their gawking was interrupted. Jordan, it seems, didn't appreciate being stared at while he was trying to work.
And out of nowhere, I hear this deep voice say, 'What the hell you looking at young fella?' And so literally me and Ron both, on cue, looked off, we both looked off like we weren't looking at him.

Chauncey Billups, via The Athletic
In the end, the Celtics won the game, making the night even more unforgettable.
If Chauncey Billups was starstruck, he got over it pretty quickly and put together a capable career
Although he admitted to being awed by seeing Michael Jordan in the flesh, Billups also explained that, after the game, he told Mercer, "you know MJ was talking to you." While it's not clear if that was a joke or his legitimate belief, we do know one thing: Billups wouldn't be the starstruck new kid for long.
While the guard didn't last long in Boston — he was traded as a rookie and found himself on the move again during his sophomore season — that didn't prevent him from carving out an impressive NBA career. He eventually found a niche with the Detroit Pistons and helped the club claim the 2004 championship. Today, his number 1 hangs from the rafters in the Motor City.
In total, the Colorado alum spent 17 seasons in the NBA, averaging 15.2 points, 2.9 rebounds, and 5.4 assists per outing. He's since moved into coaching and, come the 2021-22 season, will lead the Portland Trail Blazers into battle as their new head coach. Now, more than 20 years after he was starstruck by Jordan, Billups will be working with players who grew up watching him play.
Stats courtesy of Basketball-Reference.