Steve Kerr Chose to Honor Toni Kukoc Rather Than Michael Jordan During a Team Dinner After the Chicago Bulls' Last Dance: 'I Wanted Him to Know How Much He Meant'
Even without the boost of a popular ESPN series, the Chicago Bulls' Last Dance looms large in basketball lore. The 1997-98 campaign was the final time Michael Jordan, Scottie Pippen, and Dennis Rodman hit the hardwood together. They, of course, went on to claim the championship, cementing their status as one of the greatest squads ever to play the game. During the celebrations, though, Steve Kerr decided that someone else deserved the spotlight.
After sealing their sixth title, Phil Jackson took his team out to dinner and invited each player to make a toast. At that moment, Kerr shouted out Toni Kukoc over Jordan, Pippen, or anyone else.
Michael Jordan left the Chicago Bulls in style by winning the 1998 NBA championship
In the world of sports, it's common to say that the franchise is larger than any single player. During the 1990s, though, the Chicago Bulls were synonymous with Michael Jordan.
MJ, of course, joined the professional ranks in 1984 and immediately made an impact. While it took him some time to reach the NBA summit — the Detroit Pistons and proved to be an early roadblock — Jordan eventually lifted the Bulls to the highest heights. The club claimed the 1991, 1992, and 1993 championships, then, in shocking fashion, His Airness retired.
After a brief sojourn into baseball, though, Jordan returned to the hardwood. The Bulls picked up where they had left off, winning the 1996 and 1997 championships. That set the stage for the now-iconic 1997-98 campaign.
With changes on the cards — MJ, Phil Jackson, Scottie Pippen, and Dennis Rodman all would depart after that season — the Bulls mounted one final title charge. They would, of course, dispatch the Utah Jazz, claiming a sixth ring and ending their own dynasty in style.
Steve Kerr paid tribute to Toni Kukoc after the 1998 NBA title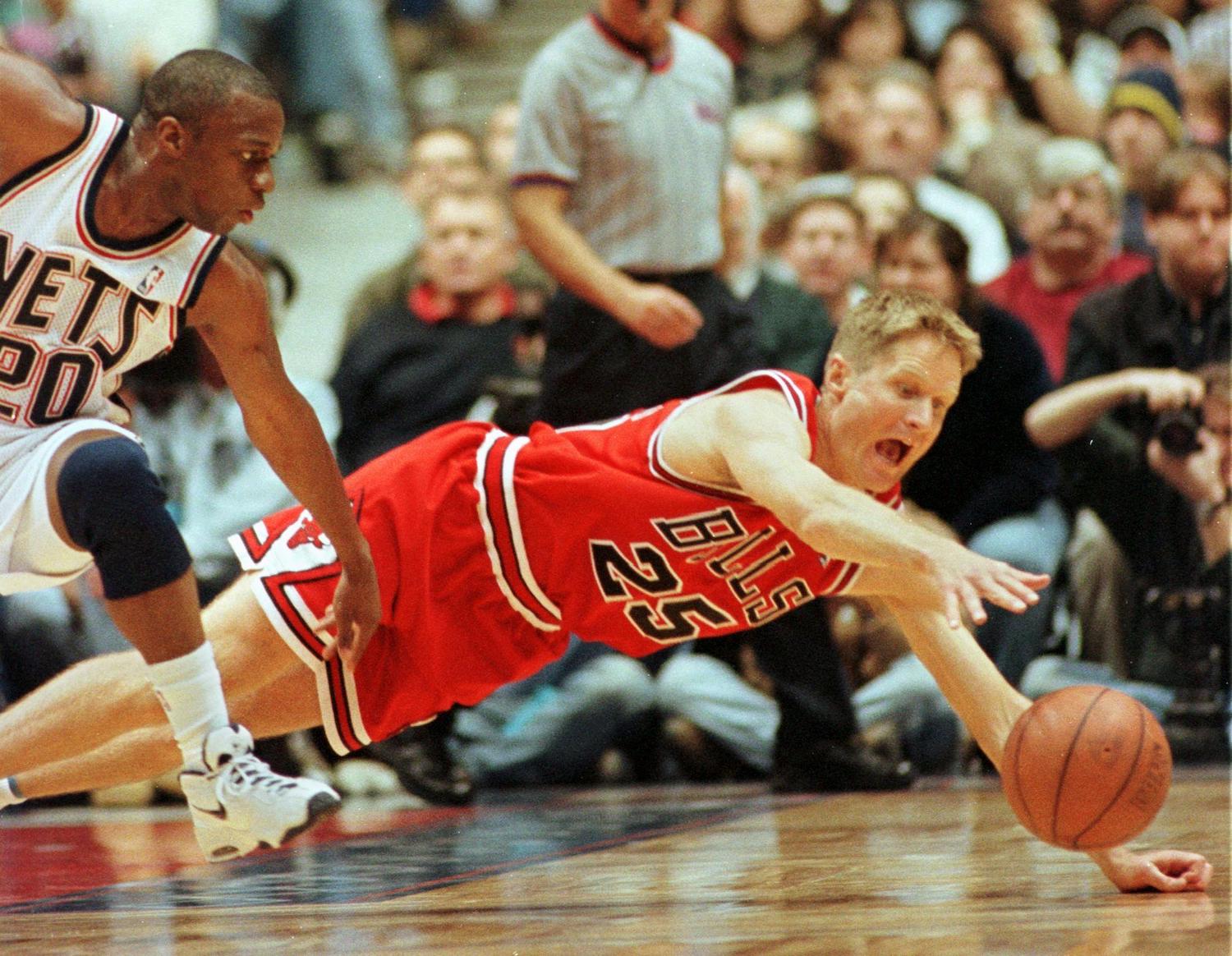 After that championship, Phil Jackson brought the Bulls squad together to celebrate a job well done. Given the personnel changes that were on the cards, that gathering probably proved to be rather sentimental.
"A few days after the Bulls won their sixth championship, Phil Jackson organized a dinner for players, coaches, and their wives at a Chicago restaurant," ESPN's Zach Lowe recounted (H/T ABC 7 Chicago). "Midway through, he gathered the players into a private area. They sat in a circle, drinks and cigars in hand. Each made one toast."
While it would be easy to praise Jordan — he was, of course, the leading man and planned to retire for a second time — Jackson, Pippen, or Rodman, Steve Kerr had someone else in mind. When it was his turn to speak, the guard turned the spotlight toward a less-heralded member of the squad.
"I said a toast to Toni [Kukoc]," Kerr explained. "Nobody had to go through what he did — the pressure from Michael [Jordan] and Scottie [Pippen] to earn his keep. Michael and Scottie are all over him about being Jerry [Krause]'s guy. And Toni just [wanted] to play. And so I just said a toast to Toni, because I thought he was such a great player. I wanted him to know how much he meant to our team."
Toni Kukoc might have lacked the star power of Jordan and Pippen, but he was a capable pro deserving of recognition
In the grand scheme of NBA history, few men can compete with Jordan and Pippen from a name-recognition perspective. While Toni Kukoc is no exception to that reality, he did put together a capable career.
After making a name for himself in Europe, Kukoc moved to North America and joined the Bulls ahead of the 1993-94 campaign. The forward proved to be a solid option coming off the bench, but he also possessed enough talent to step into the starting lineup as required. During the club's final championship run, that ability proved to be invaluable.
"Toni was instrumental when Pip missed the first 30 some games (in 1997-98)," Phil Jackson said, according to an NBA.com write-up. "He was a terrific player who has been overlooked." For reference, Kukoc averaged 13.3 points, 4.4 rebounds, and 4.2 assists per outing that season and started 17 of 21 postseason contests.
If you combine his NBA resume with his overseas accomplishments, Toni Kukoc put together quite the career. Steve Kerr knew that. Phil Jackson knew that. And, even today, savvy basketball fans know that.
Stats courtesy of Basketball-Reference.