Michael Jordan Received Inside Information From Opposing Catchers During His Brief Baseball Career: 'This Is a Curveball'
For basketball fans, Michael Jordan still stands tall as a living legend. Even fellow professional athletes, however, are still impressed by His Airness and his star status. Sometimes, that even helped the Chicago Bulls star gain a competitive advantage over the opposition.
Take, for example, Jordan's brief time as a professional baseball player. When MJ stepped up to the plate, opposing catchers were known to give him some inside information; no one, it seems, wanted to embarrass the star.
Michael Jordan left basketball at the height of his powers
Under normal circumstances, retirement marks the end of a professional athlete's career. Jordan, however, did things a bit differently.
His Airness entered the NBA in 1984 and instantly made an impact. Although championships didn't come easily—the Detroit Pistons and their Jordan rules stood in the way—the guard proved to be a generational talent. Short of double-teaming him, it seemed virtually impossible to slow MJ down.
Eventually, though, the Bulls built a supporting cast around Jordan, allowing the team to finally get past the Pistons roadblock. With Detroit out of the way, the rest was history.
Beginning in 1991, Jordan and the Bulls won three consecutive NBA titles. At that point, His Airness wasn't just a talented kid anymore; he had emerged as a legitimate star, capable of dominating the entire association. At that point, though, the unexpected happened: MJ retired from basketball.
He wasn't done with professional sports, though. Instead, he headed to the baseball diamond.
Opposing catchers would warn MJ about upcoming pitches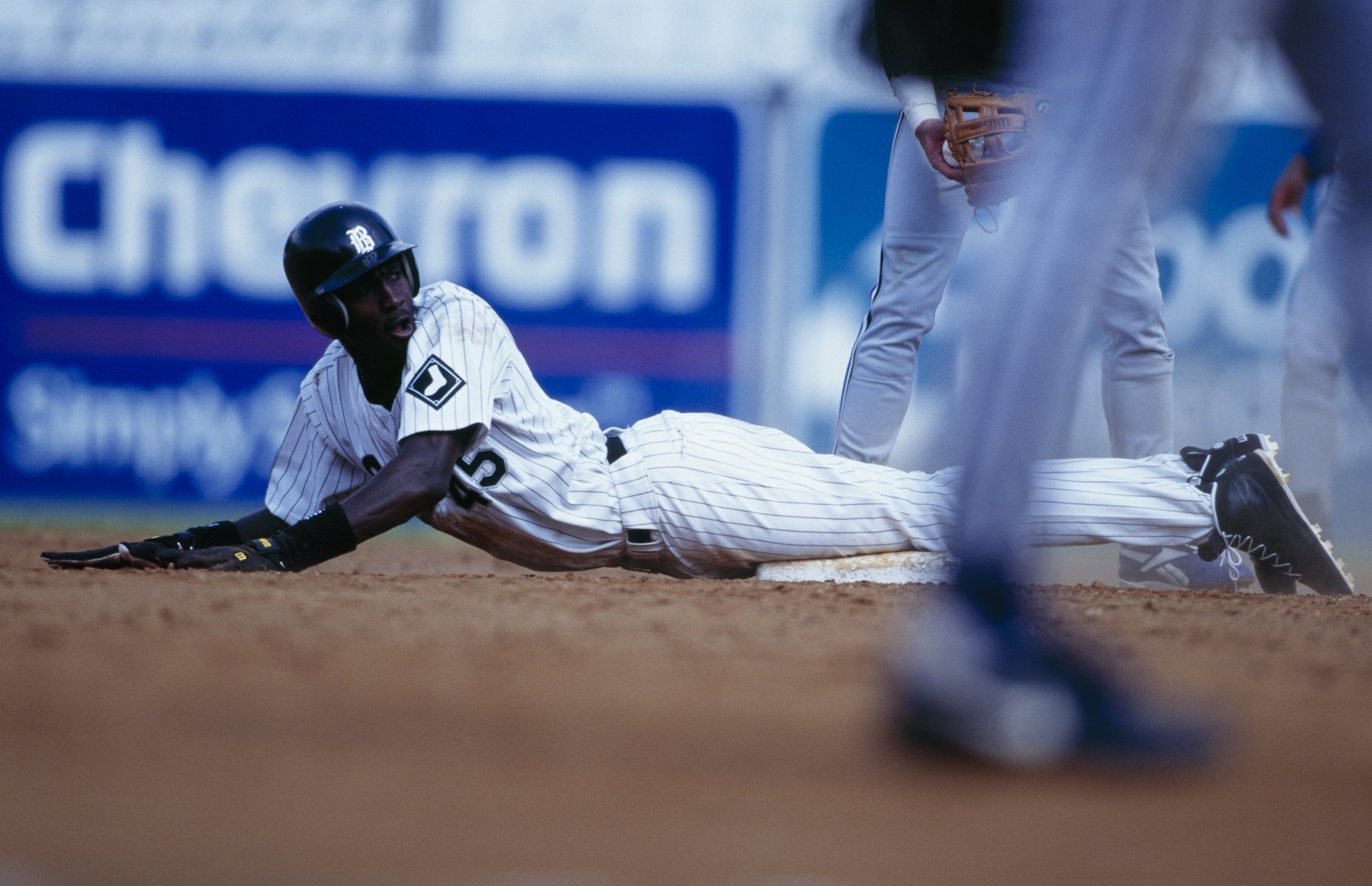 Once he made the transition into professional baseball, Jordan had to start near the bottom of the ladder and report to the minor leagues. Even in Double-A ball, however, His Airness was still a star. That earned him a bit of an inside advantage on the diamond.
In Space Jam, which had no problem poking fun at Jordan's baseball career, viewers saw His Airness step to the plate and engage in an unusual exchange with the opposing catcher. After thanking His Airness for signing an autograph, the catcher proceeded to warn MJ about an upcoming curveball.
While that might seem like something dreamed up for comedic purposes, similar moments actually happened on the diamond.
"Michael told me when he was playing baseball, the catchers would give him the signs," Space Jam director Joe Pytka explained, according to MLB.com. "They'd say, 'Don't swing, this is a curveball, this is a slider,' stuff like that."
Even in the heat of the moment, seeing MJ on the baseball diamond overpowered some player's competitive instincts. Even if MJ was on the other team, he was still the same living legend who carried the Bulls to greatness.
"He was such a hero to them," Pytka continued. "They wanted him to look good."
Even with that inside information, Michael Jordan wasn't bound for baseball greatness
In isolation, knowing when a breaking ball was coming may seem like a major advantage for any hitter. Even that inside information, however, couldn't turn Jordan into a prolific minor league player.
Although he strung together a 13-game hitting streak during the early part of his baseball career, MJ eventually struck a rough patch at the plate. Like most young players, he eventually began to see a steady diet of breaking balls and off-speed pitches. At that point, he started to struggle.
During his time in the minors, Jordan recorded 88 hits in 436 at-bats, which works out to a .202 batting average. On one hand, that's a disappointing haul, given that he got some tips from opposing catchers. On the other, though, it's still a decent haul for someone thrown into the Double-A deep end without much recent baseball experience.
Either way, though, Jordan's time on the diamond came to an end in March 1995. He, of course, would return to the Bulls and win three more championships before retiring for a second time.
Stats courtesy of MiLB.com