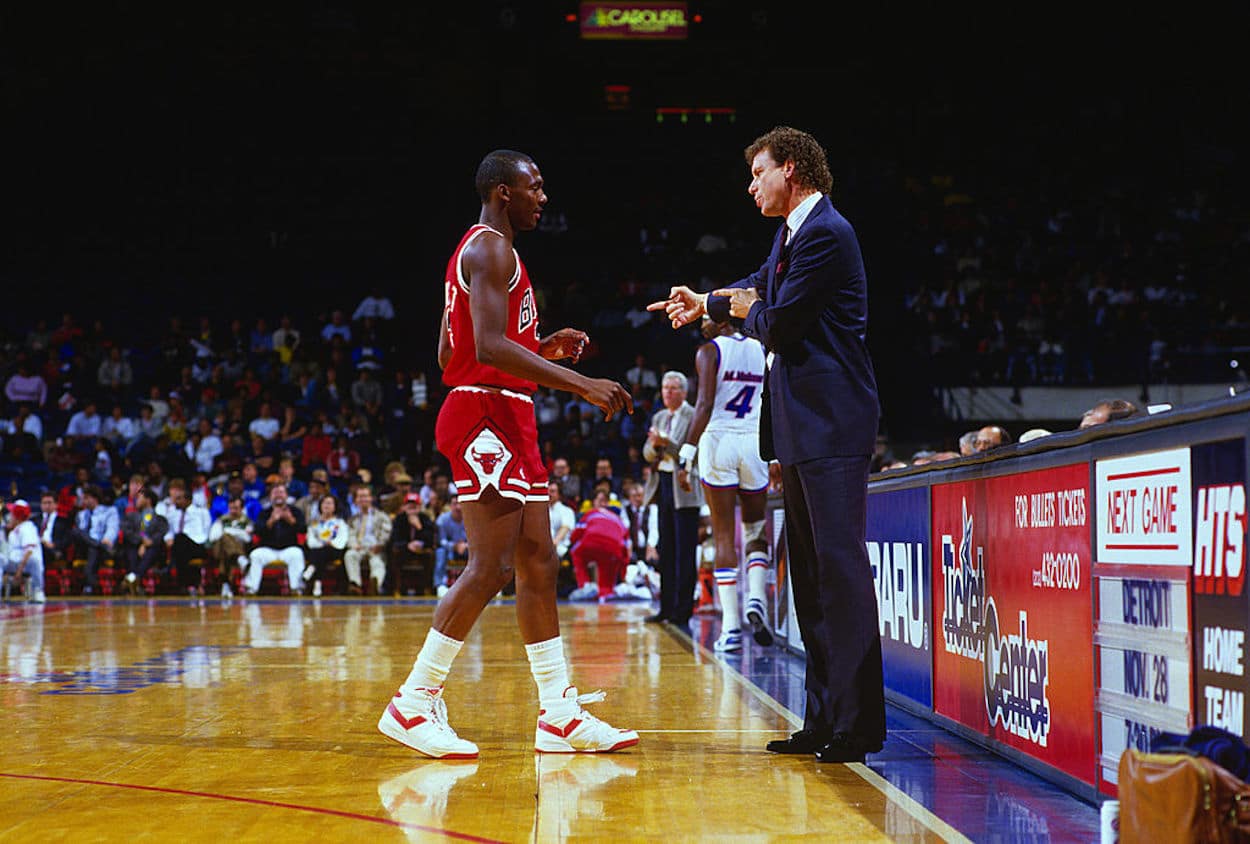 Michael Jordan Showed a Kinder Side During the Bulls' Opening Game of the 1986-97 Campaign
Michael Jordan wasn't always warm and fuzzy, but he did bail Doug Collins out during his first game as an NBA coach.
For all of his talent and success, Michael Jordan isn't remembered as the nicest guy around. His Airness was willing to do whatever it took to be the best, even if that meant talking trash, cheating at inconsequential contests, and punching teammates during practice. With all of that being said, though, MJ wasn't a complete and utter monster: Just ask Doug Collins about his first game as head coach.
At the start of the 1986-87 NBA season, Collins was taking charge of his first game on the NBA bench. While things got a bit tense at Madison Square Garden, Jordan was there with a cool drink, a kind word, and some on-court heroics.
Sounds unbelievable? Let's head back in time and revisit one of Jordan's more gentle moments.
Michael Jordan had Doug Collins' back during the Bulls' 1986 season opener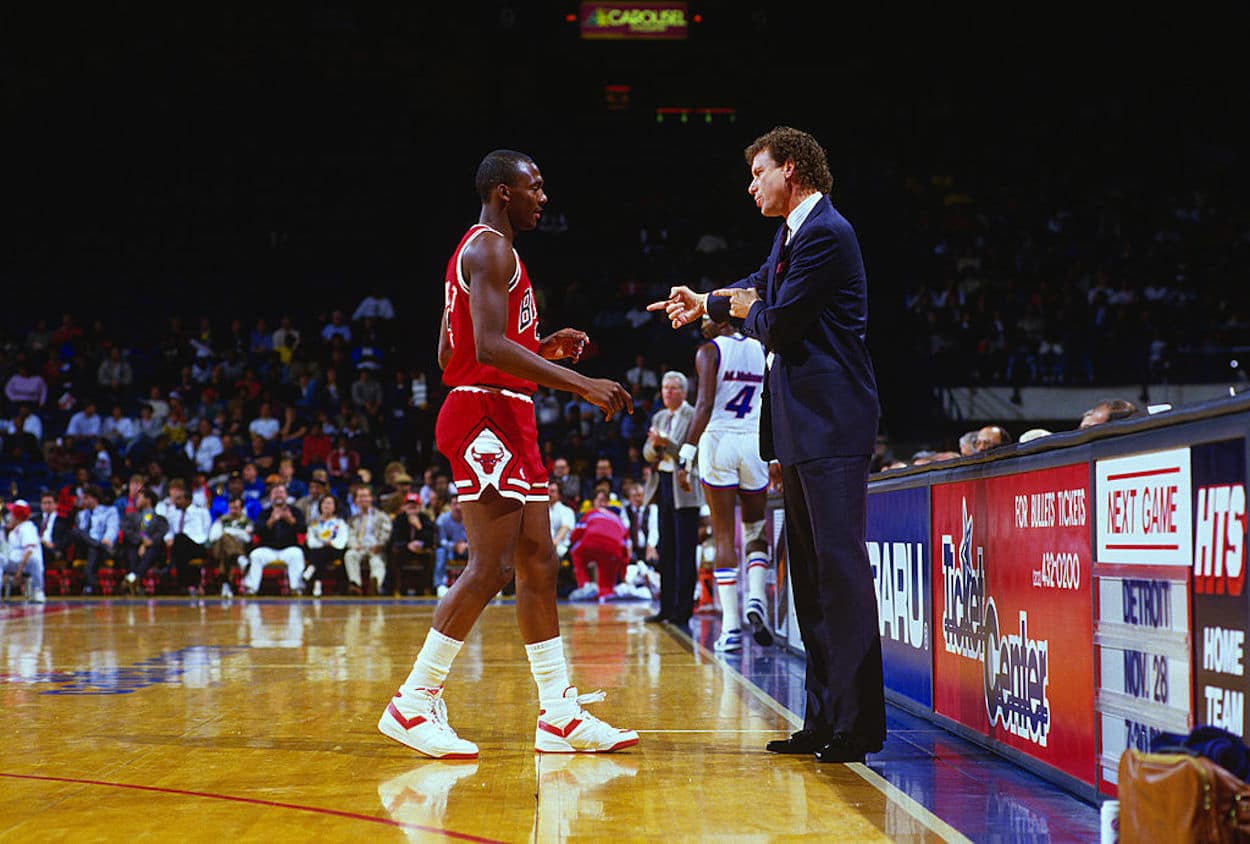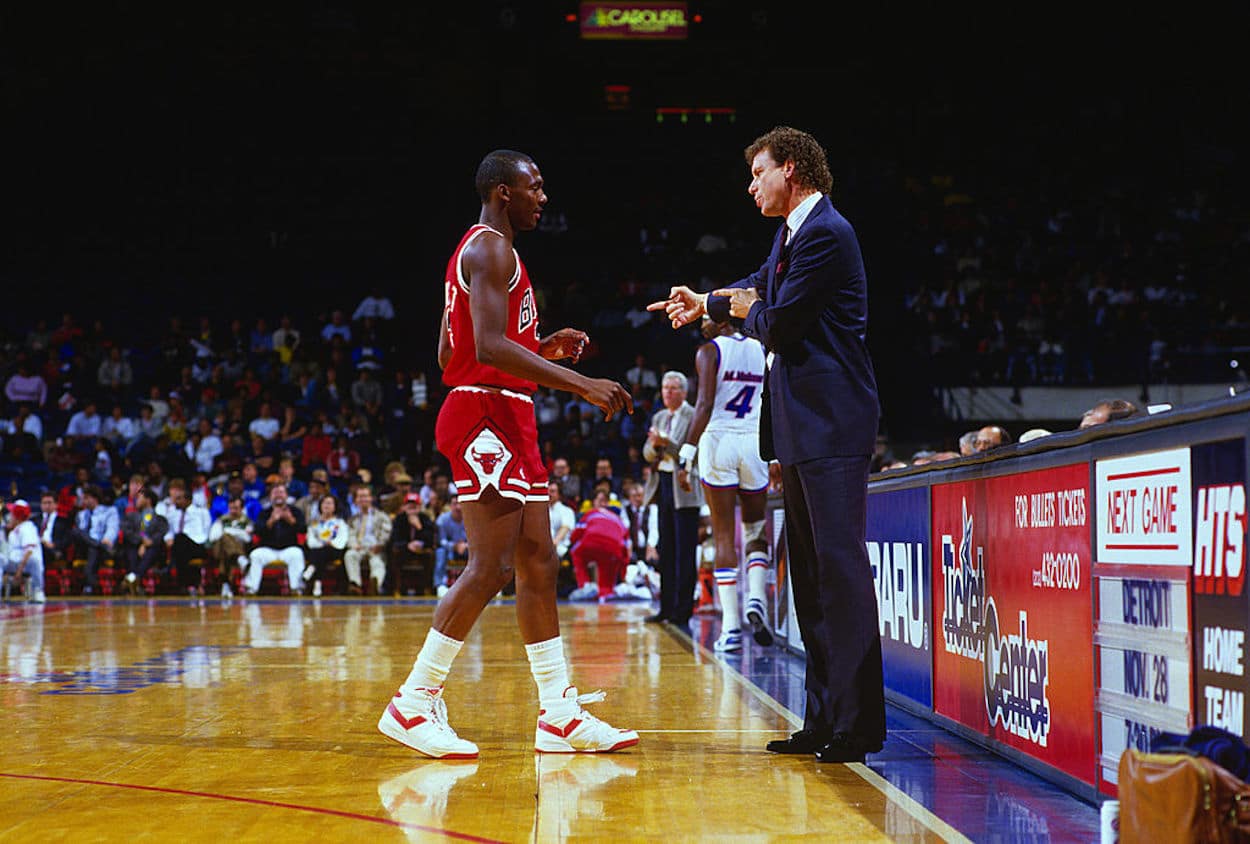 When you're starting a new job, it's important to get off on the right foot. In November 1986, Doug Collins was attempting to do just that.
The coach had just taken charge of the Chicago Bulls, and the team traveled to New York to open their season against the Knicks. Between the occasion and the intensity of the contest, Collins began to feel the heat on the bench.
"It was here and there was two minutes to go in the game," Collins told Steve Wyche of the Washington Post for a 2001 story. "The game was tied and I took a timeout. I had a splitting headache from the pressure of the game."
As you might expect, the coach attempted to lean on his best player. In that situation, though, MJ stepped up in more ways than one.
I was drawing a play up, trying to get the ball to Michael. He handed me a cup of water and said, 'Coach, take a drink of this. I'm not going to let you lose your first game.' I think he went on to score the last 10 points of the game. We won and I think he ended up with 50 that night. That was my first taste of Michael Jordan.

Doug Collins, The Washington Post
And while there's a tendency to embellish over time, Collins is right on the money, at least from a score perspective. According to the box score, Jordan scored exactly 50 as the Bulls left MSG with a five-point win.
That seems to mesh with Jordan's take on his own behavior
Upon first glance, that anecdote seems to show a different — and, frankly, nicer than usual — side of Michael Jordan, which raises the question of how to reconcile his overall legacy. If we draw on some of Jordan's other words, though, things don't seem so dissonant.
At the emotional climax of The Last Dance, His Airness is asked if his intensity has made others view him as something less than nice. At the risk of partially paraphrasing, Jordan responds that "winning has a price" and "leadership has a price," suggesting that he was willing to sacrifice some niceties in order to push himself and others to the promised land.
While you can debate the validity of that philosophy, it does seem to be consistent with Jordan's behavior. Whether he was needling a teammate or making practice as intense as possible, it was theoretically done to ensure that everyone could perform in crunch time.
With that context, let's return to the interaction with Collins. While it's impossible to know what was going through MJ's head at the time, there are some potential flow charts that mesh with his later behavior. On one hand, it's possible that he could tell the new head coach was pushing himself to the limit in pursuit of a win, which made him deserving of Jordan's help. Alternatively (and cynically), perhaps His Airness could tell things were starting to slip and was simply telling his boss to step aside.
Does only being nice to those who prove themselves "worthy" count as being nice? Or does it just make you more of a jerk? You can be the judge of that.
When it came to winning a basketball game, though, it was well worth the effort to have Michael Jordan pulling in your direction.
Have thoughts on this topic? Keep the conversation rolling in our comments section below.