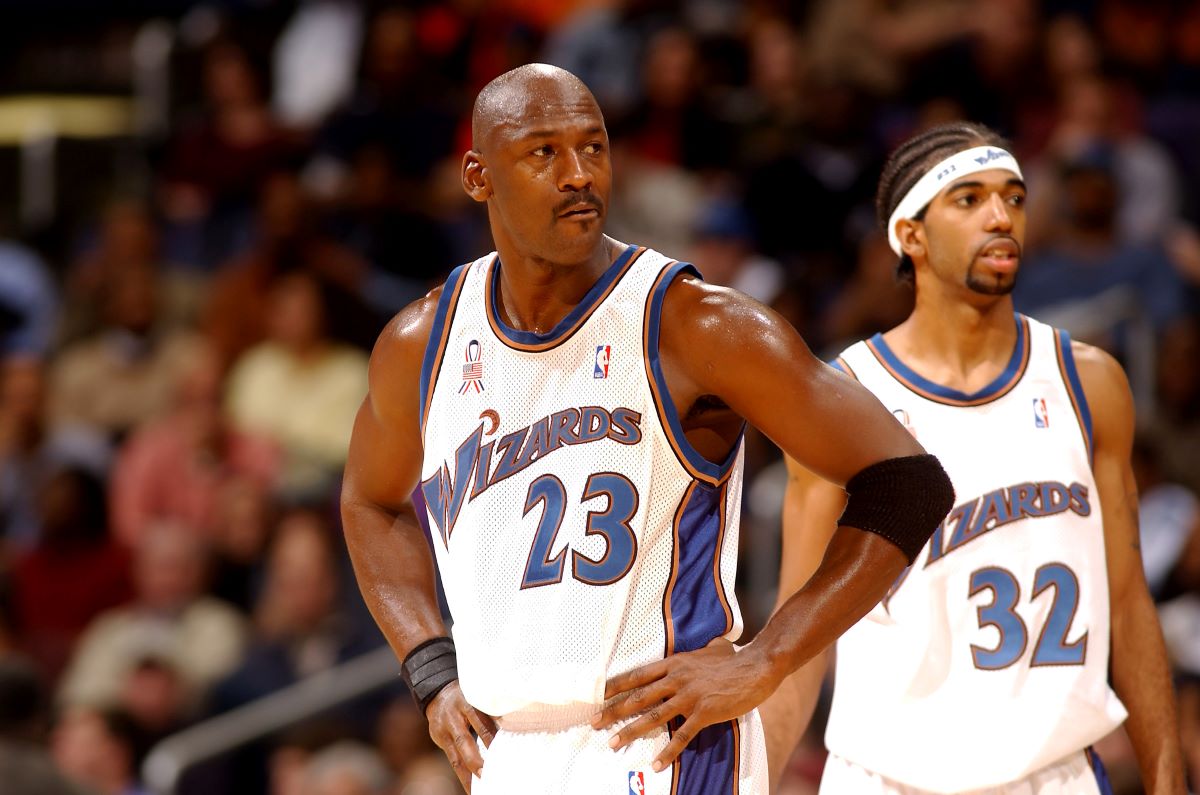 Michael Jordan Told Wizards Teammates He'd Show Them How to Score 20 Points in a Quarter and Then Sit for the Rest of the Game: 'That Was Unique'
Michael Jordan quickly showed his Wizards teammates he was the same old MJ.
Michael Jordan came out of retirement for a second time in 2001 to play for the Washington Wizards. He felt he could help the franchise more as a player than as the team's top decision-maker, a role he kept even after returning as a player.
Although Jordan wasn't efficient in 2001-02, he still had some vintage moments on the court and carried himself with the confidence he had during his legendary run with the Chicago Bulls.
Michael Jordan told Wizards teammates he'd show them how to score 20 points in a quarter
According to Popeye Jones, who was on the Wizards in 2001-02, Jordan told the Washington players he'd show them how to score 20 points in a quarter and then sit for the rest of the game. Although it was only a preseason game, and His Airness fell two points shy of 20 for the quarter, it was a unique thing for Jones and his teammates to witness.
"We were playing in one of the first preseason games. We were playing Miami, and we were in the tunnel getting ready to walk out," Jones told NBA scribe Landon Buford. "It was a preseason game, and he said, 'I'm going to show you guys how to get 20 points in a quarter and sit down,' and at the end of one, he had 18. Then he went ahead and sat down. That was unique."
The Wizards went 37-45 in 2001-02. Many pundits believe they would have made the playoffs if Jordan didn't hurt his knee, but it was certainly fun to see the six-time champion turn back the clock a few times.
Michael Jordan averaged 22.9 points in 2001-02
Jordan appeared in 60 games for the Wizards in 2001-02. He averaged 22.9 points, 5.7 rebounds, and 5.2 assists while shooting 41.6% from the field and 79.0% from the free-throw line.
Jordan's best game of the season came on December 29 against the Charlotte Hornets. He scored 51 points in 38 minutes and shot an efficient 55.3% from the floor. It was a vintage performance from MJ, who was 38 and used his mastery of the mid-range to dominate Charlotte.
It had to be tough for Jordan to miss the playoffs in his two years with the Wizards. The five-time MVP made the postseason every year with the Bulls and won six championships. Jordan's tenure with the Bulls was so epic that it may not be matched by any player in NBA history.
MJ became the GOAT with the Bulls
Jordan established himself as arguably the best player in NBA history with the Bulls. Along with winning six championships, six Finals MVPs, and five regular-season MVPs, the UNC product won 10 scoring titles, made 12 All-Star teams, and won one Defensive Player of the Year Award.
In 930 games with the Bulls, Jordan averaged 31.5 points. He's the NBA's all-time leader in points per game (30.1) and player efficiency rating (27.9). MJ is also one of three players to win MVP and DPOY in the same season.
Jordan's time with the Wizards may not have been successful. However, he still had the confidence to make bold proclamations to his teammates.