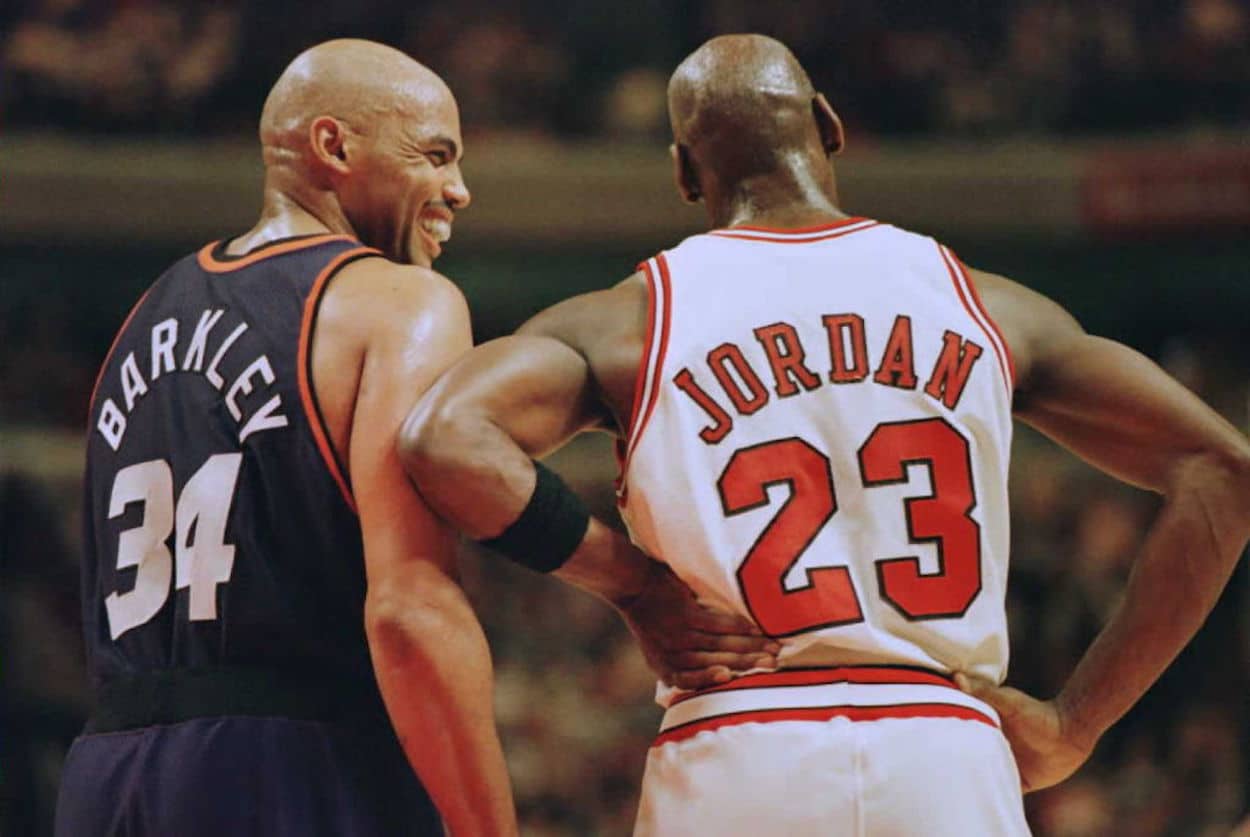 Michael Jordan Once Trash-Talked Charles Barkley in Front of Dan Patrick, Digger Phelps, and Lou Holtz to Stop Him From Stealing the Show
Michael Jordan was ready, willing, and able to talk trash in virtually any situation. Just ask Charles Barkley about that.
If you're a long-time basketball fan, you've probably heard plenty of stories about Michael Jordan and his legendary trash talk. His Airness needed to win at all costs and wasn't afraid to use some verbal warfare to accomplish that aim. That was even true beyond the basketball court, as Charles Barkley learned the hard way.
According to Dan Patrick, Sir Charles was once holding court at a charity golf tournament and earning some laughs from those around him. That apparently didn't sit well with MJ, who entered to take Barkley down with some biting trash talk.
Michael Jordan used some championship-based trash talk to stop Charles Barkley from stealing the show
Over the years, Charles Barkley has heard plenty of reminders about his failure to win an NBA championship. At least one of those, it seems, came from Michael Jordan.
"I was at the Jimmy Valvano golf tournament many, many years ago, and I'm at a table with Digger Phelps, Quinn Buckner, Lou Holtz, Barkley, and Michael Jordan," Dan Patrick recently told Ernie Johnson. "And Chuck is going back at Michael a little bit, and then, all of a sudden, the competitor in Jordan kicked in. And then he started going for the knees. He wanted to take out Chuck in front of us because Chuck was getting all these laughs. And then Michael said, 'You never won a championship, did you?' And then, all of a sudden, it stopped."
As you might expect, that barb killed the mood. MJ may have put Barkley in his place, but he also stopped the laughs from flowing.
"And then it wasn't fun anymore," Patrick continued. "It wasn't fun anymore after that. And you're like, "OK." You can always win an argument, it feels like, that way, when you go, 'You didn't win a championship.'"
It's unfortunate that Barkley is forever defined by that lack of a ring
After Patrick finished that story, Ernie Johnson gave Chuck credit for being comfortable facing eternal jabs about his lack of NBA championships. While that's certainly one way to put a positive spin on things, it does highlight a collective shortcoming we have as sports fans.
Although it's understandable to tie things to championships — some fans spend their entire life waiting for one, so it's easy to make it the ultimate arbiter of success — it's not exactly fair. Claiming a title is a collective effort that's partially dependent on luck. Sometimes a player is simply in the wrong place at the wrong time.
Is it really fair to hold that luck against someone like Barkley? Should the fact that he had the misfortune of competing directly against Michael Jordan overshadow 16 seasons of strong basketball, 11 all-star appearances, and one NBA MVP title?
While everyone can make that judgment for themselves, I'd contend that, if nothing else, we should all avoid getting so bogged down in championships that we miss the forest through the trees. Part of the beauty of sports is seeing athletes do incredible things; it's easy to miss that, though, if you're focused on championships and nothing else.
So, bringing it back to Barkley, it's completely understandable why he's forever defined by that lack of postseason success. With that being said, though, Sir Charles was an incredibly talented player who deserves his flowers. Don't like the barbs from Jordan, Shaquille O'Neal, or anyone else distract you from that reality.
Stats courtesy of Basketball-Reference