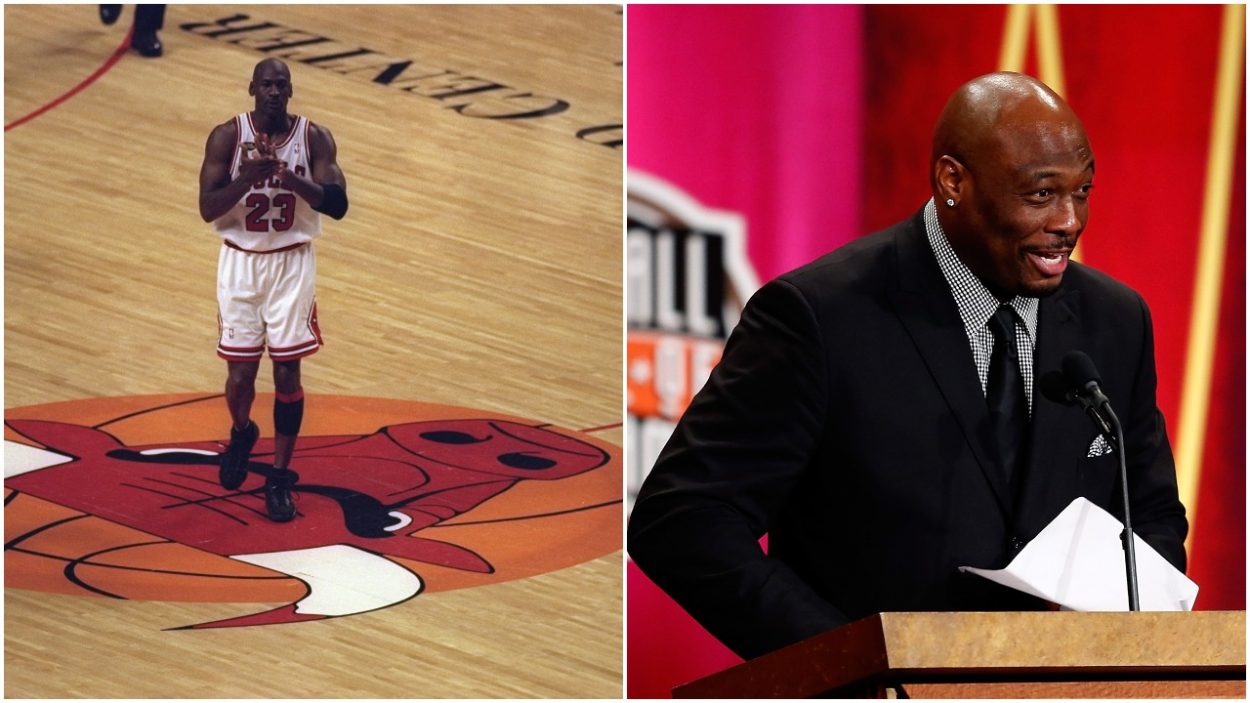 Michael Jordan Had the Ultimate Praise for the Eternally Underrated Mitch Richmond: 'He's Always Gonna Be a Challenge'
Michael Jordan loved going against Mitch Richmond, who is among the most underrated 2-guards in NBA history.
Michael Jordan approached the game of basketball with a ferocious sense of competitiveness and a level of confidence that gave off a superior aura. But while the Chicago Bulls legend often found himself in his own stratosphere, he also saw the greatness and potential in other players.
From youngsters like former Los Angeles Lakers stars Kobe Bryant and Eddie Jones to peers such as Dominique Wilkins, Jordan gave other players their flowers when he felt they were deserving. His Airness had a particular fondness for Mitch Richmond, who remains one of the most underrated 2-guards in NBA history.
Michael Jordan and Mitch Richmond finished 1-2 in total points among shooting guards in the 1990s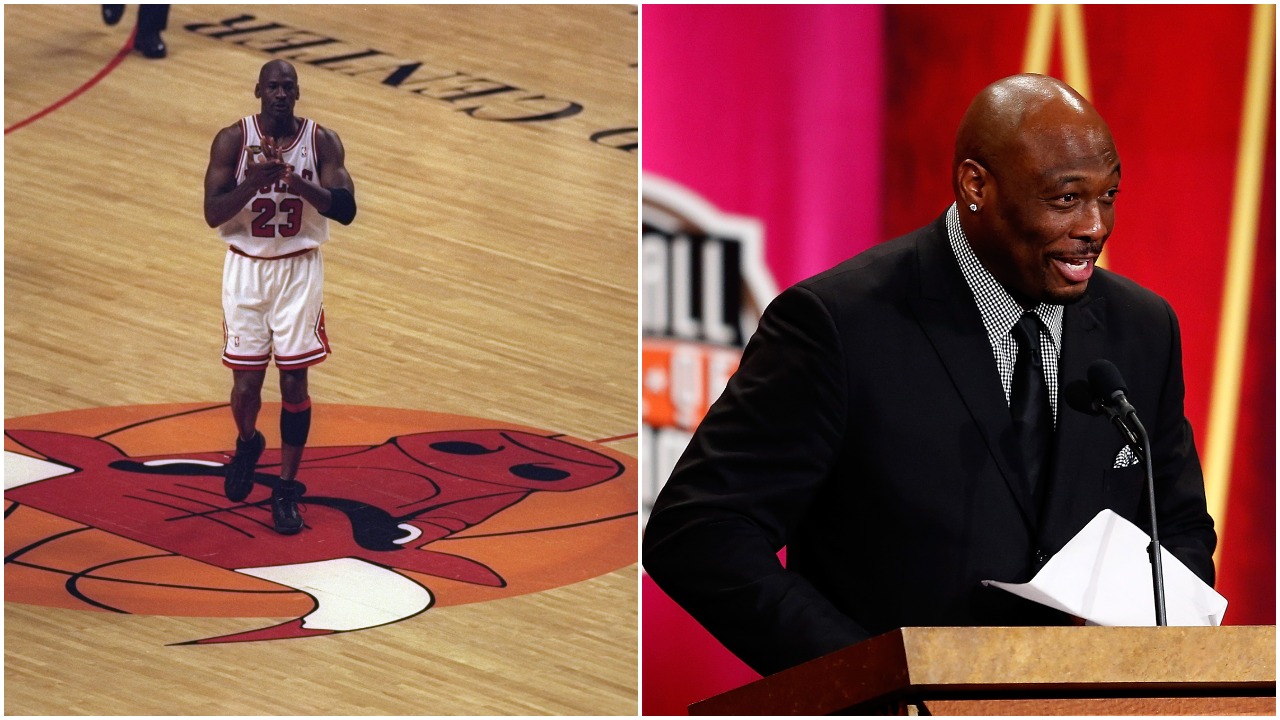 Michael Jordan is one of the greatest bucket-getters ever. His 30.12 scoring average ranks first all-time, and he holds the most scoring titles (10) in NBA history. Mike's dominance transcended other great scorers, including Mitch Richmond.
One might have guessed that Jordan ranked first among shooting guards in total points scored (over 18,000) in the 1990s. But Richmond nips at MJ's heels. According to StatMuse, Richmond tallied the second-most total points (16,613) among 2-guards during that decade. Granted, Jordan needed just 585 games to rack up over 18K, while Richmond needed 722 appearances to even sniff MJ's point total.
Still, Richmond is in pretty rarified air, no pun intended.
After Richmond, Indiana Pacers legend Reggie Miller ranks third in '90s scoring among shooting guards with 16,319 points. The next closest is Clyde Drexler with … 12,711 points. That's a massive gulf. Indeed, while Jordan's 30.8 points per game in the '90s is well above his contemporaries, Richmond's scoring average (23.0) is two points higher than Miller's, who ranks third in that category.
Richmond forecasted his tremendous scoring ability during his NBA Rookie of the Year campaign in 1988-89 and starred for the "Run TMC" Golden State Warriors of Richmond, Tim Hardaway, and Chris Mullin. He continued to dominate throughout the '90s, earning Jordan's respect in the process.
Jordan loved Richmond's game
Jordan welcomed every opportunity to play against Richmond, and the two appeared to share a strong sense of mutual respect.
During a 2020 segment for ABC 10 in Northern California, Richmond spoke about making MJ work to get his points and, on the other end, exert energy to get stops. The segment included a brief interview clip from the 1990s in which Money effusively sang Richmond's praises.
"Mitch is certainly one of the best players in this game. I've always admired his game, and he's always gonna be a challenge, no matter how you look at it, and I respect that."

–Michael Jordan on Mitch Richmond
Jordan had quite a bit of success against Richmond.
In 17 head-to-head matchups, Jordan's teams had a combined 13-4 record against Richmond's squads, though that includes a veteran Richmond going 2-0 against MJ when he played for a championship Los Angeles Lakers club in 2001-02, the final season of his career.
Mike dominated offensively. His Airness averaged 28.6 points, 7.1 rebounds, and 5.5 assists. He shot over 53% from the field. Richmond had some individual success, but to a lesser extent. Hammer averaged 20.7 points, 3.9 rebounds, and 3.4 assists on 44.8% shooting from the field. He also made 44.4% of his 3-point tries.
Despite the seemingly one-sided nature of proceedings, MJ loved matching up with Richmond. But Richmond's career seems to get overlooked in discussions about the greatest 2-guards in NBA history.
Richmond has the unfortunate distinction of playing for losing teams
As previously mentioned, Richmond did not win an NBA title until his swan-song season. It must have felt like vindication because he spent most of his career on losing teams.
Jordan never missed the playoffs until joining the Washington Wizards ahead of the 2000-01 season. He won six championships with the Bulls. Conversely, Richmond made the playoffs in just four of his 14 seasons in the NBA. He spent most of his career (seven seasons) with the Sacramento Kings but made the playoffs just once in Sactown. The writing might have been on the wall from the very moment he joined the Kings.
It's unfortunate. Richmond made six straight All-Star teams in Sacramento between 1993 and 1998. He finished his Kings career with averages of 23.3 points, 4.1 assists, and 3.7 rebounds, shooting over 40% from deep on 4.8 attempts per contest. Still, the Kings never won more than 39 games during his tenure.
Even though he eventually got a ring, Richmond often gets overlooked because he spent his prime on utterly forgettable teams. That's too bad because MJ understood Richmond's quality as one of the best 2-guards in the 1990s and all of NBA history.
Stats courtesy of Basketball Reference unless otherwise noted.