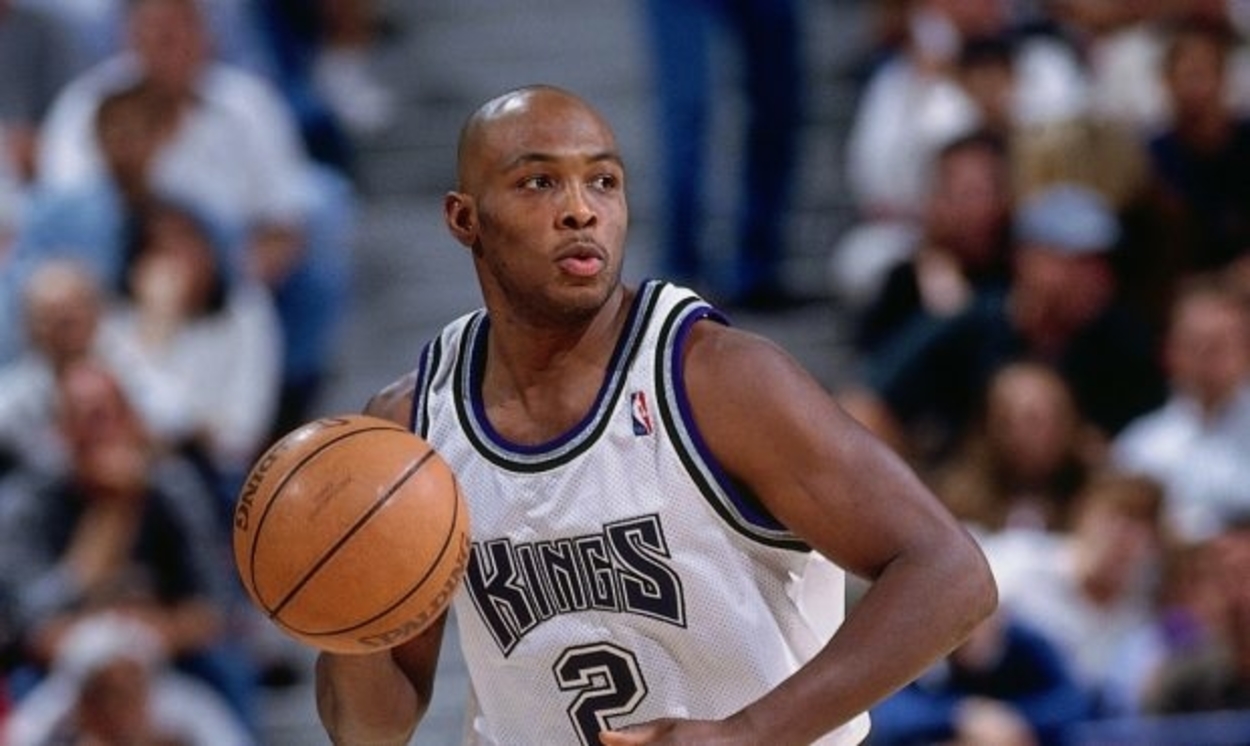 Mitch Richmond Was Greeted With 'Welcome to Hell' After Getting Traded to the Sacramento Kings: 'Can I Just Retire?'
Mitch Richmond was a star shooting guard for the Sacramento Kings. But when he arrived in Sacramento, he questioned whether he ever wanted to play in the NBA again.
Before the Sacramento Kings transformed into one of the NBA's best teams at the turn of the century, they were a mess. From 1989 to 1993, the Kings finished the season in last place in the Pacific Division. They also failed to reach the postseason since 1986, their first season in Sacramento.
The one bright spot, however, was Mitch Richmond.
Richmond, the fifth overall pick in the 1988 NBA Draft, was traded from the Golden State Warriors in 1991 in exchange for the draft rights to Billy Owens. Over seven seasons in Sacramento, the Hall of Fame shooting guard made six All-Star teams and led the Kings in scoring each year, averaging 23.3 points per game.
However, Richmond was devastated upon his arrival to California's capital city. So much so, he contemplated retirement and even forwent daily grooming.
Mitch Richmond was one of the best young scorers in the NBA
While it took Richmond a while to acclimate to Sacramento, it didn't take him long to acclimate to the NBA.
A natural scorer, Richmond's 1,327 points are the most by any Kansas State player in a two-year career. Following the draft, he averaged 22.0 points for the Warriors while being named NBA Rookie of the Year. It was more of the same for the next two seasons, as the Fort Lauderdale, Florida native averaged 22.1 and 23.9 points per game, respectively.
Richmond's time with Golden State was highlighted by his play alongside Tim Hardaway and Chris Mullin, another Hall of Famer. The trio became "Run TMC", as Tim, Mitch, and Chris led the high-octane Warriors to a Western Conference Semifinal appearance in 1991.
Richmond was gutted following his trade to the Sacramento Kings
Although he was just 25 years old and an excellent scorer, Richmond's time with Golden State was short. The Warriors, who needed help rebounding, traded Richmond for Owens, a 6-foot-8 forward from Syracuse. Owens was taken third overall by the Kings, but was dealt after refusing to sign his rookie contract.
With Golden State wanting the rookie Owens, that left Richmond with a new team who was coming off of yet another last-place finish. On an episode of The Habershow, Richmond told host Tom Haberstroh about the first interaction with his new teammates.
"It was unbelievable. I walk in, and the first thing I hear from one of the players, they go, 'Welcome to hell.' I'm like, 'What? Oh my god.' So, I sit down. Now, I'm just sitting there. I have my clothes on and Spud Webb comes down, sits right next to me. Spud whispers to me and goes, 'Man, I don't wish this on nobody. But I'm glad you're here with me.'"

Mitch Richmond
The next day, the Kings played none other than the Warriors. Richmond did not play, however, and instead drove around Oakland while the game was in progress. After he got home, he asked his wife about the game.
"She wouldn't even say anything," Richmond said. "And I looked at it. We had lost by 62 points. I just started crying. I just started crying. I'm like, 'Man, ain't no way.' I called my agent, and I — a young player — didn't even know the rules. And I called him, and I said, 'Can I just retire and come somewhere else?' He said, 'Ah, it doesn't work that way.' And I was like, 'Damn.'"
"That year, I decided I wasn't going to comb my hair," Richmond continued. "I wasn't going to do anything. I didn't comb my hair for the whole year. [Kings Head Coach] Dick Motta was at the end of his career. We were only practicing for like 30 minutes. And we sucked. I mean, we were so bad. And to be down at Sacramento and then, at that time, you see the newspaper. It's all Golden State Warriors. I cried all that year. I mean, it was tough. It was really tough."
Despite the losing, Richmond became the first star of the Sacramento Kings
Richmond eventually moved on from the idea of retiring (and he eventually combed his hair again). And while the wins never came, Richmond's career in Sacramento made him the franchise's first true star since moving from Kansas City, Missouri.
The shooting guard started 517 games over seven seasons with the Kings. His 1996-97 season saw him reach a career-high 25.9 points per game, and he also had three years in Sacramento with a three-point percentage of 40 percent or better. He was even in town long enough to reunite with Owens, who the Kings acquired via trade with the Miami Heat in the 1995-96 season.
"I kept the dream alive," Richmond said in regards to Owens joining him in Sacramento. "I said, 'I wouldn't wish this on no one. But thank god you're here with me.' Just pass it down to the next guy."
Richmond was traded to the Washington Wizards in 1998 in exchange for Chris Webber, who became the face of the resurgent Kings of the early-2000's. After three years in D.C., Richmond finally got his long-awaited championship as part of the 2001-02 Los Angeles Lakers. The five-time All-NBA selection made his lone shot attempt in the series-clinching Game 4, and also dribbled out the clock in what would be his final NBA game.
Although his time in Sacramento was primarily spent losing, Richmond eventually saw his number two jersey retired and hung in the rafters. He's one of the best Sacramento Kings ever, even if at first he wanted no part of them.
All statistics courtesy of Basketball Reference.