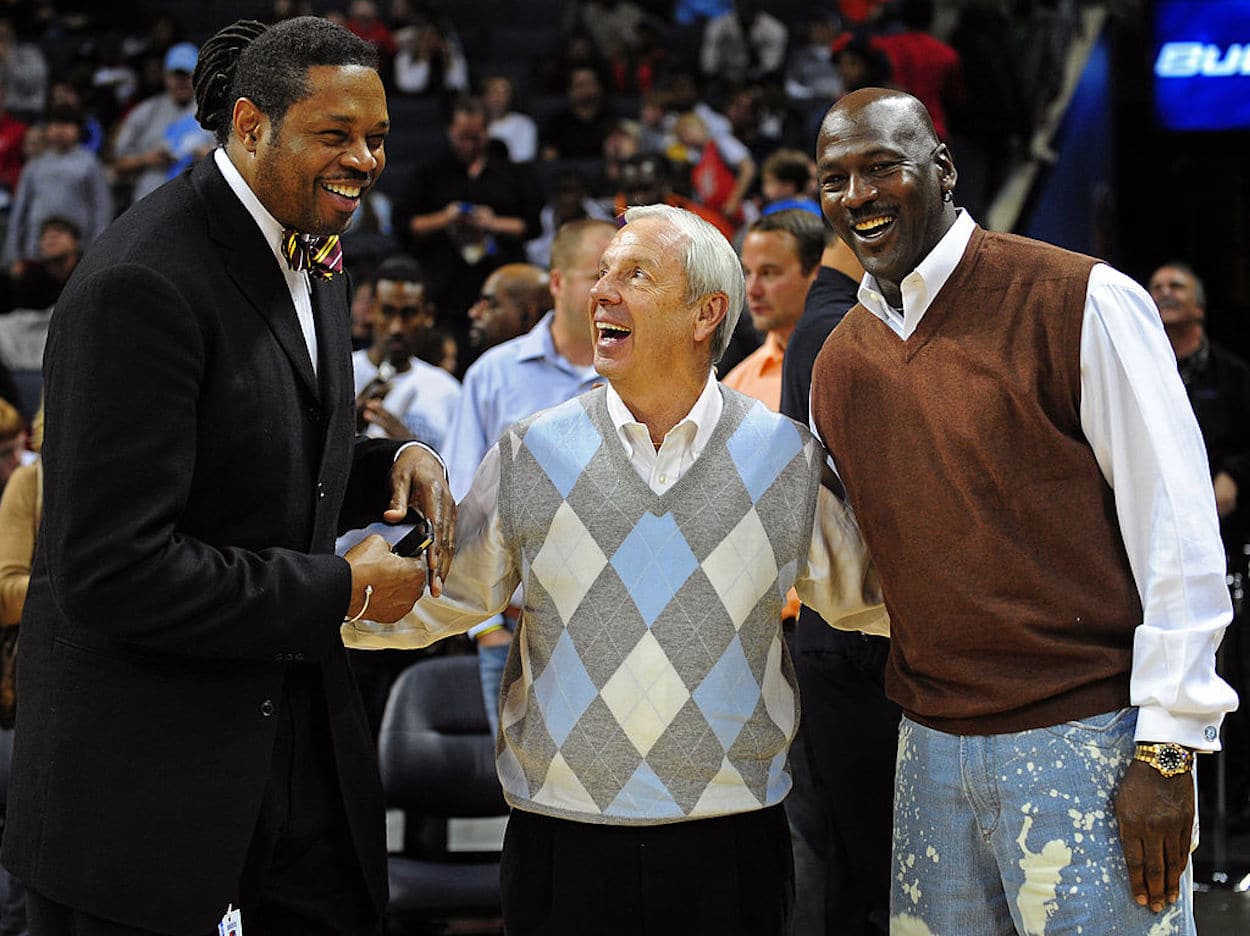 Michael Jordan Wasn't the Best Player on the UNC Tar Heels Because of His Ball-Handling, Says Kenny Smith
When you hear the name Michael Jordan, it's easy to imagine him dominating the competition. While that might have been true in the NBA — MJ's resume there speaks for itself — things were a bit different in college. At least that's the case if you listen to Kenny Smith. During a recent appearance on …
When you hear the name Michael Jordan, it's easy to imagine him dominating the competition. While that might have been true in the NBA — MJ's resume there speaks for itself — things were a bit different in college. At least that's the case if you listen to Kenny Smith.
During a recent appearance on the All the Smoke podcast, Kenny the Jet was asked about the best player he ever hit the court with in Chapel Hill. He explained that Sam Perkins actually edged out Jordan as the most talented Tar Heel, primarily because of His Airness' handles.
Sam Perkins had the edge over Michael Jordan in college, at least according to Kenny Smith
These days, it's easy to view Michael Jordan as the alpha and omega of basketball. He was (theoretically) the greatest, and no one will surpass his standards. That perspective is understandable, but it's not 100% accurate. Just consider His Airness' time in college, where he was a part of some legendary UNC squads.
"I chose North Carolina because, when I went to practice, and I saw Sam Perkins, Brad Dougherty, Michael Jordan, I looked at it and said, 'I don't know if could play here,'" Kenny Smith explained on the All the Smoke Podcast. "I was a little nervous. I had never seen seven-footers like they had. They had 10 McDonald's All-Americans on the team at one time."
As Smith's quote would suggest, there was more than enough talent to go around in Chapel Hill at that time. While you might assume that Jordan was the one driving that bus, Smith actually highlighted someone else as the main man.
"The best player? Sam Perkins was the best player my freshman year," Smith explained. "Cause Sam was a four-time All-American [Perkins actually earned that honor three times, which will discuss later]. That, you know, wouldn't happen today, either. Like first-team. Sam was the best player, Michael was the most dynamic, but he didn't have a handle. He couldn't handle the rock, like in college."
While Smith specified that his judgment was only for his freshman year, that season was Perkins and Jordan's last season on campus. They both turned pro after the 1983-84 NCAA campaign, ending any chance of changing the on-campus power rankings.
Sam Perkins isn't in the GOAT debate, but he does have an impressive basketball resume
As mentioned above, it's easy to let Michael Jordan overshadow every one of his peers. As Smith indirectly noted, though, Sam Perkins did have an impressive career in his own right.
The big man made a name for himself in New York before heading down to North Carolina. He spent four seasons with the Tar Heels, earning three consensus All-American nods and one NCAA title. He also held his own from a statistical perspective, averaging 15.9 points, 8.6 rebounds, and 1.2 per game across four NCAA campaigns. To further support Smith's point, those numbers weren't markedly different than MJ's (Jordan averaged 17.7 points, 5.0 rebounds, and 1.8 assists per contest at UNC).
When the 1984 NBA draft rolled around, Perkins went fourth overall, landing with the Dallas Mavericks. While he couldn't match Jordan's incredible resume — in fairness, very few men can — the forward spent 17 seasons in the Association. He finally retired after the 2000-01 campaign, averaging 11.9 points, 6.0 rebounds, and 1.5 assists per outing for his career.
Sam Perkins might not be in the GOAT conversation or carry the same global renown as Michael Jordan, but that body of work — plus Kenny Smith's NCAA endorsement — isn't something to sneeze at.
Michael Jordan, of course, worked on those handles to become a living legend
As we saw during The Last Dance, Michael Jordan was capable of taking just about anything personally and using it as a source of motivation. If Kenny Smith's stories are accurate, that's exactly what happened with his ball-handling.
"He's the only guy that I know that his weaknesses, that he had, at the end of his career was his strengths," the former guard continued. "LeBron's not like that. KD, nobody. He's the only one where, at the end, his handle was crazy, and his jump shot was pure."
Kenny the Jet even shared a memory of how His Airness both proved his competitiveness and showed off his improved dribbling.
"So, I used to say, it was like, 'Oh you think you can guard me?' I was like, 'Yeah, cause your handle's wack,'" Smith remembered. "I used to say, 'Your handle's wack. I can guard you.' … So now, we doing that, we playing, [and Jordan] goes to the Olympics. Comes back, goes to the league, comes back for the summer, cause all the players, every North Carolina player came. We all come back and play."
Jordan then proceeded to impress Smith during those pickup games before flashing things back to the past.
"He's like,'My handle, been working on it,'" Smith concluded. "I forgot I said that. I really forgot I said it. And he's like, 'My handles, right?'"
Sam Perkins may have possessed the raw talent, but no one was touching MJ's will to win.
Stats courtesy of Sports-Reference and Basketball-Reference