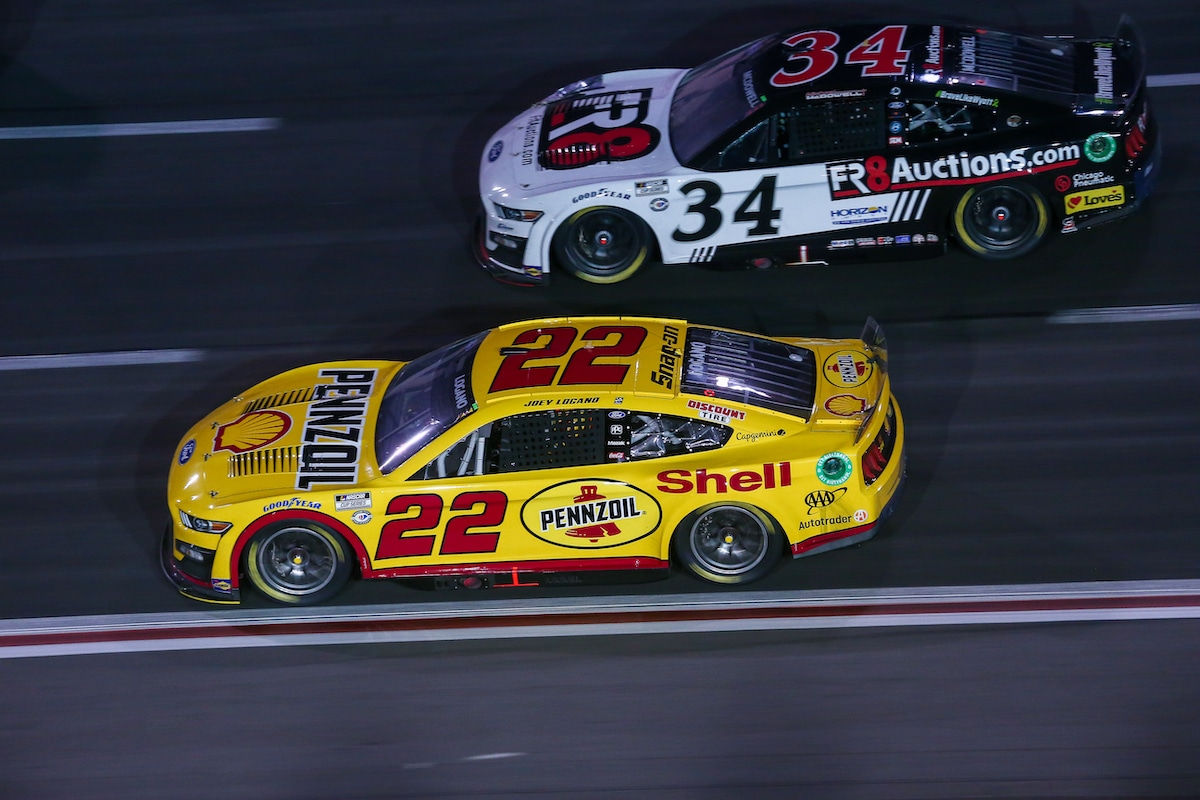 Michael McDowell Takes Swipe at Joey Logano for His Remarks on NASCAR's Playoff Race Format Change 
Joey Logano made it clear where he stood on NASCAR's latest change to the playoff format. Michael McDowell did, too, and took a swipe at Logano in the process.
The numbers don't lie. Michael McDowell has been one of the best road course racers since the debut of the Next Gen car. He proved just how good last month, winning in dominating fashion on the Indianapolis Road Course.   
This week, after NASCAR announced it was changing the format at the upcoming Charlotte Roval and reintroducing cautions during stage breaks, which were absent from all previous road course races in 2023, reigning Cup Series champion Joey Logano praised the move during an interview on SiriusXM NASCAR Radio. McDowell heard the Team Penske driver's remarks and responded. 
Michael McDowell has found success on road courses
While many considered Michael McDowell's win at Indianapolis as the underdog overcoming the odds, the Front Row Motorsports driver insisted it was no such thing. He repeatedly referred to the statistics. And he's right. 
Since the introduction of the Next Gen car last year, McDowell has consistently finished up front in races with right and left turns. In 11 events, he's recorded seven top-10 results for an average finish of 11.6. 
The 38-year-old put a stamp on his road course racing talent in August, dominating at the Brickyard, leading a race-high 54 of 82 laps, en route to his second Cup Series victory.  
NASCAR changes stage break caution format and Joey Logano approves
Joey Logano has also been solid on road courses in the new car. In those same 11 races, he's scored six top 10s, including his best finish of third this year at Sonoma and last year at Watkins Glen. 
After this year's race at The Glen, there was a wave of criticism due to back-to-back road course races, including the week before at Indy, where long green-flag runs and a single natural caution in each resulted in considerably shorter races and, in the eyes of some, less "action" and a less entertaining product.
Unsurprisingly, many suggested the lack of cautions during stage breaks on road courses, a new change NASCAR implemented before the 2023 season, as the main culprit. This week, the governing body responded to those comments when it announced it was reverting to the pre-2023 format and re-introducing cautions during stage breaks. 
Logano made it clear where he stood on the decision.
"I'm good with it. Go for it," the two-time champion said during an appearance on SiriusXM NASCAR Radio. "I just think it presents more strategy options. If you looked at Watkins Glen, and it's like, here's the strategy, and this is what we're going to do. There's hardly any cautions anymore, so it turns into an F1 race. Just meh. Just not good enough.
"Shoot! Throw some cautions in the dang thing. Like, reset or rerack them, and let's go again. The way it was, you have a mistake on pit road, or as a race car driver, there's zero chance of recovery. Zero, without a caution. I know it's a race and you're supposed to be perfect and all that, yeah. But let's just think about the entertainment factor of this whole thing a little bit, too. 
"If we all know the caution is going to be there, it's not manufactured. It's not like, 'Oh, it's a gimmick race.' No, that's not the case at all. We know it's going to be there. We can race around that. A gimmick caution would be for some mysterious piece of debris that's not actually there. That's gimmicky.
"Adding stage cautions, we know exactly what lap they're going to be on, we know what kind of points are scored, and we can decide if we want to take those stage points, we want to flip it and try to keep us in position to try to win the race. And it reracks them to where you have cars all close together again and there's just a lot more storylines and a lot more to talk about. I think it's a no-brainer. My opinion is to put it back. I was glad to hear it. I wasn't a fan of it when they took them away in the first place and I'm glad we put them back. I think it's going to be just fine." 
McDowell takes swipe at Logano
McDowell takes pride in his road course racing ability, and, as mentioned, his win at Indy validated it. Seeing Logano's remarks on NASCAR bringing back stage cautions at the final race on the Charlotte Roval prompted the Front Row driver to respond. 
"Some like it because it gives them an opportunity to make something happen on a restart, like stuffing it 5 wide, bumper car style," McDowell wrote on X, which Logano has been known to do on multiple occasions. "It also erases the time gap lost on track due to the lack of actual speed. It gives the guys who can't run up front all day a shot at it. Indoor karting is entertaining, too. Entertainment is subjective, so I am good if the fans want it, but is that what the fans really want?"
McDowell directly addressing Logano's remarks and his specific behavior on restarts revealed where he stood on the subject of stage cautions. His position, as well as that of the Team Penske driver, are a good reflection of the overall fan base, and how it's divided on the matter. 
NASCAR has made it clear where it stands with its latest decision and it's not going to go back and reverse it in the future. They wouldn't do that, would they? 
To stay up to date on the latest happenings in NASCAR, including breaking stories you can't find anywhere else, follow Kyle on YouTube and Twitter.