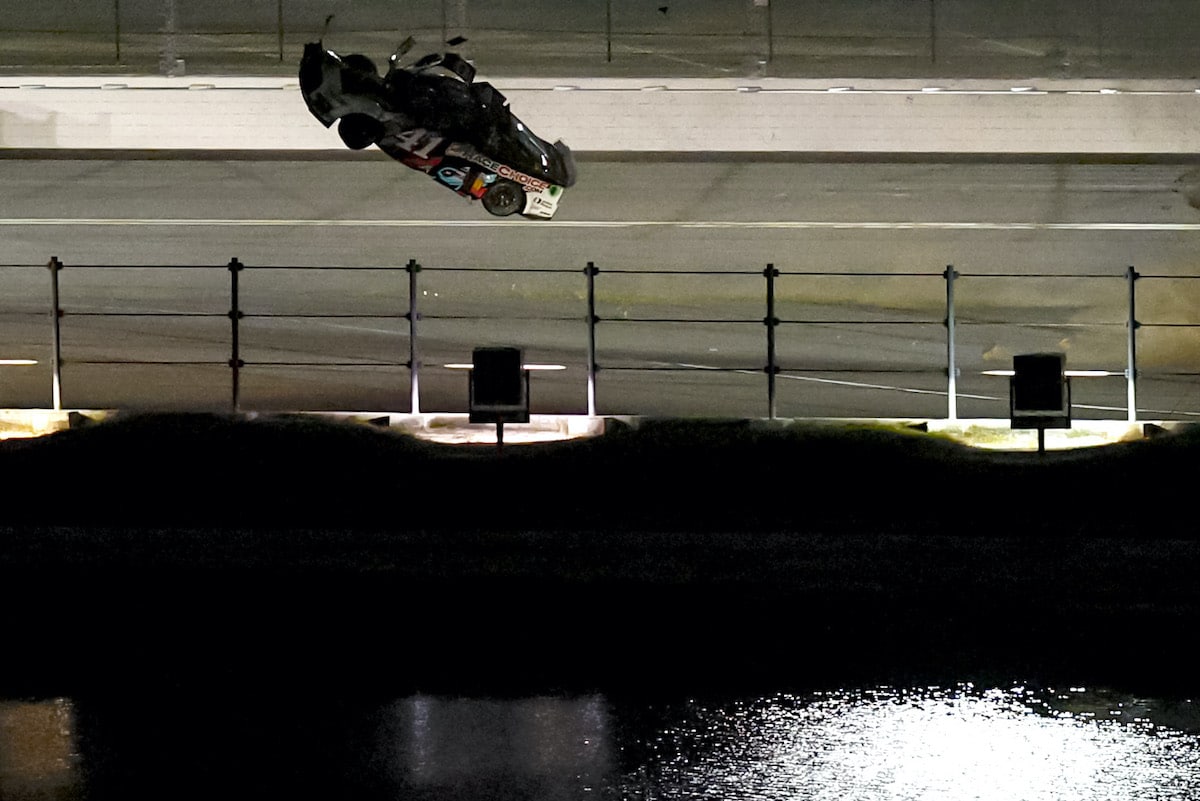 The Much-Maligned Next Gen Car Has Justifiably Been Criticized in the Past but Proved Itself at Daytona 
The Next Gen car has justifiably received a bad rap for safety concerns in the past but undeniably proved itself at Daytona in two violent crashes.
The Next Gen car debuted to start the 2022 Cup Series season. Since that introduction, multiple drivers have sustained concussions in what appeared to be nominal impacts. Many drivers have justifiably spoken out, criticizing the design and NASCAR for allowing the car to take a step backward in safety.
On Saturday at Daytona International Speedway, those drivers and everyone watching in the stands and at home witnessed two of, if not the worst, crashes in the Next Gen era with Ryan Blaney and Ryan Preece. Both drivers walked away and proved that, while the car might still have its flaws, there's no denying that it did its job when it was put under the most strenuous of circumstances. 
NASCAR went backward in safety with Next Gen car
Kurt Busch was the first to officially suffer a concussion in the Next Gen car last year at Pocono. He never returned to race again and announced his retirement this past week.
Alex Bowman suffered another one at Texas last season. He missed multiple races. 
While those were the only two official concussions in 2022, numerous drivers were vocal that the hits they experienced in the new car were much harder in the past. But that's not all they had to say. They were angry. 
"Completely unacceptable that those in charge have let things get to this point," Kevin Harvick tweeted last September. "I remember it like it was yesterday @dennyhamlin in the presentation of the new car to the drivers pleading that the car was too stiff. Data didn't agree. TIME TO LISTEN TO THE DRIVERS CRASHING THEM!"
The sport's most popular driver, Chase Elliott, who is often reserved, didn't hold back his criticism. 
"These types of incidents that result in injuries … I'm not a doctor, but I've watched a lot of cars back into the wall and the guy would be fine," Elliott said at Talladega in October. "No one's immune to it. It could be me next week. It could be any of my peers or fellow competitors. I just hate to see us go backward, and I'm afraid that we have."
NASCAR adapting and continually making changes to car
To NASCAR's credit, it addressed many of those issues before the 2023 season, including reducing the stiffness of the rear clip, which had been the problem area on rear impacts. 
This year, Noah Gragson is the only driver to have officially suffered a concussion, although Ryan Blaney did acknowledge that he experienced concussion-like symptoms after his big hit at Nashville.
In addition to modifying the rear of the car, NASCAR made changes to the side (enforced it) and front of the car (reduced stiffness similar to the rear) following the violent impact at Talladega earlier this year when Ryan Preece t-boned Kyle Larson. 
Accidents at Daytona prove safety of Next Gen car
On Saturday night at Daytona, those recent modifications were put to the test on the final lap of Stage 2 when Ty Gibbs got into the right rear of Blaney, which sent the Team Penske for a massive hit into the outside wall. It was eerily similar to the accident that tragically took the life of Dale Earnhardt 22 years earlier.
"Yeah, that was large. Big testament of the new front clips," Blaney said to reporters after his visit to the infield care center. "That would have hurt a lot more if we didn't have the new front clip on it. So that's a positive about that. Still pretty hard." 
Incredibly, Blaney's was the first of two major crashes. The other came in the race's final laps when Ryan Preece got turned sideways and then got airborne, his No. 41 crashing back down to earth where it proceeded to flip a stunning 11 times. 
After multiple nervous minutes, safety workers eventually assisted the Stewart-Haas Racing driver out of his car. He was first taken to the infield care center and then to a hospital, where he remained overnight before he was cleared and allowed to return home on Monday. 
Everyone, including the drivers, is well aware that each time they get inside the cockpit of their respective cars, it could be the last. But Saturday at Daytona showed that while the sport is still inherently dangerous, it's much safer during the most violent of crashes than it was in years past and the drivers have the much-maligned Next Gen car to thank for that.   
To stay up to date on the latest happenings in NASCAR, including breaking stories you can't find anywhere else, follow Kyle on YouTube and Twitter.