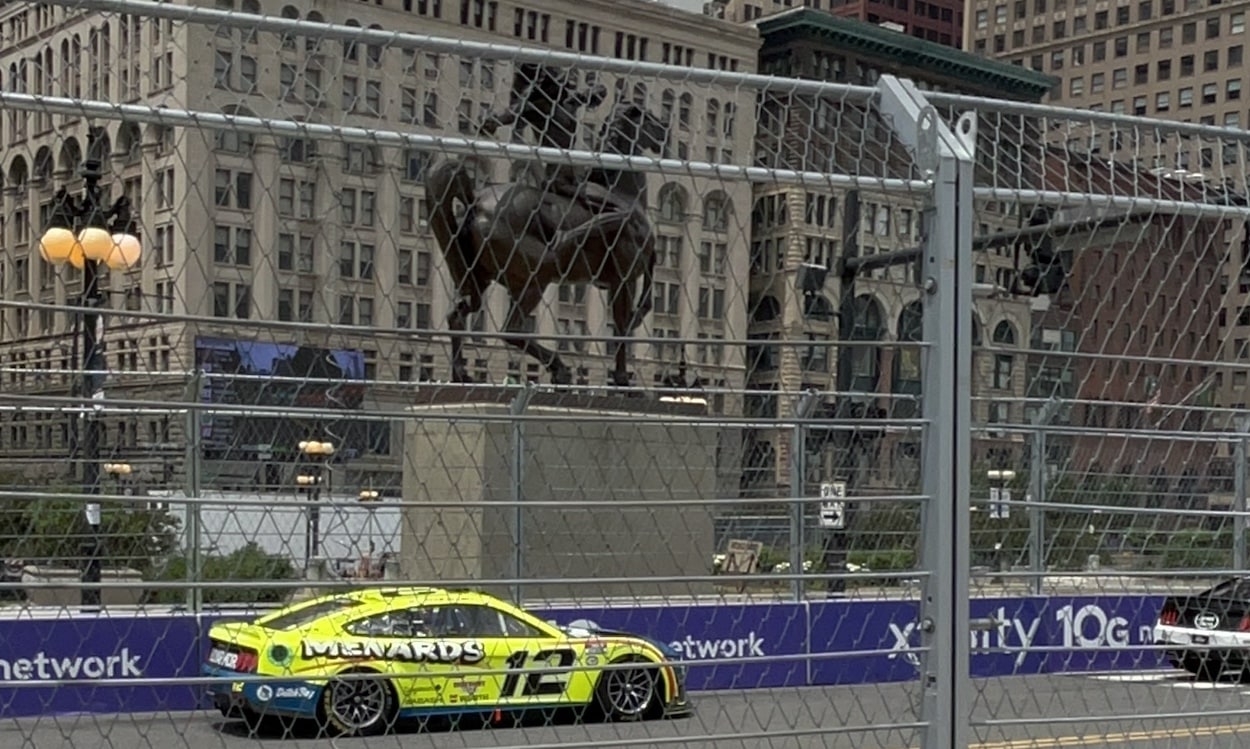 Ryan Blaney Admits He Suffered Concussion-Like Symptoms After Nasty Nashville Hit and Was Nervous About Missing Race in Chicago
Ryan Blaney admitted to reporters in Chicago that he suffered concussion-like symptoms this week following his nasty crash into an unprotected concrete wall at Nashville.
The last month of Cup Series racing for Ryan Blaney has been a rollercoaster ride. It's been the highest of highs with his win at the Coca-Cola 600 to the lowest of lows at last weekend's race at Nashville, which ended with a DNF and, more notably, a violent crash into an unprotected concrete wall. 
Less than a week later, the Team Penske driver talked about the effects of that incident, admitting he had concussion-like symptoms and had concerns he might not race through the streets of Chicago. 
Ryan Blaney suffers 'hardest hit' on unprotected concrete wall at Nashville
When Ryan Blaney snapped his 59-race winless streak and captured a crown jewel in the Coke 600 in late May, he wrapped up a five-race stretch that included four top-10 finishes (three of them top five). 
The following week, he scored a sixth-place finish at Gateway and has since dropped off a cliff, including a 31st-place finish at Sonoma and 36th last weekend at Nashville, where his day ended early when he was involved in a crash on a restart just before the midway point of the race.
The hit was scary because the No. 12 hit the inside wall head-on. However, it was made exponentially worse because no SAFER barrier protected it. 
An understandably frustrated Blaney addressed the situation after a visit to the infield care center.
"I feel better now. It's a shame to end our night early," he said. "I thought we finally got decent there, the start of the second stage and I don't really know what happened. Someone checked up on the restart, I guess, and I kind of checked up and got hit from behind.
"I didn't know if they were wrecking and just couldn't get it straightened out when I got out of the grass. I thought I was going to come back around and I'd be OK, but it just never got back right, and I don't know why there's no SAFER barrier there. It's pretty ridiculous, honestly — hardest hit I've ever had in my life, so happy to be all right. It sucks for the Pennzoil Ford Mustang. Stinks to go home early."
Blaney talks about his week of recovery
On Saturday, Blaney visited with the media ahead of Sunday's first-ever street course race through downtown Chicago. Unsurprisingly, his health and progress from last week's incident was an early question.
The driver acknowledged that he had worked with renowned concussion expert Dr. Michael "Micky" Collins of the University of Pittsburgh Medical Center, who worked with Dale Earnhardt Jr. and, more recently, with Kurt Busch last year. 
"I got better all week. Spent numerous calls with Dr. Collins up at UPMC," the driver said. "Been fortunate to know him for a few years. We work with UPMC with our foundation and he's helped a lot of people. He was really great. He was on vacation and he carved out a lot of time for me. Really helped me out in just trying to do things the right way to progress and get better. 
"Physically I felt fine. On Monday, just kind of the mental side was I had to do a little bit. By Thursday I felt really good about it. I think Friday I felt 100%. Definitely a long week, nervous week, nervous Monday and Tuesday kind of seeing how you progress. Fortunately, it got better."
Admits he had concussion-like symptoms
Blaney consulting with a concussion specialist and bringing up the mental side raised more questions. He explained what happened after the race and why the doctor was concerned. 
"Dr. Collins felt good about it Monday when he talked to me," he said. "He had some concerns but didn't feel like I was ever really at a point where I was going to sit out or he didn't see anything too severe at least where I didn't have to go up to Pittsburgh. But there were a couple of things in my eyes that he didn't really like. You know, you just feel kind of foggy. You just kind of feel out of it. 
"And the exercises he kind of gave me to do. At the end of the day, it's a muscle. You have to work that muscle out. The way he approaches it is pretty unique is go into noisy areas and light conditions and work out and put yourself in these situations with a lot of people that are going to help you out. It's not good to sit in a dark room. That's not going to get you better. Having that advice and going and doing it really sped up the process, which was obviously idea to get me here."
When one reporter directly asked if he had a concussion, Blaney said, "we had some stuff being done." Moments later when asked if what happened could be classified as concussion-like symptoms, he agreed. 
To stay up to date on the latest happenings in NASCAR, including breaking stories you can't find anywhere else, follow Kyle on YouTube and Twitter.