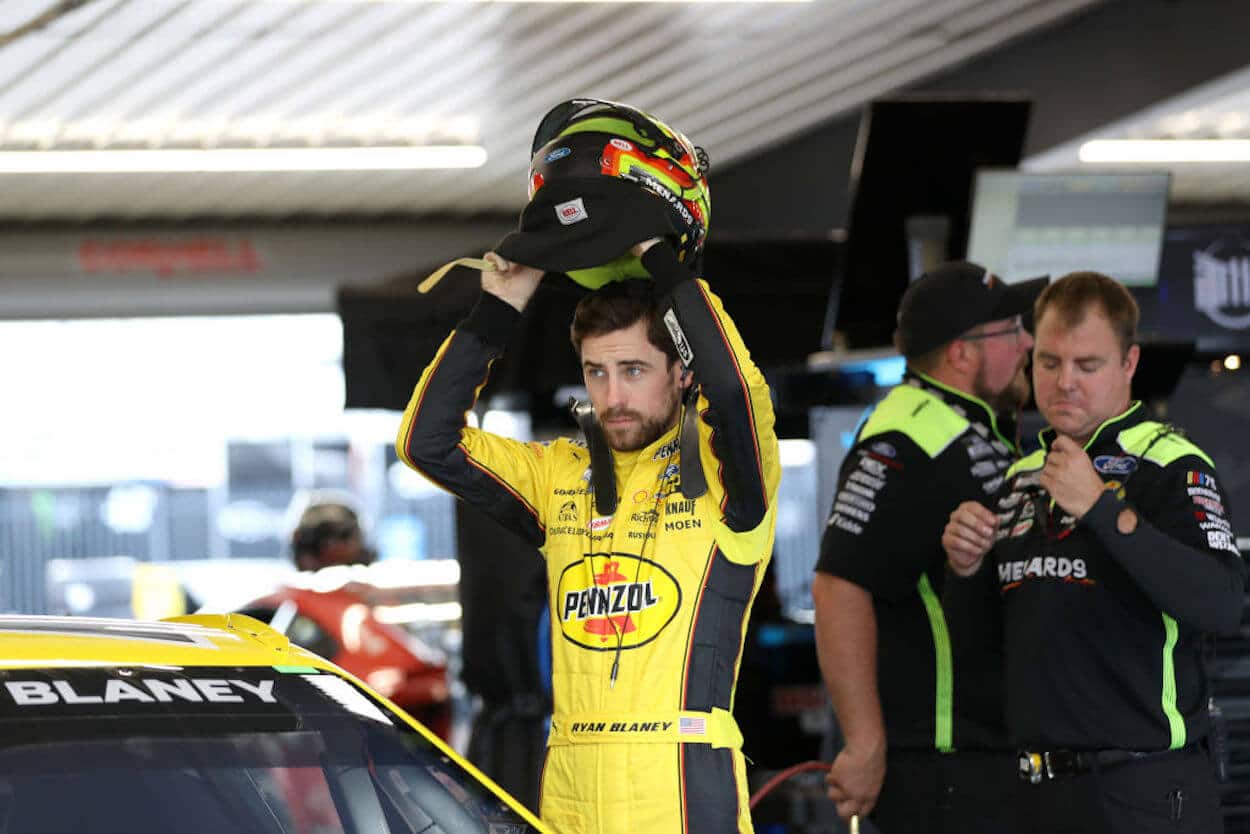 Ryan Blaney's Coke 600 Win Debunked The Notion that He Has a Major Weakness
If you thought that Ryan Blaney couldn't close out a race and reach Victory Lane, it's high time you reconsider.
The biggest knock on Ryan Blaney since the second-generation driver's full-time move to the NASCAR Cup Series in 2016 has been his inability to put winning race cars in the place that winners go: Victory Lane.
After all, Blaney has just eight points-paying triumphs in 284 starts at NASCAR's highest level — a winning percentage of .028. In case you're not into decimals, that means Blaney wins just under .03 percent of the time, which isn't a whole lot by any reasonable measure.
But what Blaney did on Monday at Charlotte Motor Speedway should at least temporarily give his sharpest critics reason for pause with the popular theory that he lacks the killer instinct necessary to get the most out of his equipment and put the field away when he has the fastest car on the track.
Ryan Blaney came painfully close to winning several times during his drought
While it's been thoroughly documented in the last few days that Ryan Blaney had been riding a winless streak stretching back 59 races to August 2021, far less noted has been the fact that Blaney actually performed well enough to win on numerous occasions over his lengthy dry spell.
Consider, for example, that Blaney accumulated enough points to finish eighth in the standings last season despite being the only driver in the 16-driver playoff field not to find his way to Victory Lane. Perhaps an even greater testament to how much speed Blaney had in his No. 12 Team Penske Fords was the fact that he earned a series-high nine stage wins.
Blaney also led over 100 laps in three races and rang up a dozen top-fives, only to never pop the winner's champagne. The first 13 races of the 2023 season had been a similar story for the 29-year-old High Point, North Carolina native. Specifically, Blaney finished on the podium three times but was unable to bring it home a winner.
Then came Monday's breakthrough at the 1.5-mile Charlotte Motor Speedway quad-oval in Concord, North Carolina.
Ryan Blaney proved that he absolutely can close the deal by winning the Coke 600
If there's one thing that almost every Cup Series driver agrees on, it's that the Coca-Cola 600 at Charlotte Motor Speedway is NASCAR's ultimate test of survival. Not only is the race the only one over 500 miles on the Cup tour, but it's also the only one with four stages. Therefore, to be successful in the Coke 600, a driver must be in tip-top condition both physically and mentally.
Blaney — despite his history of saving his worst for last — held the top position for the final 26 laps and maintained a comfortable distance down the stretch between himself and second-place finisher William Byron, who ultimately took the checkered flag over six-tenths of a second in arrears of Blaney's Roger Penske-owned Ford.
After jumping out of his car on the fronstretch to celebrate, a visibly emotional Blaney was quick to acknowledge that it had been a long time since claiming his last trophy.
"You start to get to feel like you can't win anymore," Blaney said to FOX Sports' Jamie Little in a live TV interview. "We hadn't won in a while, and that can get hard. I want to thank the 12 team for believing in me."
After what Blaney did in NASCAR's longest and arguably most grueling race, there's no reason for anyone not to believe in him now.