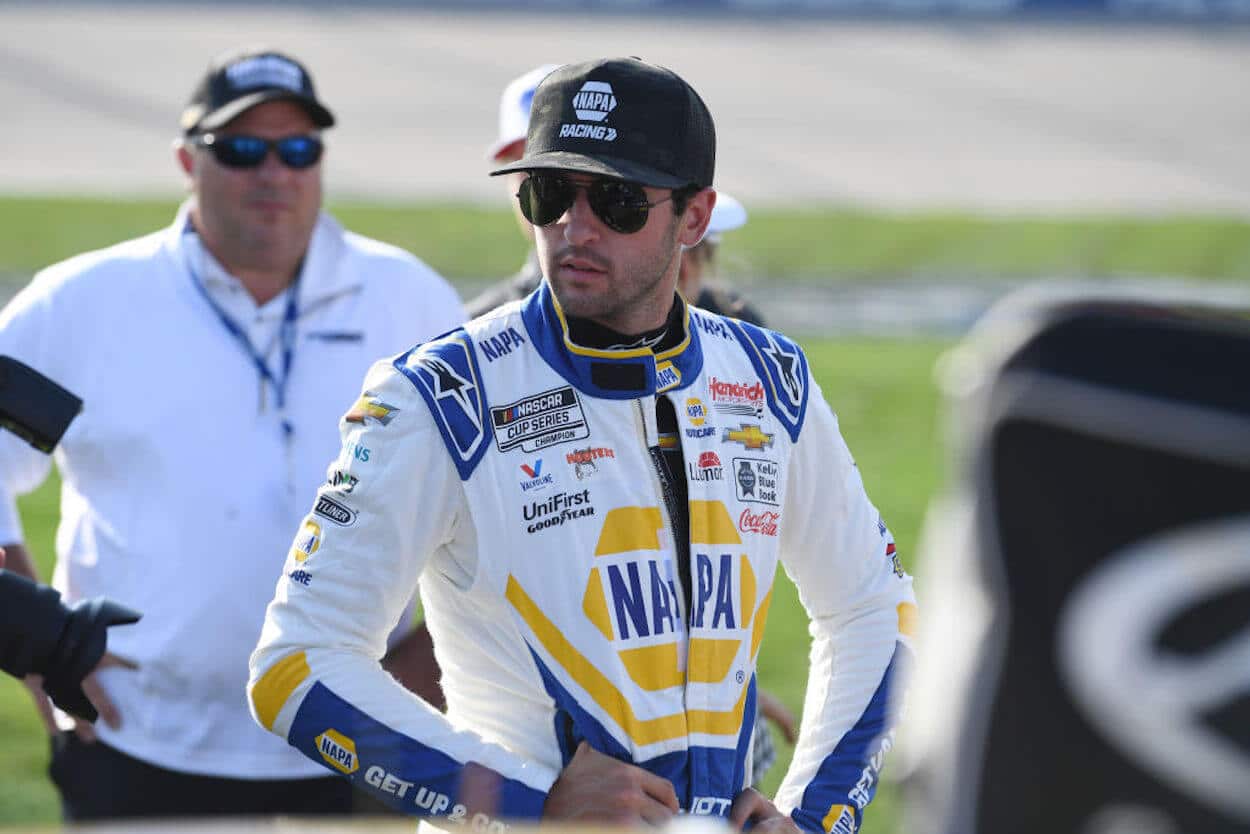 5 Cup Series Drivers Capable of Capturing a Chicago Street Course Win
While street-course racing is a new addition to the NASCAR Cup Series scene, there are several drivers ready to seize the opportunity.
NASCAR's premier series will break new ground on Sunday when its drivers compete on a street course for the first time in the sport's 75-year history.
This race — formally dubbed the Grant Park 220 and held on a 12-turn, 2.2-mile course in the streets of Chicago — is bound to be one that its participants and those who witness it in person will remember forever.
As for who's going to go to Victory Lane? Well, that's anyone's best guess, given that no Cup Series driver has ever competed on this layout, or a street course of any kind, in a NASCAR event.
That said, here's an educated prognostication of the five drivers with the best chance of crossing the finish line P1 and leaving the Windy City a winner.
5. AJ Allmendinger
AJ Allmendinger doesn't win very often in NASCAR's top division — it's happened just twice in over 400 starts — but when it does, you can almost count on it being at a road course.
Both of Allmendinger's Cup Series triumphs have come on tracks where drivers have to turn both right and left, which will be the case on Sunday when they hit the streets of downtown Chicago.
Is Allmendinger the favorite to win? Probably not. But anytime the Cup Series shows up at a road course — or, in this case, a street course — you should count on the Kaulig Racing driver being in the mix.
"Chicago is going to be very interesting," Allmendinger, a former open-wheel driver in INDYCAR and the now-defunct Champ Car World Series, said in a news release from Team Chevy PR. "A street course takes me back to my roots of racing open wheel and being at a lot of different street courses. I think it's a venue that, if it's put on right, we can have a great weekend there as an industry.
"It's a race track that a small mistake can have a huge penalty when it's that narrow and surrounded by concrete walls. Anything can happen, and we're not really sure what to expect."
4. Kyle Busch
One of two active drivers with a quartet of road course wins on his Cup Series resume, Kyle Busch is a highly skilled road racer who boasts a history of success on layouts that involve making both right-hand and left-hand turns.
How that translates for the two-time Cup Series champion on Sunday remains to be seen, of course, but Busch — a three-time winner in his first season with Richard Childress Racing — is eager to find out.
"I believe the Chicago street race will be one of the most challenging races that Cup has ever seen for sure," Busch said in a Team Chevy release. "Yeah, we're racing cars that were kind of made for road racing, but they're still 3,600 pounds and big, heavy stock cars, and we're trying to run them on streets and rough streets at that. Really tight, 90-degree corners, so everything is going to be super, super close action, tight quarters, bumping and banging, and probably hitting some barriers here and there.
"It's going to be a heck of a show and a very interesting one at that."
3. Tyler Reddick
A winner of three road course races over the past season-and-a-half, Tyler Reddick seems to have a knack for turning left and right that few of his peers share.
While Reddick's talent on road courses should undoubtedly help his cause this weekend, it also doesn't hurt that it was with the Chicago Bulls that his boss — Michael Jordan, who co-owns 23XI Racing with Denny Hamlin — won six NBA championships and made a strong case to be considered the greatest basketball player of all time.
If Jordan shows up at the track this weekend, it would be the ultimate fairytale for him to end up spraying champagne with Reddick in Victory Lane.
But given how well Reddick has done on road courses in recent times, this scenario isn't farfetched. In fact, it's a real possibility.
2. Chase Elliott
NASCAR's resident king of the road, Chase Elliott owns a Cup Series-high seven victories on non-oval layouts, but the Hendrick Motorsports driver surprisingly hasn't prevailed on a road course since 2021 when he won at both Circuit of The Americas in Austin, Texas and Road America in Elkhart Lake, Wisconsin.
If Elliott returns to his winning ways on non-ovals this weekend, his timing will be nearly impeccable since he's running out of opportunities to secure the triumph he needs to punch a ticket into the 2023 Cup Series playoffs.
Elliott, of course, can't make the playoffs based on points because he's buried deep in the standings after missing seven races earlier in the year due to a combination of unfortunate circumstances that included a 1-race suspension for deliberately wrecking Denny Hamlin at Charlotte in the Coca-Cola 600.
1. Martin Truex Jr.
With his recent win on the road course at Sonoma Raceway, Martin Truex Jr. broke a three-way tie with Kyle Larson and Kyle Busch for second-most victories on a road course among active NASCAR Cup Series drivers.
It's with that momentum — and the momentum that Truex, now the series points leader, has been building all season — that the Joe Gibbs Racing driver and 2017 Cup Series champion arrives in Chicago.
"It's kind of a new ballgame for all of us," Truex, who owns five career wins on road courses and has triumphed twice overall in 2023, said this week in a team news release. "I've never raced on a street course or anything like it. Of course, with stock cars, there hasn't been a lot of that in general. We did a little iRacing on that course a few years ago. We've been doing some simulator work, trying to get some kind of feel for it. It's going to be a big challenge. "I feel like in my mind it's going to be pretty difficult and bumpy. These cars aren't great on bumpy tracks, so I think they are going to be a handful and hard to figure out. We won't have much practice, so it could be a wild show for the fans."