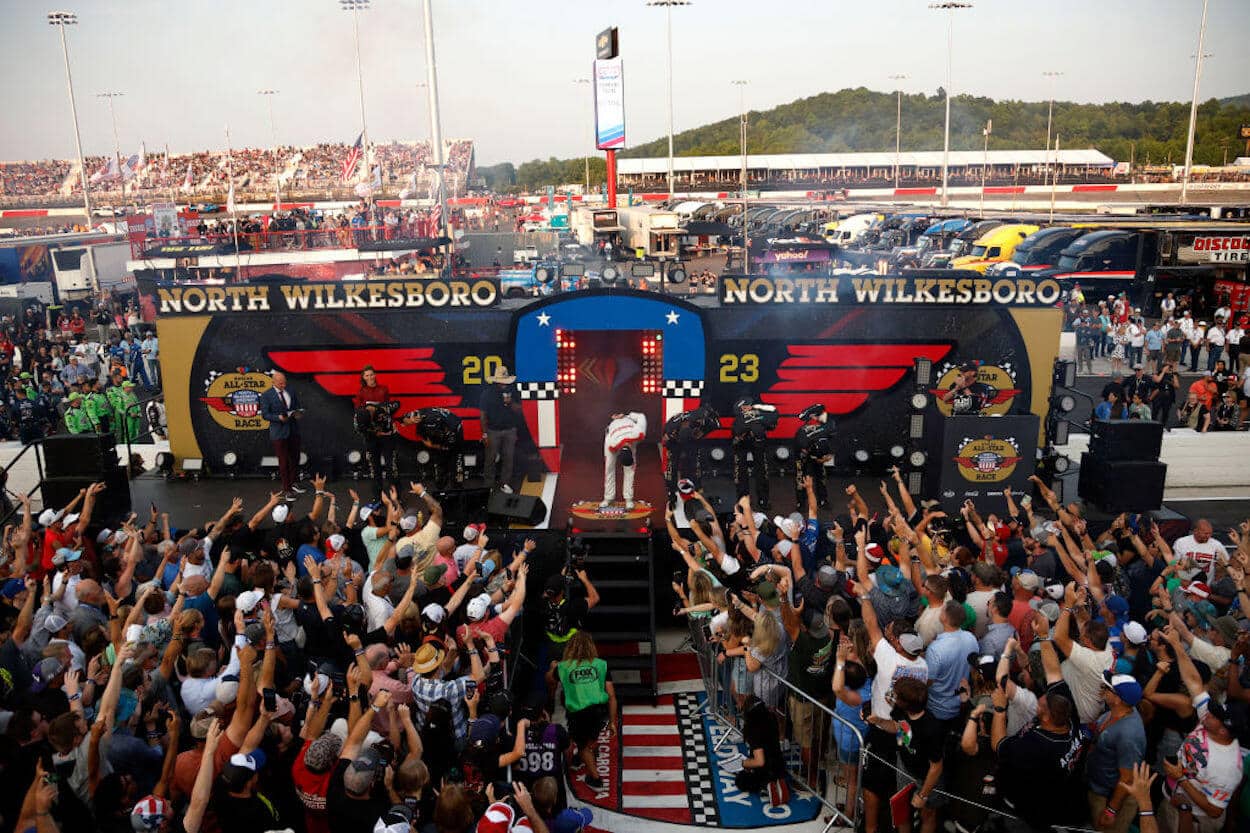 Carl Edwards Was Literally Stunned to See that Fans' Perception of Kyle Busch Has Changed, But Dale Jr. Explained
Have you noticed that Kyle Busch has been receiving a more positive reception as of late? Allow Dale Earnhardt Jr. to explain what's changed.
For the overwhelming majority of his nearly 18 ½ seasons in NASCAR's premier series, Kyle Busch has played the villain role to near perfection.
Booed and harassed at virtually every stop on the Cup Series tour, Busch has made enemies left and right and seemed to relish being loathed by both fellow drivers and fans alike.
But this season is Busch's first with Richard Childress Racing — the ever-popular organization that fields American-made Chevrolets and was the place where the late, legendary Dale Earnhardt spent almost his entire career, winning six of his record-tying seven Cup Series championships.
So, with Busch's offseason move away from Joe Gibbs Racing — where he spent the past 15 years and won 56 Cup Series races in a Toyota — came a drastic change in how he's perceived by the masses.
In somewhat lighthearted fashion, Dale Earnhardt Jr. recently explained this turnabout in a conversation with former Cup Series driver and Busch rival Carl Edwards, who's been completely out of the sport since 2017 but made a recent return to the race track for Darlington Raceway's "throwback" weekend.
Before we delve into the specifics of the discussion between Junior and Edwards, though, let's consider why Busch was so reviled for so long.
Kyle Busch wore the black hat in NASCAR for many years, and he made no apologies
After spending his first three seasons as a Cup Series driver in a Chevrolet fielded by Hendrick Motorsports, Kyle Busch became the driver of Joe Gibbs Racing's No. 18 Toyota in 2008 when the company joined forces with the Japanese manufacturer.
Already not the most popular driver around due to his cocky attitude and aggression on the race track, Busch's move from a Chevy team to a Toyota team didn't sit very well with a lot of fans.
Neither did his success as the owner of a Toyota Craftsman Truck Series team, Kyle Busch Motorsports, which captured multiple drivers' and owners' championships.
Also less than beneficial to Busch's fan approval rating was the fact that he won two Cup Series championships and dozens of races in his time with JGR while taunting his haters with fake tears and cynical victory bows along the way. Busch also had run-ins with numerous stars of the sport, most notably Kevin Harvick, Brad Keselowski, and Joey Logano.
Heck, he even came to blows in the Kansas Speedway garage area with his current boss, Richard Childress, after a Craftsman Truck Series race in 2011.
It was likewise in a truck race at Texas Motor Speedway later that same year that Busch deliberately wrecked fan-favorite Ron Hornaday Jr. under caution, putting the four-time series champion's safety at serious risk (thankfully, Hornaday walked away unharmed).

Add all this up in combination with Busch's habit of belittling less accomplished drivers and even his own team on occasion, and it's easy to see why his actions didn't endear him to a lot of the folks who show up at the race track or tune in on Sunday afternoons.
But then came 2023 and a fresh start with Richard Childress Racing, an organization that proudly fields Chevrolets and is headquartered in a rural, one-horse North Carolina town called Welcome — as opposed to Joe Gibbs Racing, which operates out of the well-to-do Charlotte suburb of Huntersville and is a foreign manufacturer's flagship team.
Dale Jr. applauds Kyle Busch for taking steps to change his bad-boy image
Now, let's go back to Darlington and the conversation between Dale Earnhardt Jr. and Carl Edwards, who, along with Kyle Busch, were each honored for their recent selection as one of NASCAR's 75 greatest drivers.
"So, we're sitting there on the stage in Darlington, and Kyle Busch walks across and is shaking hands and the fans are cheering," Earnhardt told co-host Mike Davis on an episode of The Dale Jr. Download. "Carl Edwards looked at me and goes, 'What in the hell is that all about?' I said, 'Carl, Kyle went to drive for RCR and Chevrolet, and all is forgiven.' So, Carl was taken aback by that. I thought that was so funny."
Earnhardt, who had more than one run-in with Busch during his own driving days, went on to explain why he believes Busch has become beloved by a large portion of the NASCAR fan base after so many years as public enemy No. 1.
"I felt that some of the criticism that he got, the boos that he got from the fans, were justified," Earnhardt said on The Dale Jr. Download. "He did a series of things that I felt like didn't steer fans toward cheering. They steered more fans toward being aggravated with him and frustrated with him and criticizing him.
"Now, though, to Kyle Busch's credit, he has made a big effort to turn that around. I think that him and his very, very close inner circle have been making a great effort to show that he's charming, he's funny, he doesn't take himself too seriously on social media, him and his family make all of these Instagram posts and stories and stuff just goofing around and having a good time. He's a great dad, going to race with his son, he's exposing that part of his life, saying, 'Hey, man, I'm not this villain all day every day. You just get these little clips at the race track.' So, he's working really hard, I think, and I've got to give him some credit."
The fans certainly have.