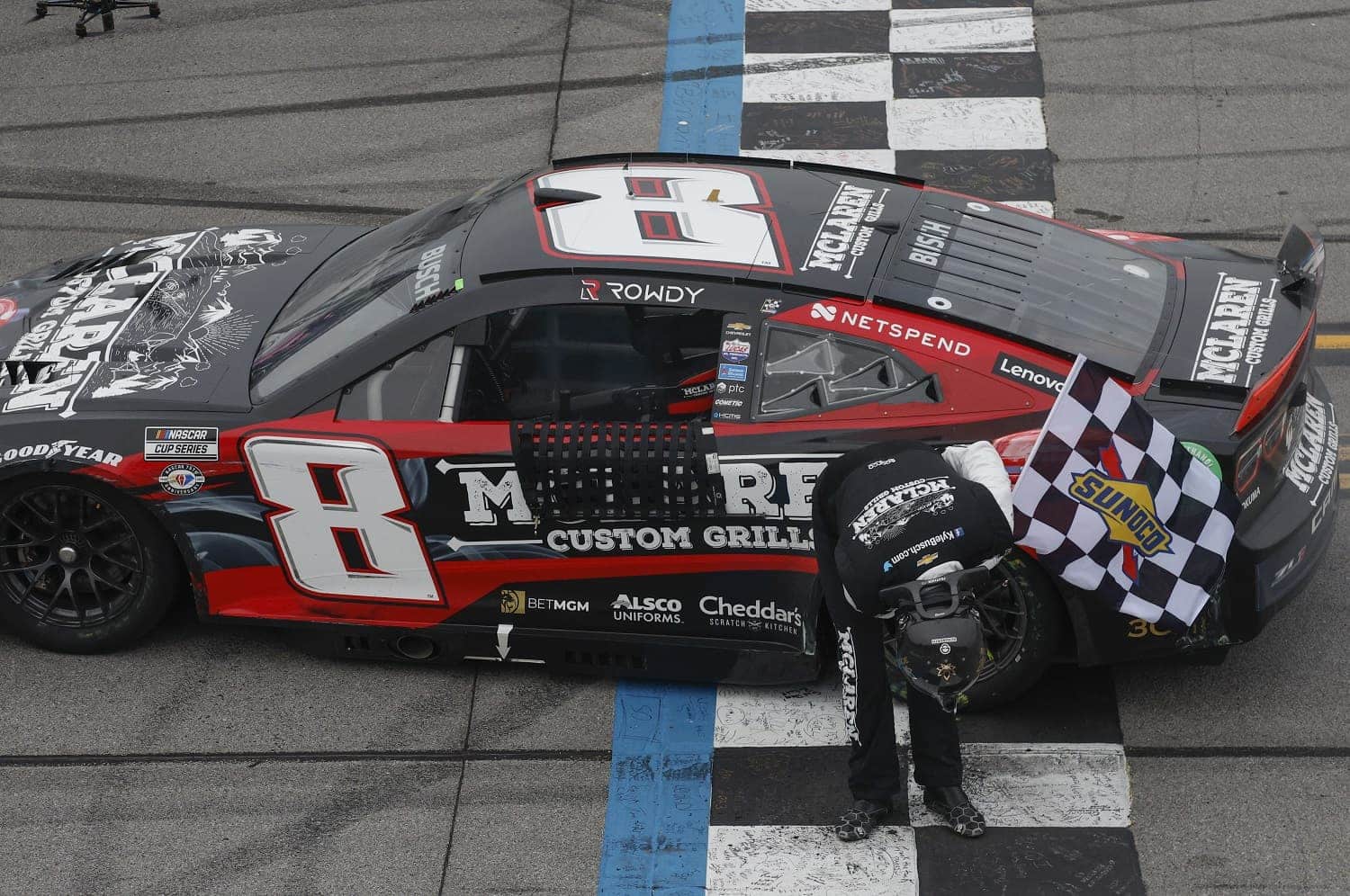 Kyle Busch's First Celebratory Bow Was 'Magic'
Kyle Busch's trademark celebration move began with a spur-of-the-moment thought at Charlotte Motor Speedway.
Kyle Busch gambled Sunday at Talladega Superspeedway by staying out in overtime rather than pitting for fuel. With one win already in the bank this season, he had the luxury of taking that risk.
And after crossing the finish line first with the yellow flag out, he took something else: his victory bow.
It's a Busch tradition that drives detractors bonkers, but it was all the two-time NASCAR Cup Series champion could muster. After all, you can't do a burnout when your car's gas tank is empty.
Adding a bow to the burnout was a spontaneous Kyle Busch move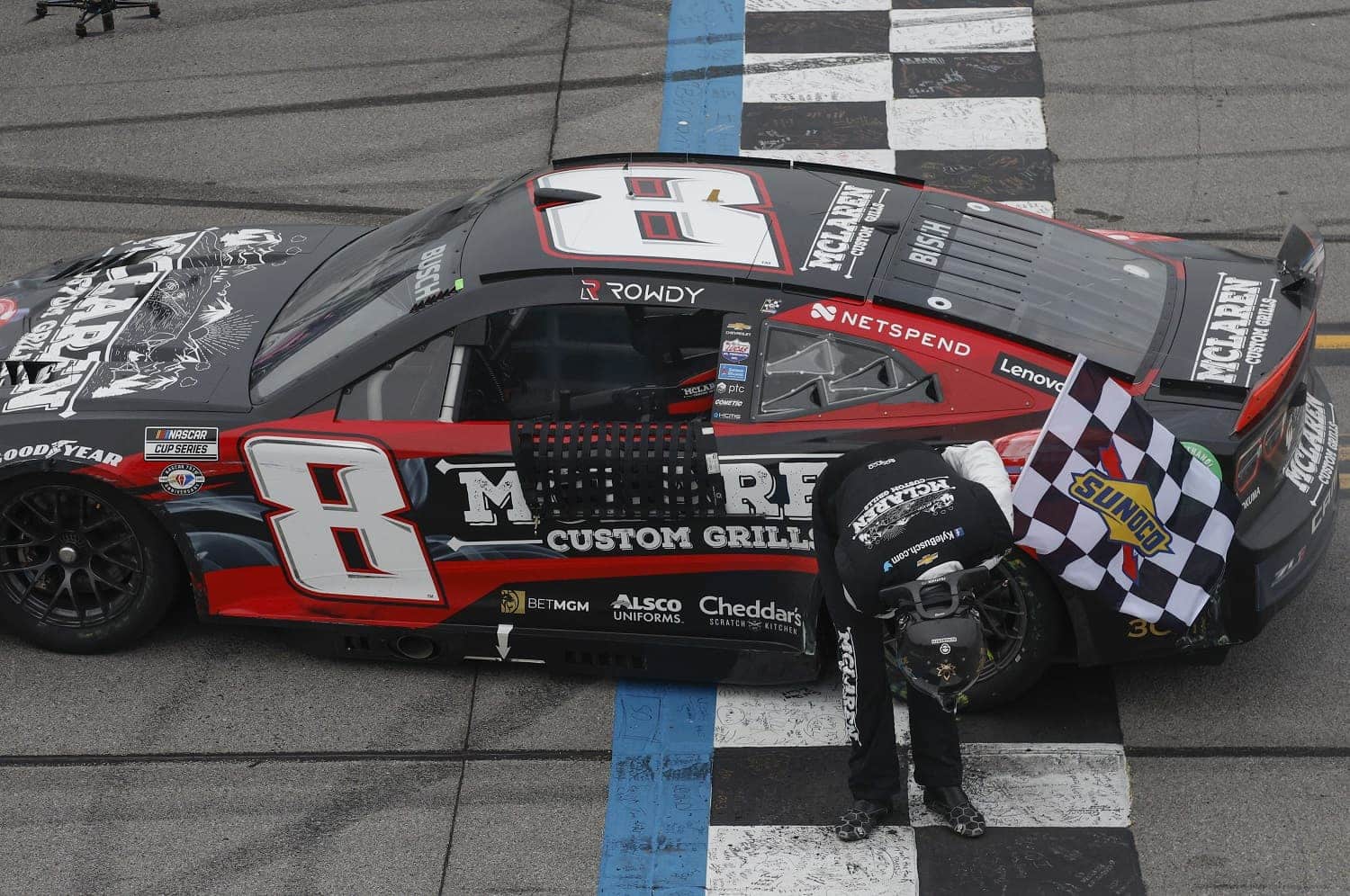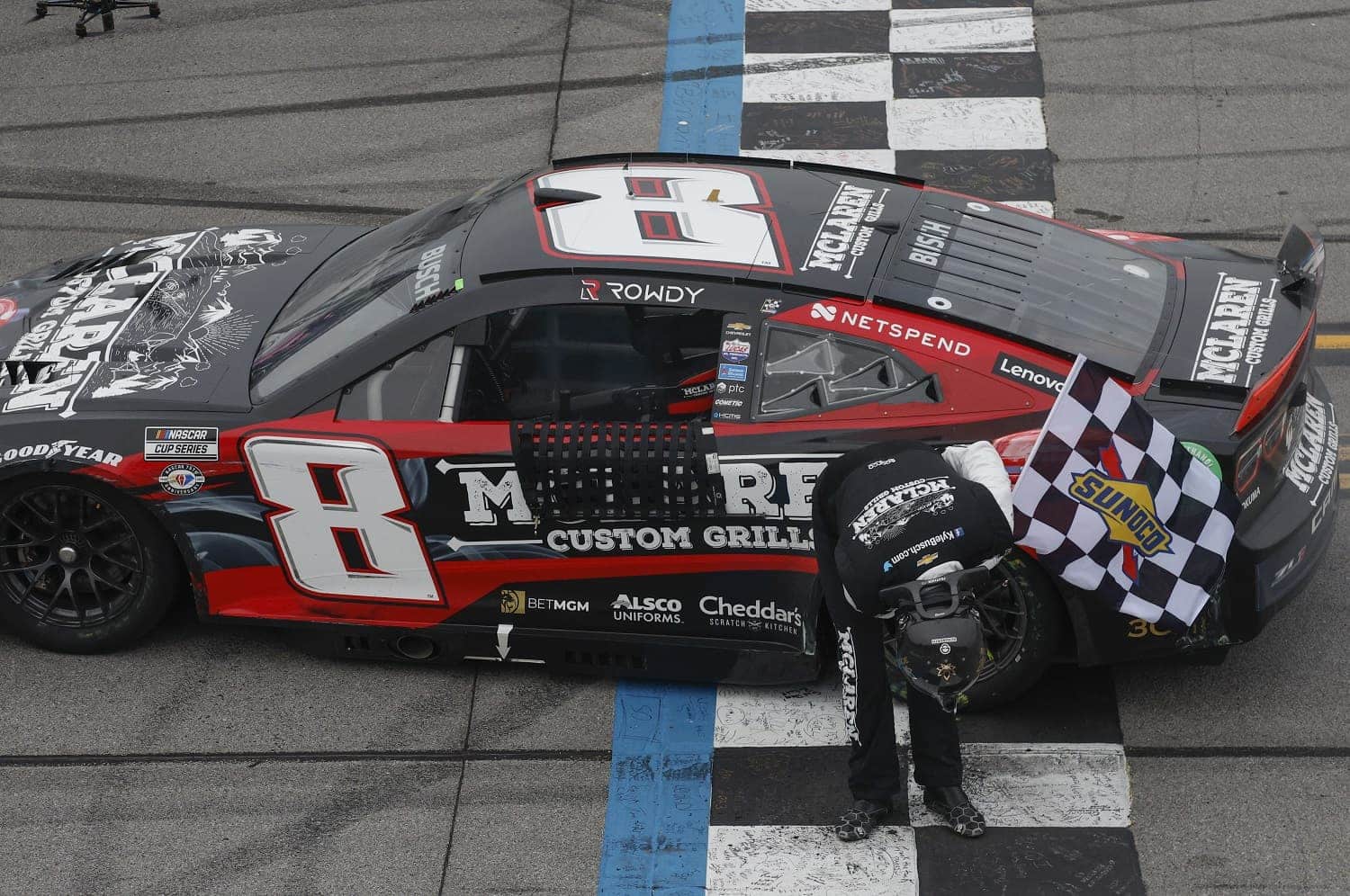 The victory burnout has become a NASCAR cliché. Barring extenuating circumstances – like the car running out of gas – racing fans have come to expect it at the finish line following the race. Busch has more experience with burnouts than anyone in history, having scored 227 wins across the three national NASCAR series. But he's also the guy who adds a little flourish by taking a bow.
Busch, a native of the city where glitzy is a way of life, admitted he isn't sure when he started his tradition, but it likely goes back to an Xfinity Series victory at Charlotte in 2004 or '05.
"When I did a burnout afterward," he told NASCAR.com, "there was so much smoke that when I got out of the car, you couldn't see the grandstands. So, I was just standing there, waiting for the smoke to dissipate so I could see the crowd.
"I was like, 'Heeeeey, I'm here.' So, I thought of it as, I'm appearing out of the smoke, like I'm a magician. And being from Vegas and being a showman with the background of being from there, I was like, 'OK, what do great performers do every time they have a great performance for the crowd?' They come out and bow for the crowd and are getting applause for the end of the show."
There are few unique celebrations in NASCAR
Maybe the problem is that the car does most of the work over the preceding three hours, but winning drivers just don't have a ton of great ideas when it comes to celebrating before heading off to Victory Lane for the official ceremony.
In discussing the problems with burnouts on a recent podcast, Kyle Petty gave props to Kyle Busch for stepping out of the smoke to take a bow, as well as to Joey Logano for his hold-the-steering-wheel-outside-the-window schtick.
But beyond those, Alan Kulwicki's Polish Victory Lap, and Carl Edwards' backflips (the Missourian was inspired by St. Louis shortstop Ozzie Smith), NASCAR has generally been bereft of good shows after a good showing.
We anticipate Noah Gragson climbing the catch fence a time or two soon, but the rookie's time has not yet come.
Maybe TV needs to get out of the way
Carl Edwards won a combined 72 times across NASCAR's three national series, but he retired in 2016 at the relatively young age of 37. That was just as well since doing a backflip off a car is a young man's game, and Edwards said fans left disappointed if he didn't perform the celebration routine.
Kyle Busch told the NASCAR website he occasionally gets caught up in the excitement and forgets to take a bow. In other instances, the way a race ended makes him feel it just wouldn't be right.
"It's like, 'OK, I stole one, I didn't really deserve it.' But hey, if you have a good performance, do a great job, bow for the crowd."

Kyle Busch
One other factor is that finish-line reporters for Fox and NBC rush to the winner for the first interview, which is piped through the public-address system for the benefit of fans in attendance.
"There was one, the start-finish TV interview they do now, and they were on me so fast. I didn't have a chance to do the bow, and then I forgot to do it when the interview was over, so I didn't do it," Busch recalled. "Then, on social media afterwards, there was a whole big deal, 'Where was your bow? Why didn't you do your bow?' And people got mad at the interviewer for getting in my face too fast. I was like, 'Wow.'"
Got a question or observation about racing? Sportscasting's John Moriello does a mailbag column each Friday. Write to him at [email protected]