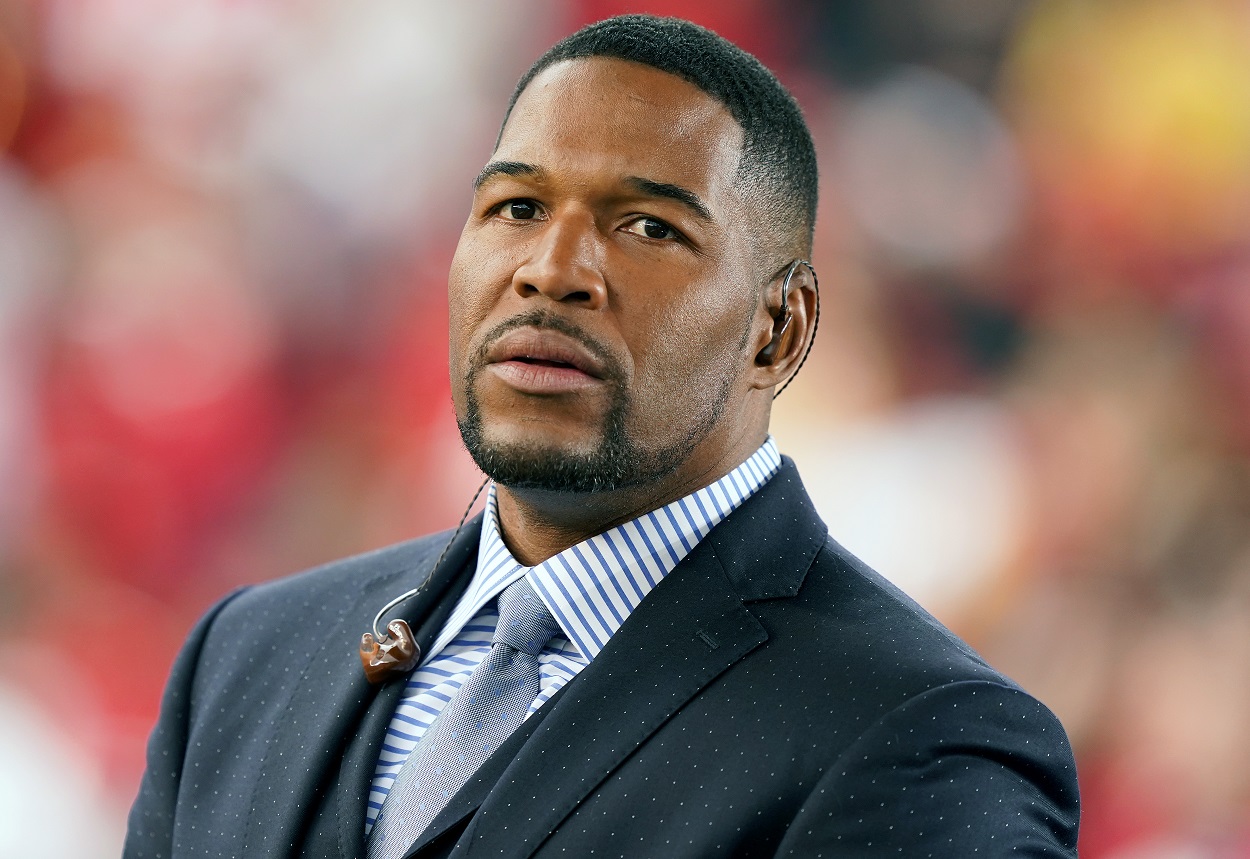 Michael Strahan Has Reportedly Tested Positive for COVID-19
Michael Strahan, the former New York Giants star that now works an analyst for FOX and co-hosts 'Good Morning America,' has been diagnosed with COVID-19.
Michael Strahan has been through a number of battles over the years. For 15 NFL seasons, he battled opposing offenses for the New York Giants and became one of the greatest defensive players of all time. Strahan, who has enjoyed a highly successful television career after retiring from the NFL, also got into an ugly child custody battle with one of his ex-wives in what turned out to be a very expensive divorce for the Hall of Famer.
And now, it appears that Michael Strahan's latest battle will be with COVID-19 as it was announced on Wednesday that the former Super Bowl champion has contracted coronavirus, which is why he's been absent from Good Morning America all week and appeared remotely during FOX NFL Sunday coverage this past weekend.
Michael Strahan played 15 seasons for the New York Giants
Selected in the second round of the 1993 NFL draft out of Texas Southern by the New York Giants, Michael Strahan became a full-time starter at defensive end in his second year and became one of the league's most feared defenders within just a few seasons.
He earned the first of three consecutive Pro Bowl selections in 1997 (he'd end up with seven for his career) in 1997 after recording 14 sacks. He upped that total by one the following season and in 2001 became the all-time single-season sack leader with 22.5, winning NFL Defensive Player of the Year. Two seasons later, he added 18.5 more and ended his career with 141.5, good for sixth on the all-time list.
During his 15-year career, in addition to making seven Pro Bowls, was a six-time All-Pro selection (four First-Team, two Second-Team), a two-time sacks leader, and helped New York to a Super Bowl victory in his final season in 2007.
Michael Strahan was inducted into the Pro Football Hall of Fame in 2014.
He's had a highly successful TV career after retiring from the NFL
In the years since his retirement, it's been nearly impossible to turn on a television without seeing Michael Strahan somewhere. Just a few months after his final NFL game, it was announced that he was joining the FOX NFL Sunday team, a job he still has to this day.
In 2010, he was a guest host on Live! with Regis and Kelly alongside Kelly Ripa and made 20 appearances in Regis Philbin's seat over the next two years and became the full-time co-host of the show in 2012, a gig that would lead to two Emmy Awards.
Strahan left the show in 2016 to join Good Morning America and also co-hosted a spinoff show for two years before it was canceled last August. He's also been the host of the primetime version of The $100,000 Pyramid.
Michael Strahan has reportedly tested positive for COVID-19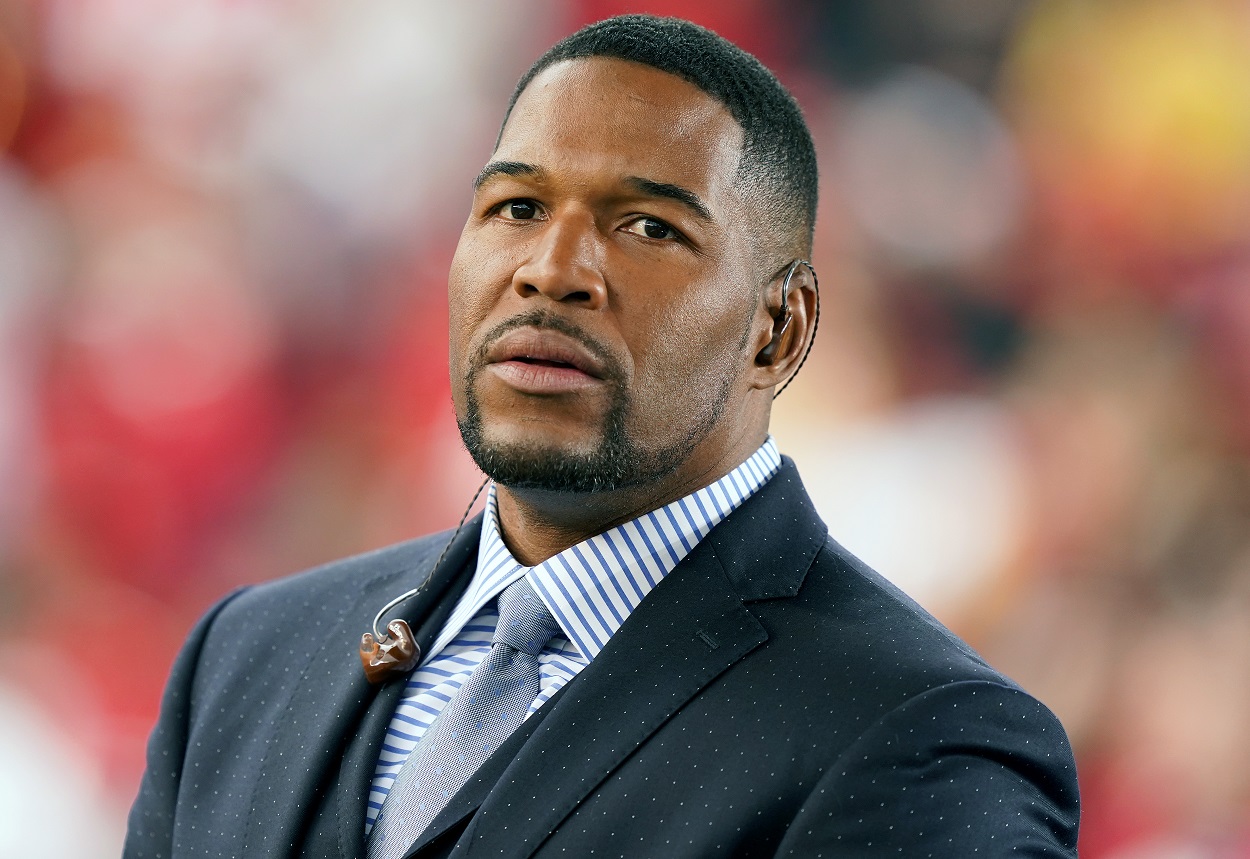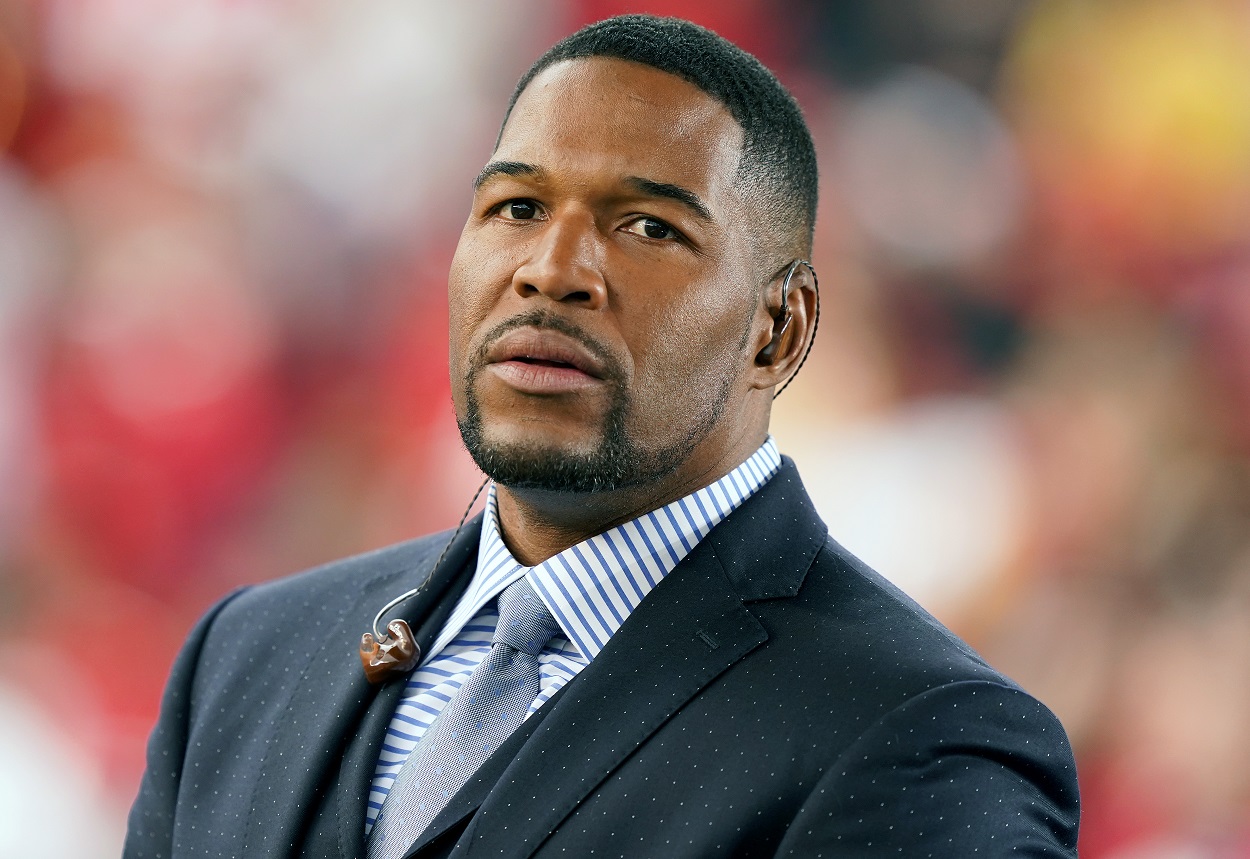 This past weekend, Michael Strahan was notably absent from the studio during the FOX NFL Sunday coverage for the NFC Championship Game between the Tampa Bay Buccaneers and Green Bay Packers, only appearing remotely.
He's also been absent from Good Morning America this week and TMZ is reporting it's because he's been diagnosed with COVID-19, although he apparently isn't experiencing severe symptoms at this time. The report claims Strahan found out on Saturday that he'd been exposed to the virus earlier in the week and immediately started quarantining, which is why he only appeared remotely on FOX and has stayed away from GMA all week.
The report also claims that Strahan was with his daughters, who live with their mother the majority of the time, after his exposure so they've all been tested as well. At the time of this writing, it's not yet been revealed what the results of their tests were.
Michael Strahan is reportedly scheduled to appear on Good Morning America on Thursday to discuss his diagnosis.
Stats courtesy of Pro Football Reference