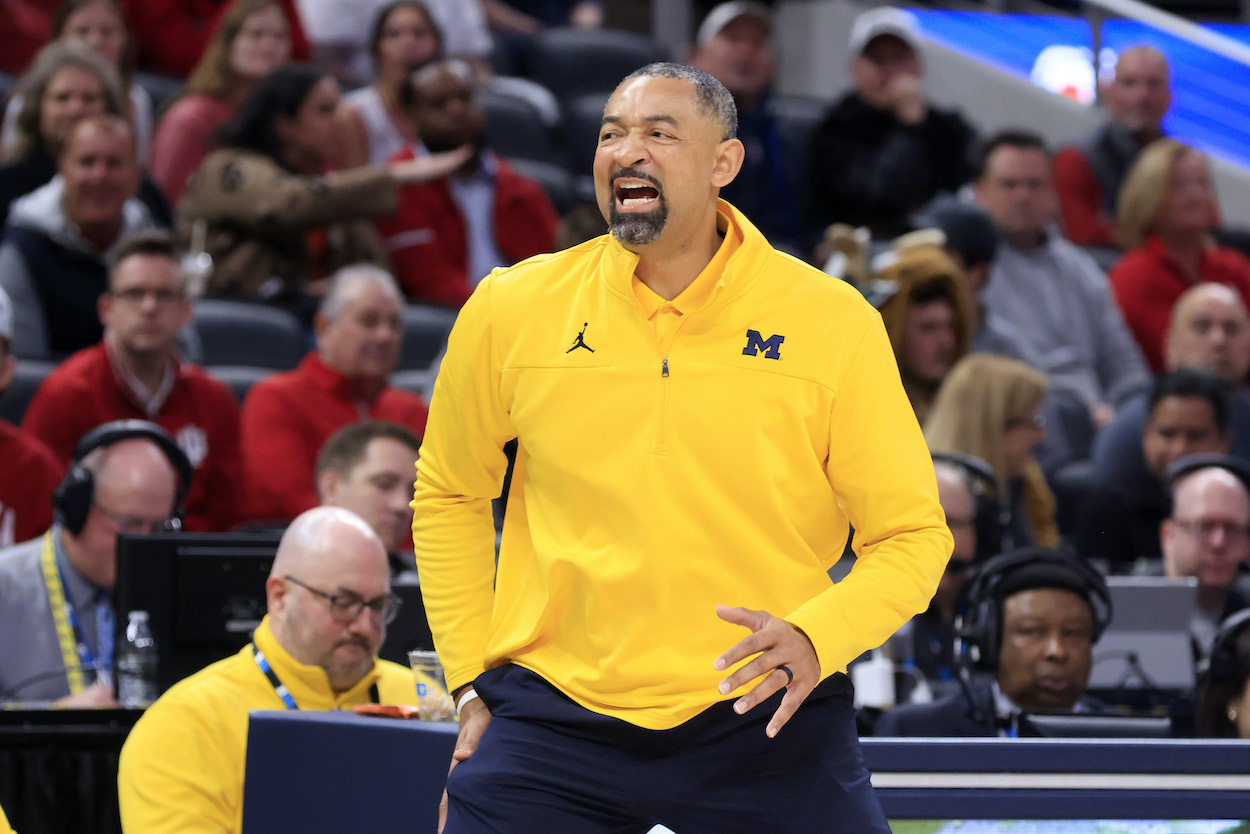 Michigan Only Got Into March Madness Because They're a 'Brand' and the NCAA 'Needs Ratings,' According to Jeff Goodman
College basketball analyst Jeff Goodman says that the Michigan Wolverines only got into March Madness because of their brand name.
For months, college basketball analysts dissect team's strength of schedule, pour over their quality wins and bad losses, and debate whether teams are good enough to get into the March Madness field of 68. It makes the Men's NCAA tournament seem like a meritocracy, but Stadium's Jeff Goodman says that, for some teams like Michigan, it's all about the brand name.
Michigan put together a borderline resume in the 2021-22 season
Head coach Juwan Howard's Michigan Wolverines started the 2021-22 season No. 6 in the preseason AP top 25, per CBS Sports.
The talented squad, led by sophomore center Hunter Dickinson, senior guards Eli Brooks and DeVante Jones, and freshman Caleb Houstan and Moussa Diabate, took care of business early, beating up on lower-level schools like Wayne State, Buffalo, and Prairie View A&M.
However, in the team's first game against a serious opponent, the Wolverines fell to Seton Hall 67-65.
Understandable losses to Arizona and North Carolina followed, but so did some nice wins vs. teams like UNLV and San Diego State.
The school's Big Ten schedule started with an easy win over Nebraska, but a tough loss to Minnesota follows. Against the best teams in the conference, Michigan split with Purdue, Michigan State, Rutgers, Iowa, and Ohio State but got swept by Illinois.
The season's biggest moment came following a tough 14-point loss to Wisconsin in late February. In the handshake line after the game, Howard got into it with Badgers head coach Greg Gard. A melee ensued, and Howard taking a swing at a Wisconsin assistant coach led to his suspension for the rest of the regular season.
The former Fab Five member was back for the Big Ten tournament. However, Indiana beat Michigan in its first game, 74-69.
Despite that result and a positively average 17-14 record Michigan got into March Madness without having to play in the First Four, where the selection committee sent the Hoosiers.
Stadium college basketball analyst Jeff Goodman explained why.
Jeff Goodman says March Madness is a TV show, too
Stadium's Jeff Goodman, a longtime college basketball analyst formerly of ESPN, CBS, and FOX, joined the Pat McAfee Show this week to discuss the March Madness brackets.
McAfee's co-host Kyle "Gump" Cathcart asked Goodman how Michigan could go from a team that was firmly on the bubble to a No. 11 seed in the tournament. Goodman replied by explaining the realities of the Big Dance:
You know why. They need these brands. It's ratings! They need ratings. They gotta have Indiana — they weren't going to put Indiana and Michigan in the First Four, so you had to have one of those guys in the field. But to me, come on. Do we really believe that ratings aren't important here when it comes to the final teams on the bubble? You need brands. Michigan is a brand.

Jeff Goodman on why Michigan is in the March Madness tournament
Goodman is right. The truth of the matter is that March Madness is a $1.5 billion TV show that CBS needs to have viewers tune into.
Teams like Dayton, SMU, Oklahoma, and Texas A&M might be more deserving of a tournament bid than Michigan, but let's be honest. Dayton and SMU are small schools, and Oklahoma and Texas A&M are football schools.
None of these basketball "brands" move the needle even close to the way Michigan does. That's why Juwan Howard's crew is in, and these other schools are out.
How far can Michigan go in the 2022 Men's NCAA tournament?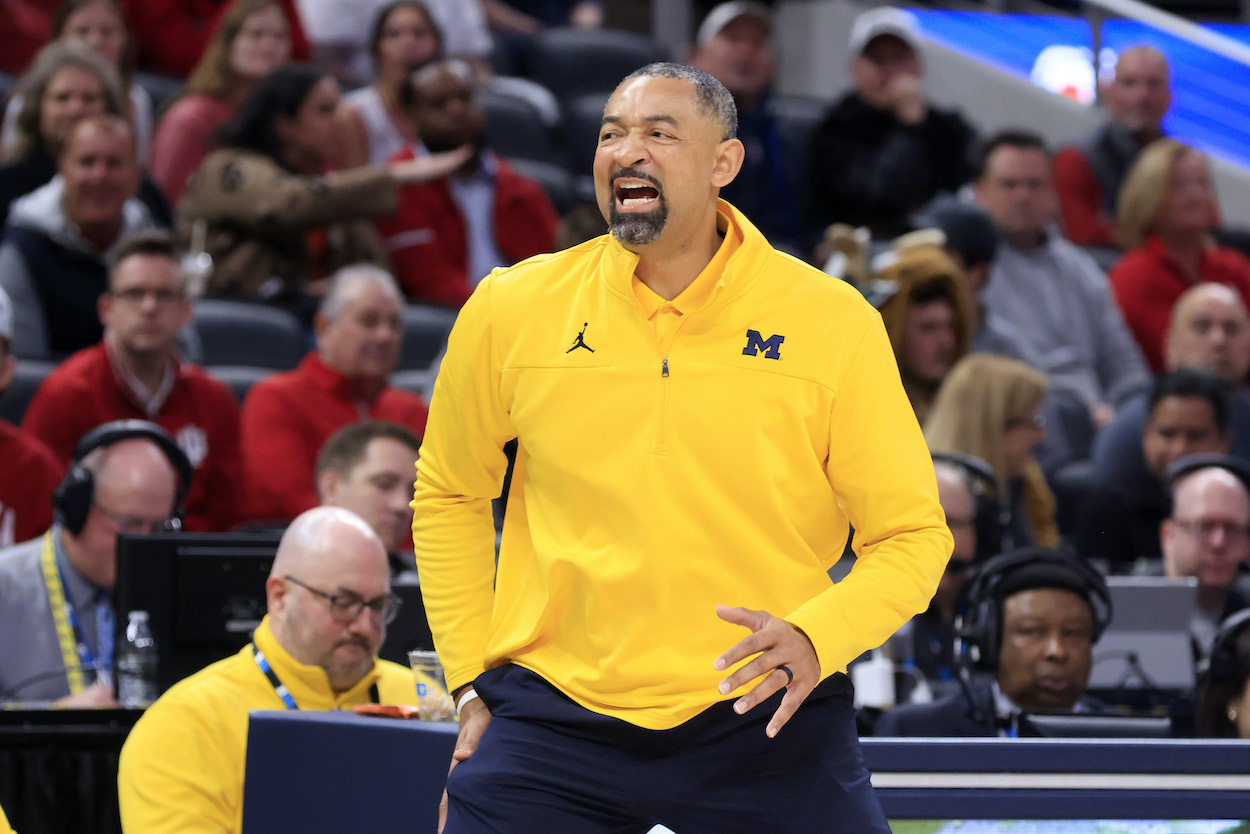 Yes, Michigan is an 11 seed, a slightly over .500 team, and a relatively disanointing team. That said, they were highly-regarded at the outset of the season, and, well, as Jeff Goodman alluded to, they're the Michigan Freakin' Wolverines!
No one thought the 1989-90 crew would do anything after Athletic Director Bo Schembechler fired outgoing coach Bill Frieder and replaced him with unknown assistant Steve Fischer. But what happened? The school won the 1990 Big Dance.
Could another Michigan Miracle happen in 2022?
The Maize and Blue start with a tough matchup against a 25-5 Colorado State team that battled tournament Boise State and San Diego State teams in the underrated Mountain West Conference.
If Juwan Howard can find a win in Round 1, it's a tough road after that. If things go to form (which, of course, they rarely do in March Madness), Michigan will see Tennessee, Villanova, and the No. 2 team in the country, the Arizona Wildcats.
Michigan has the talent to make an Elite Eight run, but they've been staggeringly inconsistent this season. 
A win wouldn't be shocking but putting together back-to-back weekends of high-level play seems unrealistic. Look for Michigan to not make it out of the first two rounds in Indianapolis.