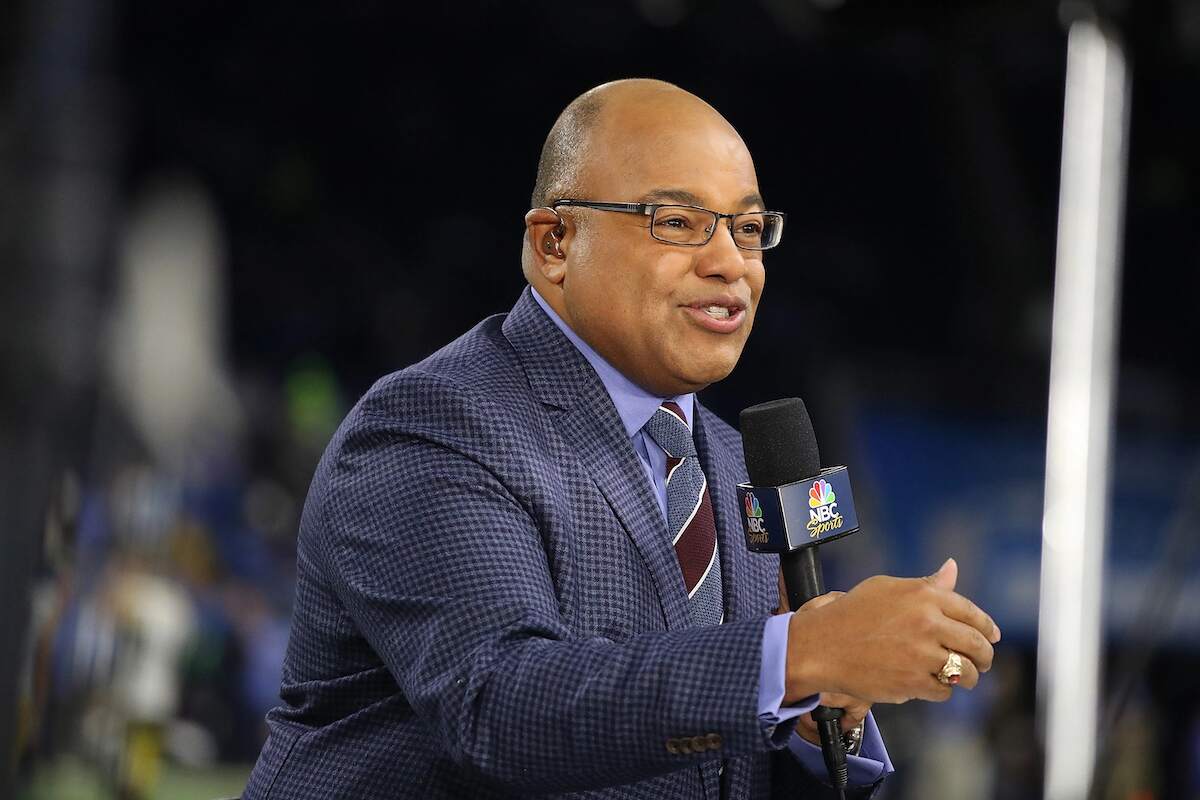 Mike Tirico Reveals the Worst Game He's Ever Called
Sunday Night Football announcer Mike Tirico reveals the worst game he's ever had to call -- and it involves the Pittsburgh Steelers.
Mike Tirico has spent a lot of time in the broadcast booth. Whether he worked for ESPN or NBC, he's called his share of games. Tirico has become one of the best in the sports media world. He recalls being in the booth for Monday Night Football when he watched the worst game he's ever called.
Mike Tirico's broadcasting career
Mike Tirico graduated from Syracuse University and worked for CBS affiliate WTVH in Syracuse, New York, as the Sports Director before joining ESPN. Tirico began working at ESPN in 1991, doing various tasks for SportsCenter. Tirico handled play-by-play duties for Thursday Night Football and called games for college basketball, NBA, tennis, soccer, and golf.
Tirico's contract at ESPN expired in 2016, and he moved on to NBC. He's become the lead play-by-play man for Notre Dame Football on NBC while also calling the Olympics and hosting Football Night in America. Tirico has shown his versatility by hosting coverage of the Stanley Cup and the Indianapolis 500.
He called his first hockey game last year when the Chicago Blackhawks and the Detroit Red Wings squared off. Tirico had some in-studio experience with the NHL, but that was his first game as the lead commentator. According to The Detroit News, Tirico's NHL debut was well-received.
Mike Tirico replaced Al Michaels in 2022
In a planned 2020 move, Mike Tirico filled in for Al Michaels during some Sunday Night Football games on NBC. Michaels said he was part of the plan when it came to him taking some time off. To help cut down on travel for the 78-year-old Michaels, the network gave him some "bye" weeks where Tirico will fill in.
In 2022, reports WPTV, NBC Sports announced Tirico's official takeover of Sunday Night Football, joining Cris Collinsworth as a play-by-play announcer. Michaels, who'd called the Sunday games since 2006, moved to Thursday Night Football coverage on Amazon Prime Video.
Tirico recalls the worst game he's ever called
Tirico, speaking on the Sports Illustrated Media Podcast, recalled the worst game he's ever had to call, and it involved the Steelers. The game took place on Monday, Nov. 27, 2017.
"Worst game I ever called was the Steelers, Dolphins Monday night in the mud in Pittsburgh," Tirico said, "where the punt stuck right at the 48-yard line. It was a brutal, brutal Monday night game. We were looking at a scoreless game. It was a terrible game." The New York native explained:
"They had played the high school football playoff games, as they often do, at Heinz Field. The grass field was really bad. It was a monsoon of rain, and [Tony] Kornheiser and Jaws [Ron Jaworski] were in the booth with me. Pittsburgh punted, I think it was Pittsburgh, and the ball just stuck, nose up, in the field. That was the worst game. The excitement was, was anybody going to score? It was that bad."