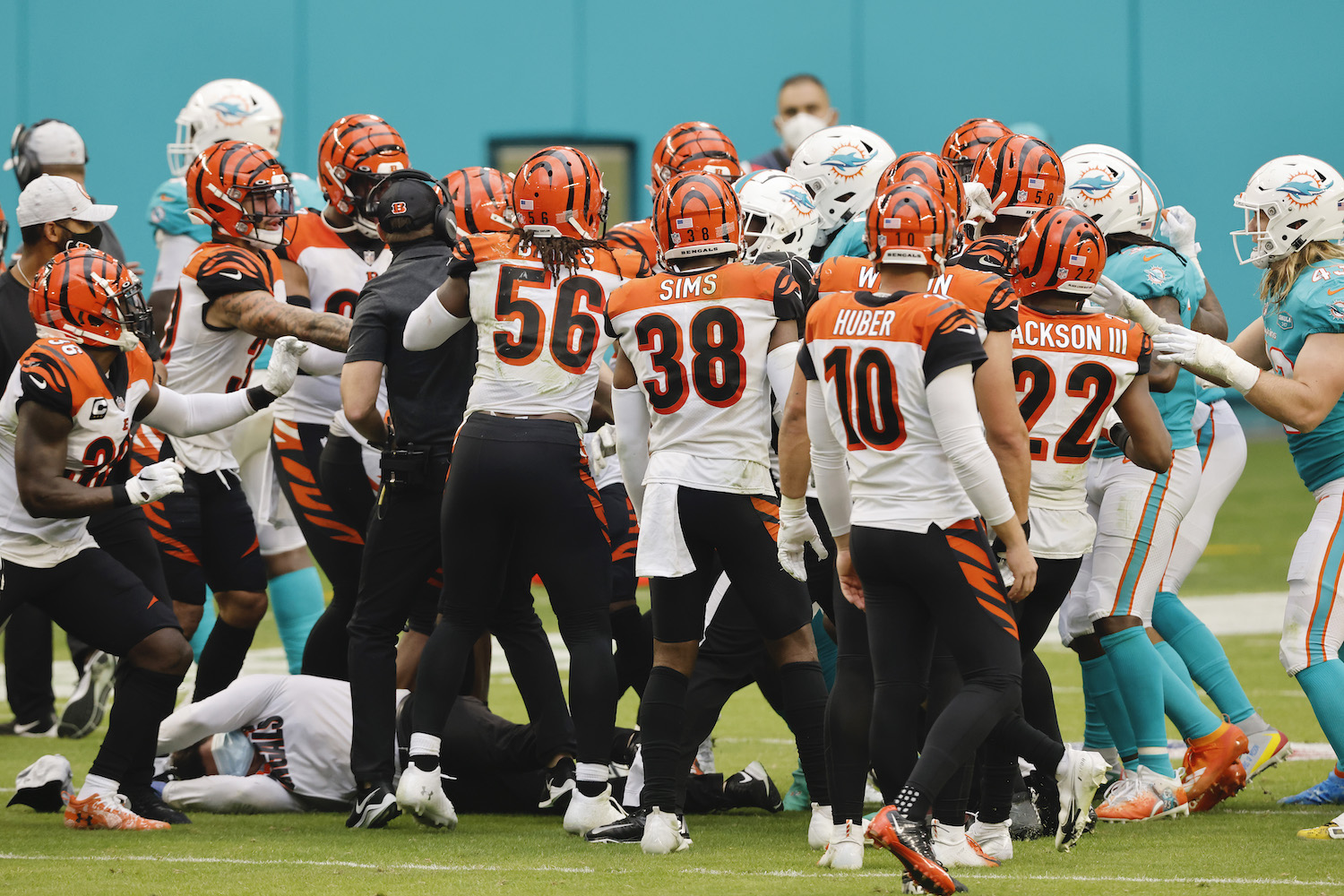 Upset Mike Tirico Blasts NFL League Office for Failing to Eject Instigator of Cincinnati Bengals-Miami Dolphins Melee
Mike Tirico blasted NFL officials Sunday Night for the league's failure to eject the player who started the Miami Dolphins-Cincinnati Bengals brawl.
Mike Tirico has been a sportscaster for decades. He's covered the NFL for years. He's very good at providing an accurate description of what he sees on the field without editorializing. On Sunday night, what Tirico saw incensed him, and he couldn't help himself, so he went on a rant blasting the NFL league office for its inaction in the afternoon melee between the Cincinnati Bengals and Miami Dolphins. And he was right.
Miami Dolphins vs. Cincinnati Bengals has early fireworks with a pair of first-half ejections
In the first quarter between the Cincinnati Bengals and Miami Dolphins, Cincinnati receiver Tyler Boyd caught a quick pass at the line of scrimmage, darted his way outside, and followed a good block to beat a pair of Miami Dolphins defenders, including cornerback Byron Jones, for a 72-year touchdown. 
The next quarter Boyd and Jones met up again. However, this time Jones and teammate Xavien Howard appeared to shove Boyd a little bit late out of bounds on an incomplete pass play. When Boyd got up off the ground, he stood facemask to facemask with Howard, who then pushed Boyd in the shoulder. 
Boyd responded by aggressively pushing Jones on the side of his helmet. Howard then tried to push Boyd in the helmet, but officials intervened. When the dust settled, Howard and Boyd were surprisingly both ejected from the game for what many considered less-than-ejectable offenses. 
Cincinnati Bengals player takes cheap shots at Miami punt returner and brawl ensues
With two ejections in the first half, things took an even uglier turn in the second half. Oddly, it happened on a couple of special teams plays within minutes of each other, and the same instigator on both plays. 
Cincinnati receiver Mike Thomas, who also serves as a gunner on the punt coverage team, arrived early on a punt in the third quarter, violently hitting Dolphins' returner Jakeem Grant up near the head. He was flagged for a 15-yard personal foul. 
Inexplicably, Thomas did the exact same thing in the fourth quarter, and to the same man, Grant. And that's when all hell broke loose. 
Mike Tirico blasts NFL for its failure to eject Mike Thomas 
Following the second egregious hit by Mike Thomas, the Miami Dolphins sidelines was understandably outraged, and a brawl broke out between the teams near the Cincinnati sidelines. Dolphins head coach Brian Flores was in the middle of it and had to be restrained.
When the fight ended, officials ejected Bengals safety Shawn Williams, as well as Dolphins wide receivers DeVante Parker and Mack Hollins. Oddly absent from the list of ejections was the man who started it all, Thomas.
During the pregame show on NBC's Sunday Night Football, Mike Tirico expressed his frustration with what happened in Miami and the NFL's inability to get the call right.
"Somehow when all the players get thrown out, New York was involved—the league office—they didn't throw out Mike Thomas, who was the guilty party, TWICE!" Tirico said in disbelief. "How does he not get thrown out when New York is involved? What are you guys thinking?"
After being in the business for so many years, Mike Tirico is typically very measured with his words. On Sunday night, he was not. Now the question is whether or not New York might be giving Tirico a call or admitting that they did, in fact, get the call wrong. Time will tell.
Like Sportscasting on Facebook. Follow us on Twitter @sportscasting19.