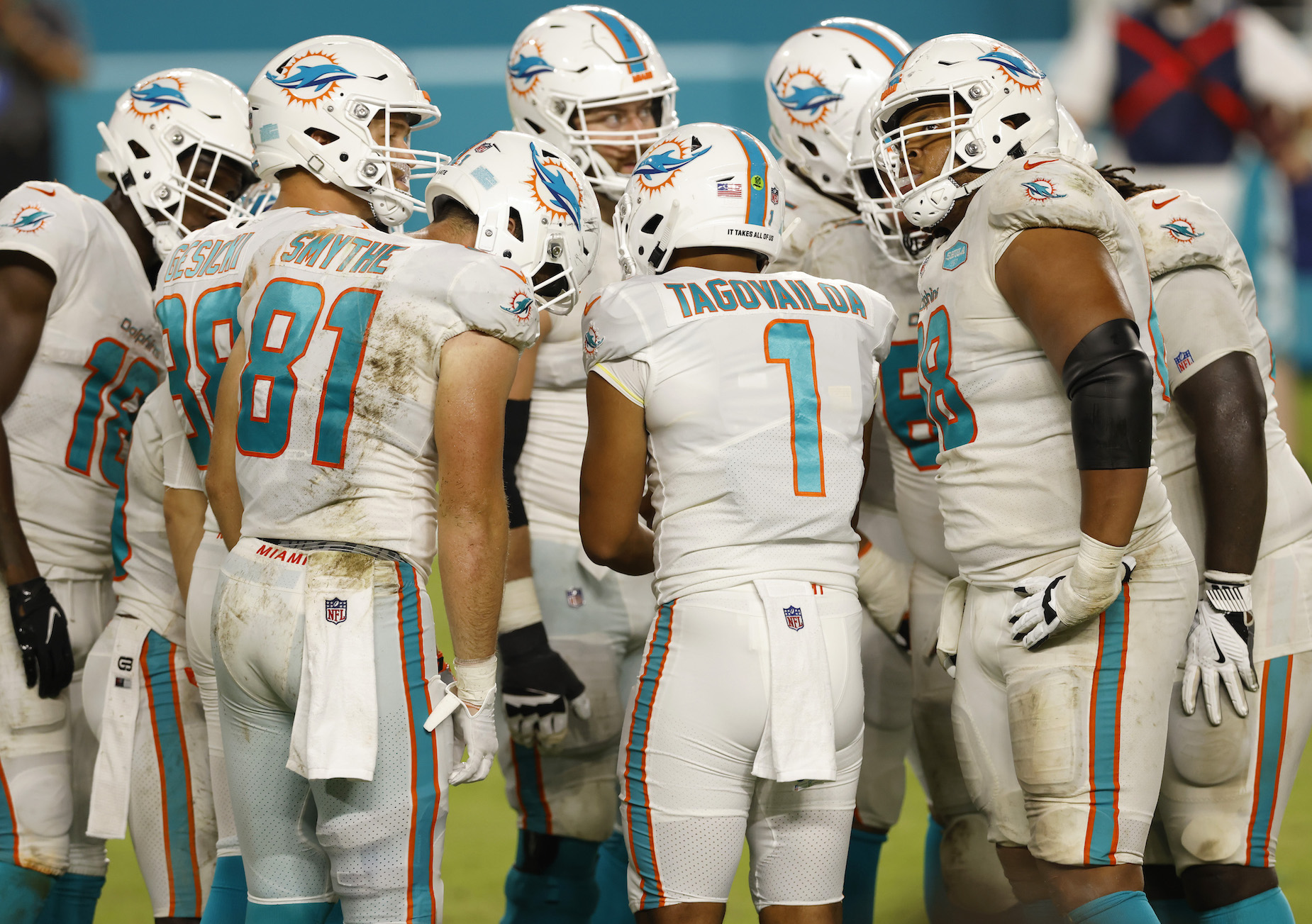 How Tall Is Miami Dolphins Quarterback Tua Tagovailoa?
In Week 8, the Tua Tagovailoa will officially being in South Florida. How tall is the Miami Dolphins' new starting quarterback?
Ever since the days when Dan Marino stood under center, the Miami Dolphins have been searching for their franchise quarterback. When the 2020 NFL draft rolled around, it seemed like they finally found their man in Tua Tagovailoa. Once Week 8 rolls around, the new era will officially begin.
When Tua Tagovailoa hits the field on Sunday, though, some Miami Dolphins fans could be taken by surprise. If you're expecting a tall, physically imposing quarterback, you're going to be disappointed.
Tua Tagovailoa looked like a star en route to the NFL
When the Miami Dolphins' game begins on Sunday, Tua Tagovailoa will officially be an NFL starter. Sunday, however, won't be his first taste of big-time football.
After cutting his teeth in Hawaii, Tagovailoa headed to the mainland and enrolled at the University of Alabama. While he didn't see much action as a freshman, the quarterback managed to make a massive impact; he took over for Jalen Hurts in the  2018 College Football Playoff National Championship, leading the Crimson Tide to the title.
Tua retained the starting job as a sophomore and looked like a legitimate star; while the campaign eventually ended in disappointment, he threw for 3,966 yards and 43 touchdowns on the season. His junior year looked like another smash hit but, on November 16, everything changed.  Tagovailoa suffered a dislocated hip and posterior wall fracture; in a moment, his season was over.
How tall is Tua Tagovailoa?
Even though Tua Tagovailoa's injury kept him from participating in the 2020 NFL combine, the quarterback still attended the event. When his measurements emerged, one number grabbed everyone's attention.
As documented by Bleacher Report at the time, Tagovailoa measured exactly six-feet tall; that was short enough to raise some eyebrows. According to conventional football wisdom, starting quarterbacks need to be tall enough to see over the linemen and deal with any jostling inside the pocket.
While size certainly matters to some NFL teams, the Miami Dolphins weren't too concerned about Tagovailoa's height. They snagged the quarterback with the fifth-overall pick of the 2020 draft, and, come Week 8, he'll be starting under center.
Shorter quarterbacks have been proving traditional football wisdom wrong and succeeding
Tua Tagovailoa isn't the only quarterback to succeed in spite of his height, though. In fact, some of the NFL's top signal-callers are on the shorter side.
When they were coming out of college, Russell Wilson and Drew Brees were both considered a bit small to play quarterback; those men stand at 5-foot-11 and exactly six-feet tall, respectively. Looking at their career resumes, it's safe to say that their height didn't call them back. Kyler Murray also holds the dubious distinction of being the NFL's shortest quarterback—he's listed at 5-foot-10–but hasn't let that hold him back.
Thanks to players like Brees, Murray, and Wilson, NFL teams are starting to accept that height isn't the end-all, be-all when it comes to finding a quarterback.
"I've been guilty of this as well," Cincinnati Bengals Coach Zac Taylor told Adam Kilgore of the Washington Post in April 2019. . "You just put this label on a guy's size, when what's important is: 'Do they elevate the players around him? Do they believe in him? Are they accurate? Do they get the ball out on time? Do they understand what the defense is presenting?' You've seen guys of all sizes excel in this NFL lately. I think that's becoming less of a qualifier. Now guys are just looking at, 'Can this guy play?"
On Sunday, the Tua Tagovailoa era officially begins. If he turns into an NFL star, it will be another piece of evidence that height is part of the quarterback equation.
Stats courtesy of Sports-Reference and Pro-Football-Reference