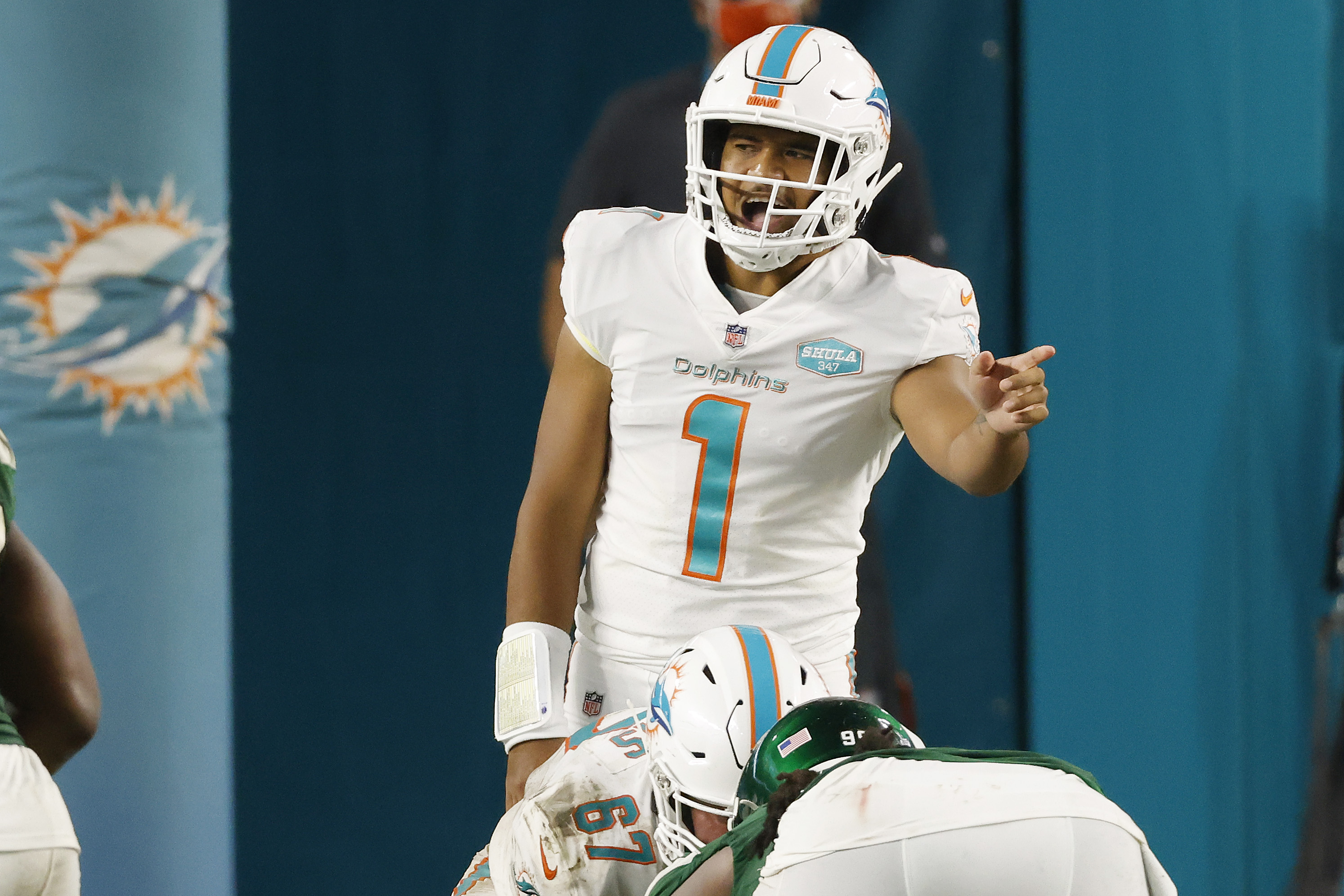 Tua Tagovailoa's Full Name Perfectly Predicted His Football Success and Leadership Traits
Miami Dolphins quarterback Tua Tagovailoa's full name is Tuanigamanuolepola Tagovailoa. What does the rookie's name mean in Samoan?
Tua Tagovailoa's time has arrived for the Miami Dolphins.
After veteran quarterback Ryan Fitzpatrick led Miami to a 3-3 start, the Dolphins announced Tagovailoa — the fifth overall pick from Alabama — will start in Week 8 against the Los Angeles Rams.
Tagovailoa's name, Tua, is short for Tuanigamanuolepola. The quarterback's full name perfectly describes everything the rookie quarterback stands for and what he brings to the Miami Dolphins.
It is Tua Tagovailoa time in Miami
Much like Joe Burrow and Justin Herbert before him, Tua Tagovailoa is taking the reins as a starting rookie quarterback this season.
Tagovailoa sat on the bench and didn't see a single snap through the Dolphins' first five games. With Miami leading the Jets 24-0 in the closing minutes of Week 6, head coach Brian Flores sent his rookie quarterback onto the field to finish the game.
Tagovailoa completed both of his passes for a combined nine yards in five snaps. In his three seasons at Alabama, Tagovailoa completed 69.3% of his passes for 7,442 yards, 87 touchdowns, and 11 interceptions in 32 games.
Tagovailoa also scored nine rushing touchdowns.
Miami doesn't play until the Dolphins host Aaron Donald and the Rams on November 1. Barring an injury, positive COVID-19 tests, or extreme struggles, Tagovailoa has a firm grasp on the Dolphins' starting job.
Tagovailoa is originally from Hawaii
Before he starred at Alabama or joined the Miami Dolphins, Tua Tagovailoa grew up in Hawaii.
Tagovailoa is from Ewa Beach, a small city in the northern Hawaiian islands. He played at Saint Louis School in Honolulu, Hi., the same school where Raiders backup quarterback and former No. 2 overall pick Marcus Mariota attended.
Tagovailoa is not of Hawaiian descent, but Samoan. The Tagovailoa family are devout Christians.
Tagovailoa's brother, Taulia, is a quarterback at Maryland. The two played together at Alabama last year.
What does Tua Tagovailoa's full name mean in Samoan?
Tua Tagovailoa's full name is not Tua Tagovailoa.
That is not a trick statement. Tua is short for Tuanigamanuolepola, but he goes by the former name for short.
Tagovailoa's childhood paster, Rev. Manino Afuola, spoke with WIAT for an interview in 2018. Afuola explained the significance of Tagovailoa's full name.
The first part of the full name, Tuanigamanuolepola, is "tu," which means "stand." The second part, "Aniga," means "to be echoed."
"Manu ole pola" refers to an island bird that sings and awakens people for prayer.
Afuola said the name, when added together, perfectly describes the star quarterback.
"He is standing out there, making this noise, and heralding this joy and this praise for our Heavenly Father in what He does," Afuola said.
If that doesn't describe Tagovailoa down to the final stitch on his jersey, what does?
Like Sportscasting on Facebook. Follow us on Twitter @sportscasting19.