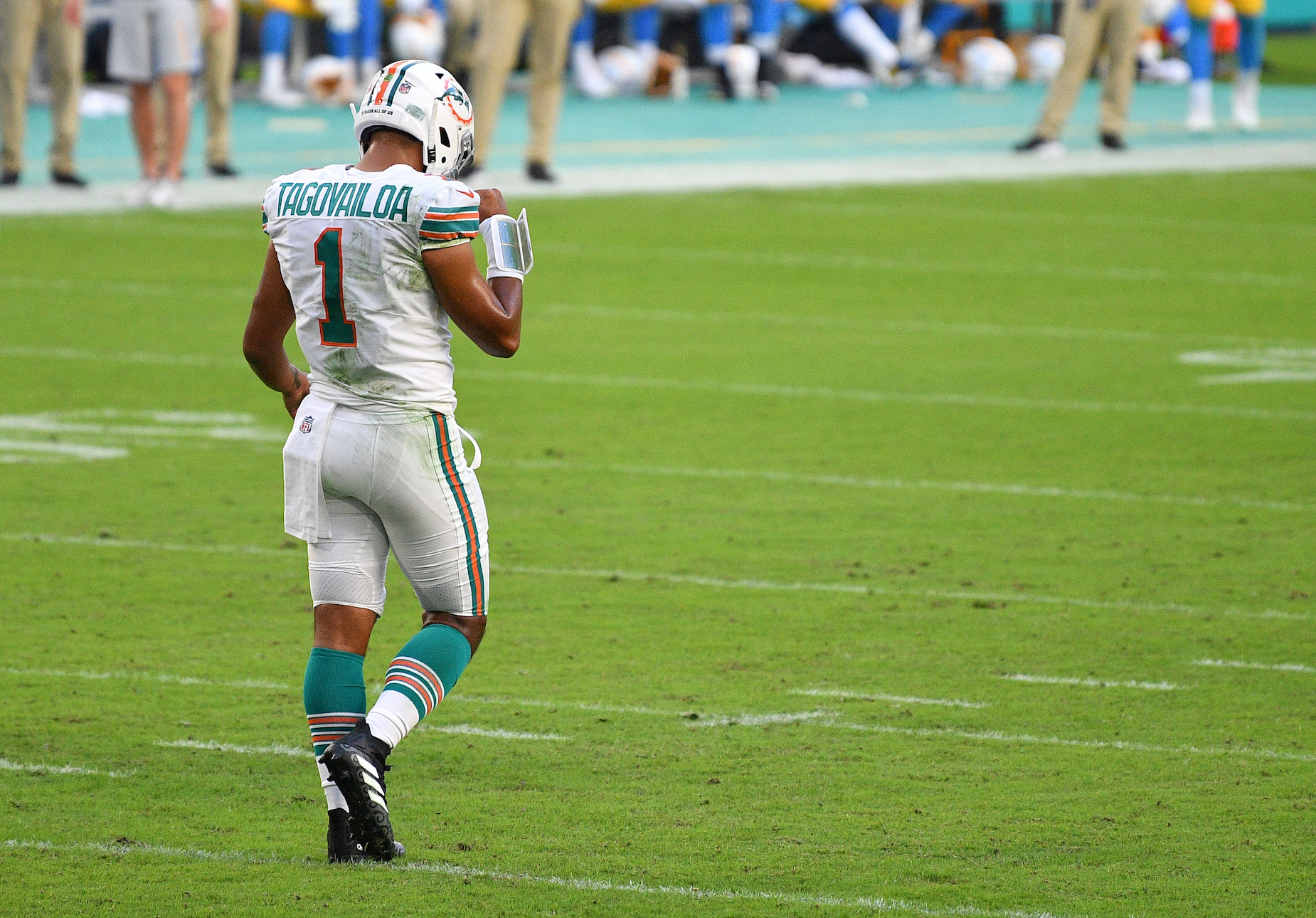 Tua Tagovailoa Almost Quit Football After the Tragic Death of His Grandfather; Now He Plays For Something Bigger Than Himself
Miami Dolphins quarterback Tua Tagovailoa almost quit football after a tragic death in the family, but kept playing for something bigger than sports.
Although he's still pretty new to the NFL scene, Tua Tagovailoa has already made quite a name for himself in the world of football. The quarterback rose to stardom at the University of Alabama; despite an awful injury, he joined the Miami Dolphins as a first-round pick and has looked good in limited appearances. If not for one key decision, though, all of that sporting success might not have happened.
When Tua Tagovailoa was a teenager, he almost quit football following the tragic death of his grandfather. He ultimately decided to remain on the gridiron but started playing for something much bigger than himself.
Tua Tagovailoa's rise to stardom
When you think of Hawaiian sports, surfing—or maybe even the Pro Bowl—probably jump to the front of your mind. The state, however, has produced some talented football players; just ask Tua Tagovailoa.
Tagovailoa made a name for himself in high school and, before long, big-time college offers started rolling in. He ultimately chose to enroll at the University of Alabama and headed to the mainland to join the Crimson Tide.
Although the quarterback didn't enter his freshman season as the starter, he still played a major role during the 2017 campaign thanks to his performance in the National Championship game. He kept hold of the starting job the following year and, while the season ended in team disappointment, Tua posted impressive individual numbers.
Come 2019, Tagovailoa was an established star, looking to put the final touches on his college campaign before going pro. In November, though, everything changed; Tagovailoa suffered a dislocated hip and posterior wall fracture, ending his season.
The quarterback almost quit football after a tragic death in the family
At this point, it's impossible to imagine Tua Tagovailoa as anything other than a football player. In high school, though, he almost left the gridiron forever.
Growing up, Tua was close to his grandfather, Seu. "At Seu's home, which the family considers 'headquarters,' he requested Tua come over after every game, no matter how late, and detail how he played," Lindsay Schnell wrote for Sports Illustrated. Papa, or Chief Tagovailoa as he was known, also "told Tua that God had destined him to be extraordinary."
Unfortunately, he never got to see that greatness arrive. Seu died in 2014 due to pneumonia.
That loss shook the young quarterback to his core. "I thought this man could never die," he explained. Without Seu around to witness his accomplishments, Tua even considered quitting football.
These days, Tua Tagovailoa plays football for something bigger than himself
Tua Tagovailoa, of course, did not stop playing football. Every time he steps on the gridiron, though, he something bigger than touchdowns on his mind.
After Seu's death, Tua and his father, Galu, decided "that the best way to honor" the family patriarch was to keep playing football. Even Tagovailoa's name, it turns out, helps to accomplish that goal.
"Galu steps in, explaining that in Samoan culture, it is a great honor to have your name known. Not because it brings attention to the individual, but because a village, and a people, are glorified as one," Schnell wrote. "Hearing his name called over the loudspeaker, our name, that would have brought him, the head of our family, so much pride,' Galu says of Seu. In an ancient Samoan tradition, the paternal grandfather names the firstborn child. So 'Tua' comes from Seu."
At this point in his career, Tua Tagovailoa is yet to become a legitimate NFL star. Whether he makes it there yet or not, though, he's already done his grandfather proud.