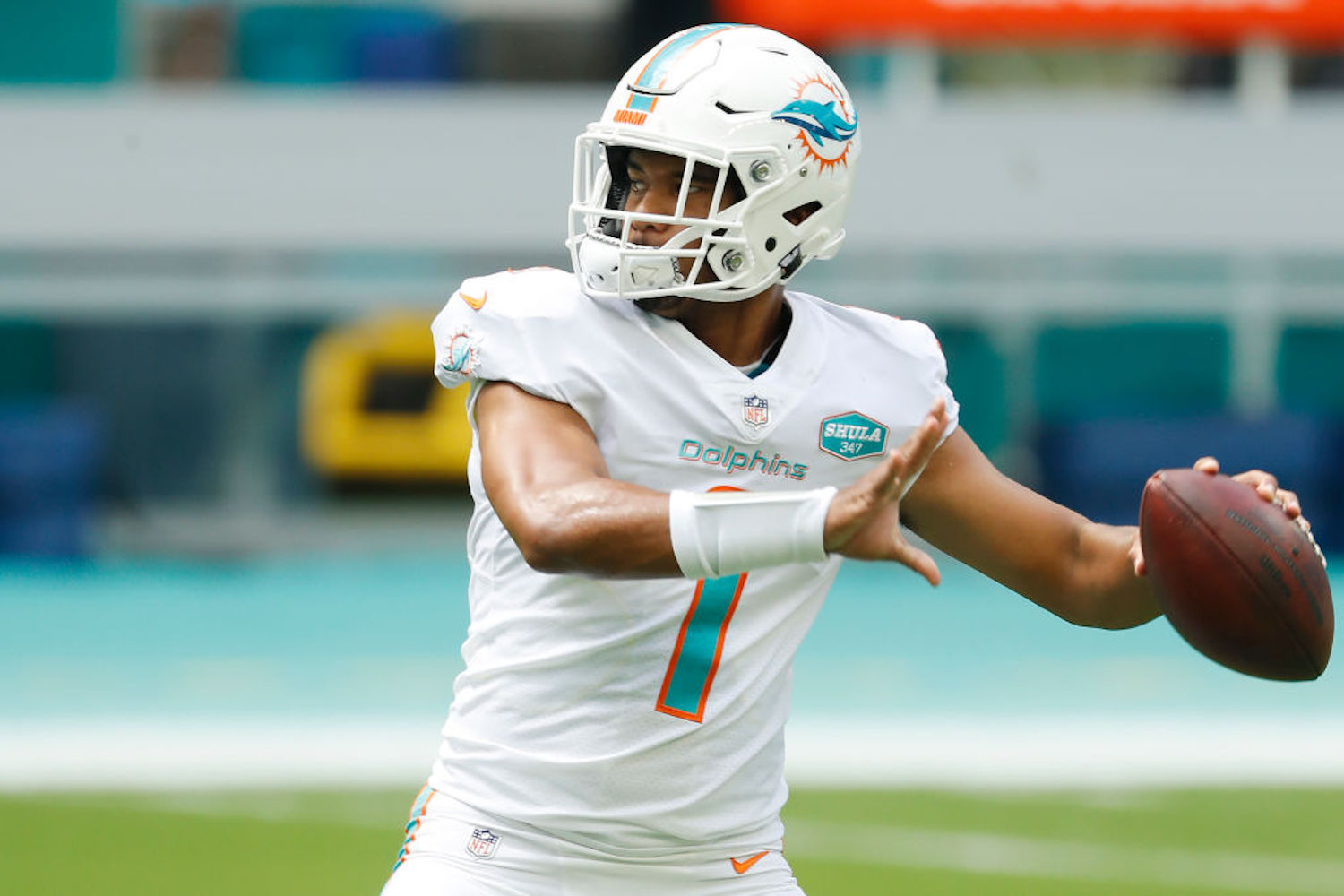 Tua Tagovailoa Hasn't Spent a Dime of His $30 Million Rookie Contract
Tua Tagovailoa knows the importance of saving money, so decided not to spend a dime of his $30 million contract and live off endorsements.
There have been too many horror stories about professional athletes blowing their fortunes and not saving properly for the future, but Tua Tagovailoa won't be the subject of the next one.
The Miami Dolphins' rookie quarterback already knows the importance of saving and investing money at a young age. Tagovailoa earned a massive $30.3 million contract after getting selected with the No. 5 overall pick in the 2020 NFL draft, but he hasn't spent a dime of that money.
Tua Tagovailoa's NFL dreams came true in April
Ever since Tagovailoa's heroics for Alabama in the 2018 national title game, NFL scouts knew he was the real deal. The lefty gunslinger won the starting job the next year and put up gaudy numbers for the Crimson Tide, solidifying himself as one of the country's top QB prospects.
Last season, a devastating hip injury raised questions about Tagovailoa's future, but he still entered the 2020 NFL draft as a presumptive top-10 pick. The Dolphins pulled the trigger at No. 5 overall to secure their next franchise quarterback, and Tagovailoa's life instantly changed.
After getting settled in Miami, Tagovailoa signed a four-year, $30.3 million rookie contract, which included a $19.5 million signing bonus. Just like that, the kid from Hawaii become a multi-millionaire.
Instead of going on a reckless spending spree to celebrate, though, Tagovailoa had a better plan for his newfound riches.
Tagovailoa doesn't plan on spending a dime of his rookie contract
Tagovailoa has clearly been paying attention to the numerous NFL players who go bankrupt in retirement because of their spending habits. He doesn't want to become another name added to that careless list, so he made a vow before signing his $30.3 million contract.
Tagovailoa told GQ that every NFL paycheck he receives will go directly into his savings. He hasn't spent a dime of his rookie contract, and he's been living off endorsement money alone.
"I'm gonna be living off of my marketing money, so the endorsement money that I get, and then everything else is just put to the side," Tagovailoa said. "So the money that I'm making from my contract, that's put to the side, so none of that's gonna be seen."
Tagovailoa has already purchased a $1.65 million mansion and multiple expensive thank-you gifts for his parents, but all of that came out of his endorsement fund.
It's refreshing to see young players like Tagovailoa possess financial intelligence instead of spending their entire paychecks on fancy cars and jewelry. The QB's family will be in great shape for years to come thanks to Tagovailoa's prudency.
It's finally Tua time in Miami
Through the first six weeks of the season, the Dolphins were paying Tagovailoa to ride the bench. The rookie played his first snaps last Sunday against the New York Jets, but he didn't get the nod to start ahead of Ryan Fitzpatrick.
Until now.
On Tuesday morning, the Dolphins announced Tagovailoa would be replacing Fitzpatrick as the starting quarterback in Miami. He will make his first NFL start on Nov. 1 against the Los Angeles Rams.
Tagovailoa will surely be celebrating the good news tonight, but he won't be touching any of his $30.3 million to do so.