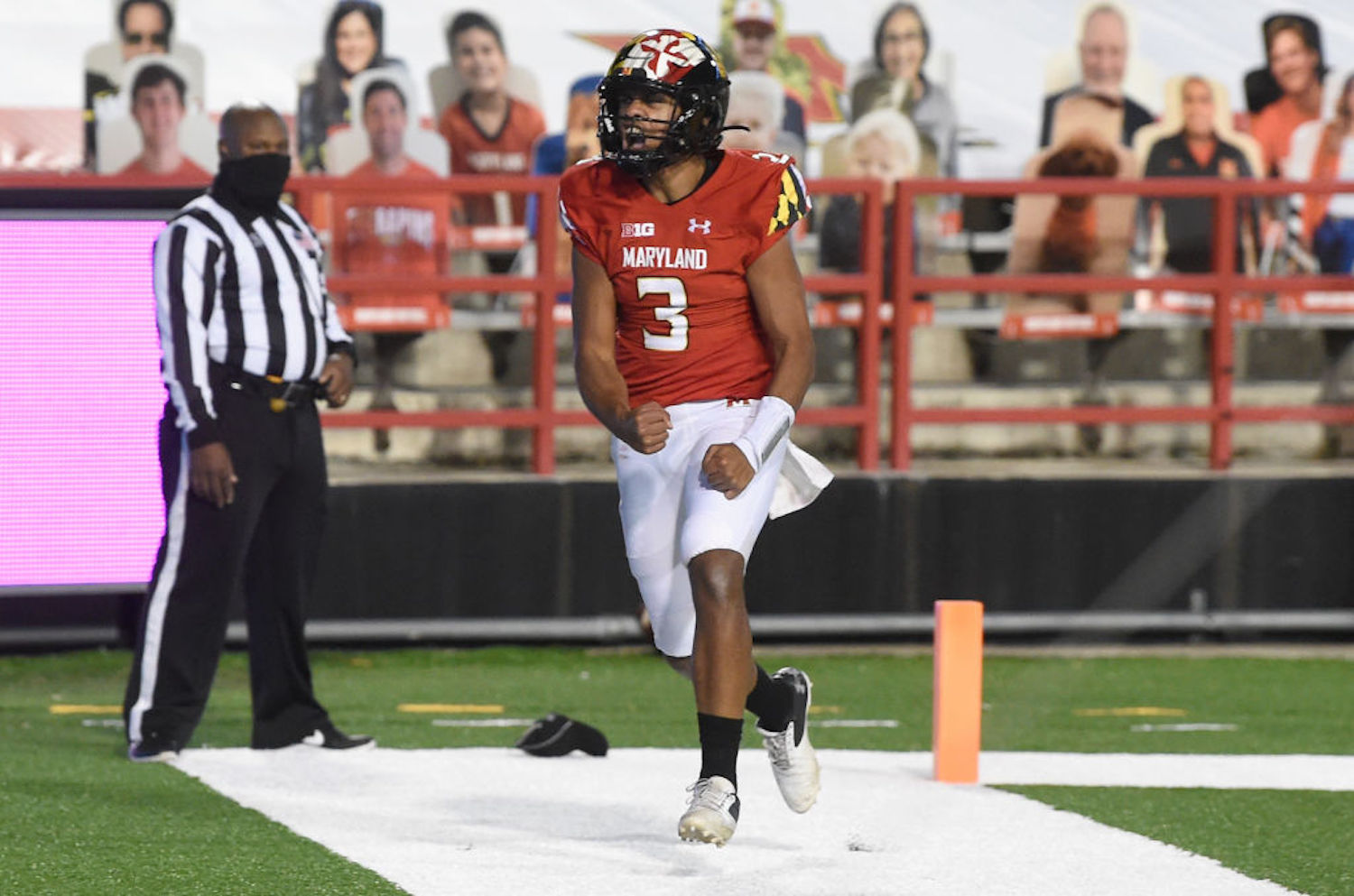 Tua Tagovailoa's Brother Taulia Is Already Making a Name for Himself at Maryland
Tua Tagovailoa is set to make his first NFL start on Sunday, but his brother Taulia is making a name for himself at Maryland.
Tua Tagovailoa was one of the biggest stars in college football at Alabama, and now he has a body double tearing up the Big Ten in his place — his brother, Taulia.
Taulia was a highly rated high school prospect just like his older brother, and he just burst onto the scene after a spectacular home debut with Maryland. He might never be as talented as Tua, but he's making his own way in college football and has dreams of reaching the NFL one day to join his brother.
Taulia was a top high school prospect like his brother
Tua stole all the headlines in the Tagovailoa household growing up. He was the No. 1 rated quarterback recruit in the country in 2017, and he earned a scholarship offer from prestigious Nick Saban and Alabama.
But waiting in the wings was his little brother, Taulia, who was impressive in his own right as a duel-threat QB growing up in Hawaii. Taulia was the No. 5 overall QB prospect in the country out of high school, and he even had better stats than Tua in high school.
Taulia threw for 14,207 yards and 135 touchdowns in four years of high school football. By comparison, Tua only threw for 8,158 yards and 84 touchdowns.
Taulia followed his older brother to Alabama in 2019, but he transferred to Maryland after one season because he wasn't going to win the starting job in year two.
Tagovailoa tore up Minnesota in his first home start
Taulia got the start in his first career game at Maryland last Saturday, but he struggled mightily against Northwestern in a 43-3 loss. But he sure turned it around in Week 2 against a talented Minnesota squad.
After getting embarrassed by Northwestern's defense last Saturday, Taulia took his anger out on the Gophers defense on Friday night. Taulia went 26/35 for 394 yards and three touchdowns. He also chipped in 64 yards and two scores on the ground.
Taulia led Maryland to a stunning upset win over Minnesota on home soil, 45-44, in overtime after the Gophers missed an extra point to tie the game. The Terrapins were 18.5-point underdogs in the game, but Taulia didn't seem to care.
Will Taulia join Tua in the NFL soon?
Taulia grew up in his brother's shadow in Hawaii. Tua was always the most talented and the most NFL-ready in the Tagovailoa family growing up, but Taulia just proved he's got some game of his own.
Taulia's high school coach, Mark Freeman, watched both players grow into the stars they are today, and he believes Taulia has plenty of potential to reach his NFL goals.
"The comparisons with Tua, I think are really unfair," Freeman told Sporting News. "I think God completed only one Tua Tagovailoa, and that doesn't mean that Taulia doesn't have strength of his own, unique to him. So I think if they can go in there, and if they offer him the same reps, I think Taulia can compete with the best of them."
As Tua gets his first NFL start this Sunday, his brother Taulia will be watching with hopes of joining him in the league one day.