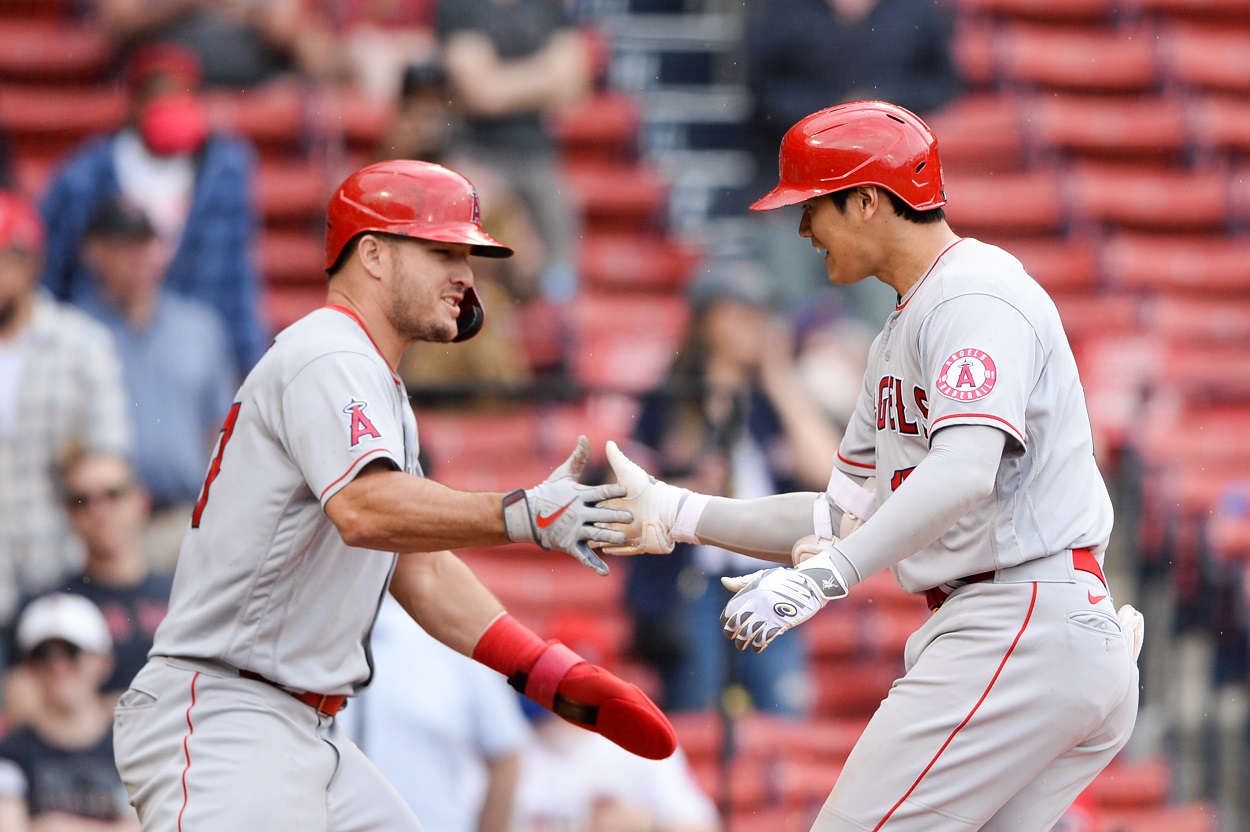 Mike Trout Perfectly Describes the Greatness of Shohei Ohtani, Who's Going to Win AL MVP in a Walk Despite Not Being in the Top 300 in MLB Salary
Mike Trout perfectly summed up the greatness of Angels teammate Shohei Ohtani, who will likely win AL MVP despite being only the 304th highest-paid player in Major League Baseball.
For the better part of a decade, Los Angeles Angels superstar Mike Trout has been the best all-around player in Major League Baseball. And, honestly, it really hasn't been all that close. However, the three-time AL MVP may not now even be the best player on his own team. Not only has Japanese sensation Shohei Ohtani been everything the Angels thought he could be when they brought him to the U.S. a few years back, he's been more.
Now, maybe it's not fair to say Ohtani is the best player in baseball, especially since Trout has been out since May with a calf injury and has only played 36 games. But Ohtani has been absolutely incredible in 2021, both at the plate and on the mound. So with Trout on the shelf, yes, Ohtani has been the best player in MLB this season.
He's essentially a lock to win AL MVP, which he should despite the fact the Angels are likely going to miss the playoffs for the seventh straight season. And Ohtani has been one hell of a bargain for LA as his salary doesn't even crack the top 300 in the league. But what makes Shohei's incredible season even better is the fact that Trout doesn't seem to care that his teammate has become the biggest thing in baseball. In fact, the nine-time All-Star recently showered praise on Shohei by perfectly summing up his greatness.
Shohei Ohtani should win AL MVP in a walk
In looking at the race for AL MVP, the only real competition Ohtani faces is from Toronto Blue Jays slugger Vladimir Guerrero Jr., who actually still has a chance to win the Triple Crown as he's in the top five in the American League in batting average (.310), home runs (36), and runs batted in (90).
But Shohei is also in the top five in two of those categories as he leads all of Major League Baseball with 41 home runs and is tied for fourth in RBIs with 89. He also leads the AL in slugging percentage (.628) and is also in the top five in all of MLB in OPS (.993).
Sure, Shohei is only hitting .266, but it's his contributions on the mound that truly set him apart from everyone else. In 19 starts for the Angels this season, Ohtani is 8-1 with a 3.00 ERA with 127 strikeouts against just 39 walks. The 27-year-old can literally do it all, which is why Trout recently described him how he did.
Trout says Ohtani is like a Little Leaguer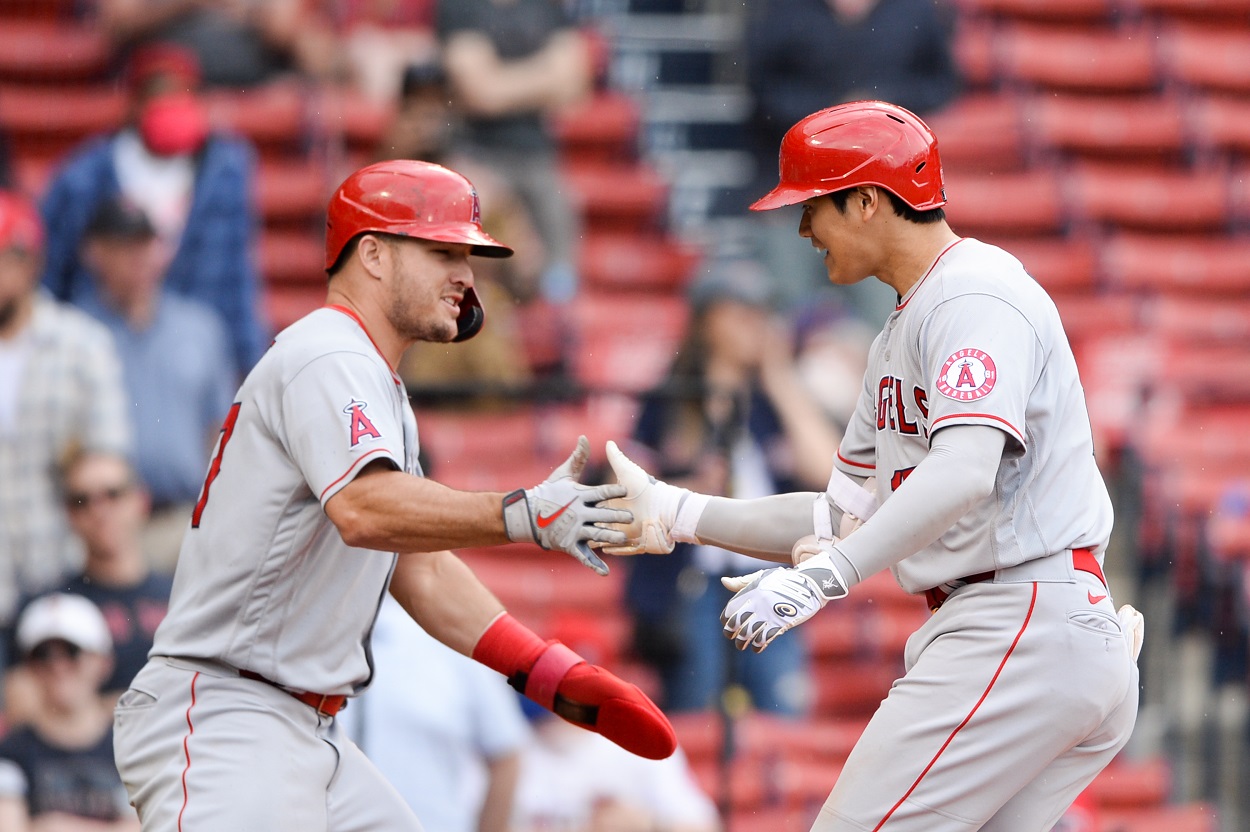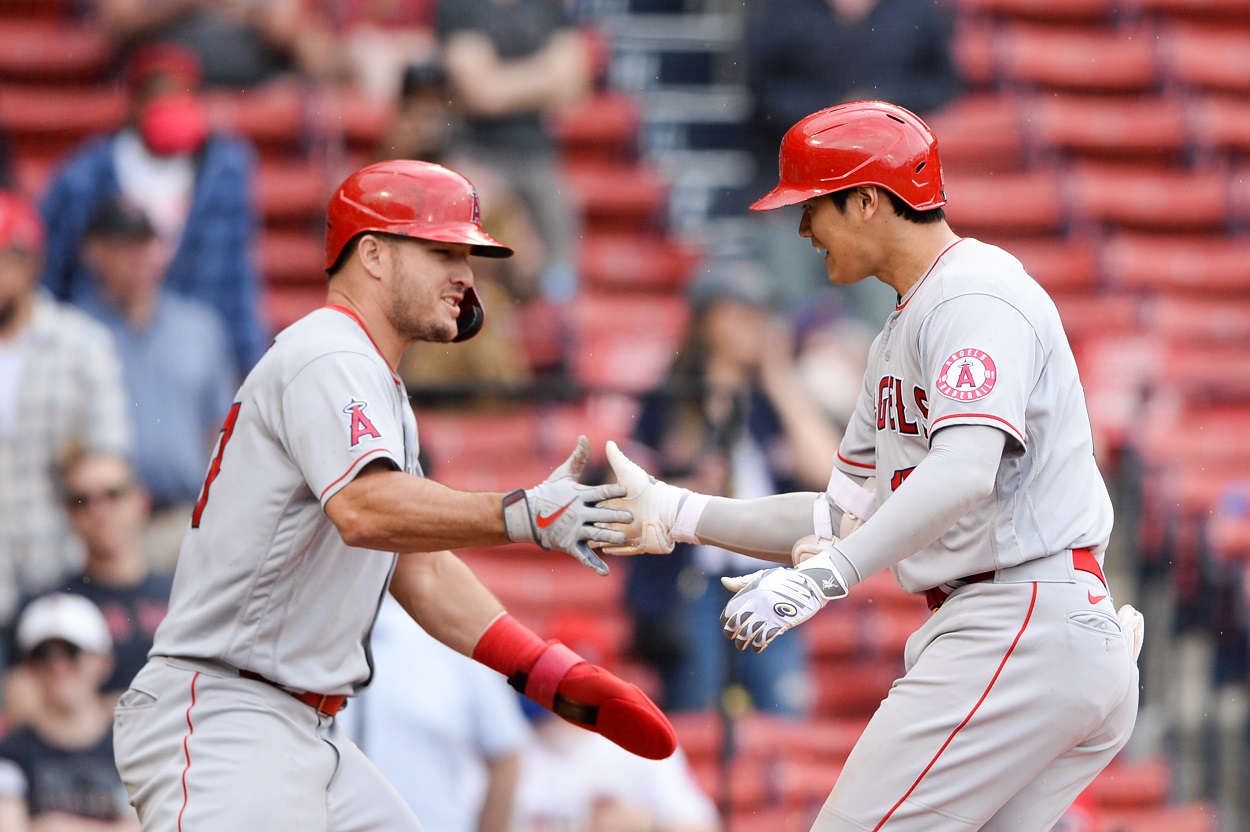 While baseball fans around the globe have marveled at what Ohtani has done with the Angels this season, Trout has been just as impressed with his teammate. He was recently asked his thoughts on Shohei's versatility and perfectly summed up Ohtani's greatness.
"It's like Little League. You got Ohtani, throw eight innings, hit a homer, go to right field. I've never seen it… It's amazing."

Mike Trout on Los Angeles Angels teammate Shohei Ohtani
That it is, Mr. Trout. But what's also amazing is that the Angles haven't had to pay Ohtani much money at all during his breakthrough campaign. Well, not much money by MLB standards anyway.
Shohei is just the 304th highest-paid player in MLB
While Trout has the highest salary in Major League Baseball in 2021 to the tune of $37,166,667, you won't find Ohtani in the top 10 in that department. Or the top 100. Or the top 200. In fact, Shohei isn't even in the top 300 in MLB salary. At an even $3 million, Ohtani is currently the 304th highest-paid player in baseball.
His salary will jump to $5.5 million in 2022 and he'll then be eligible for arbitration ahead of the 2023 season. He would then become an unrestricted free agent but it's doubtful the Angels let things get to that point before signing him to what we can only assume will be a massive extension.
Stats courtesy of Baseball Reference, Contract info courtesy of Spotrac