Where Would Padres Phenom Fernando Tatis Jr.'s New Average Salary Rank in the NFL and NBA?
22-year-old phenom Fernando Tatis is set to sign a 14-year/$340 million extension with the Padres. Where would his salary rank in the NFL and NBA?
The San Diego Padres dropped a bomb on the baseball world this week as it was reported they'll be signing 22-year-old phenom Fernando Tatis Jr. to a mammoth 14-year contract extension worth $340 million, which includes a full no-trade clause for every year of the deal.
Once finalized, the extension for the San Diego shortstop will become the largest contract in Padres history, besting the $300 million deal third baseman Manny Machado signed ahead of the 2019 MLB season.
Tatis' new deal will also set a new record as the longest MLB contract in history, beating the 13-year deals of Giancarlo Stanton and Bryce Harper, and will be the third-highest in history in terms of total value behind only the $426.5 million deal Mike Trout signed with the Angels in 2019 and the $365 million contract Mookie Betts inked with the Dodgers last July.
Tatis Jr., who is the son of 11-year veteran Fernando Tatis, who owns a little piece of MLB history himself as the only player to ever hit two grand slams in one inning, has been stellar for the Padres in his first two seasons, hitting .301 with 39 home runs and 98 runs batted in 143 games. He also performed well for San Diego this past postseason, hitting .318 with two homers and five RBIs in six games.
So we know that Tatis Jr. is now one of the highest-paid players in Major League Baseball but just for kicks, we thought we'd take a look and see where his average salary would rank him among the highest-paid players in the NFL and NBA. Come on, pitchers and catchers just reported so we don't have much baseball to write on yet.
Now, given the length and the amount of this new contract, it's likely that Fernando Tatis Jr. won't be making the exact same amount each year with deferments and bonuses and such. But for the sake of this exercise, we're just going to use the average amount of the contract, which is $24,285,714.29 per season.
Fernando Tatis Jr. would rank 23rd in Major League Baseball
Before we get to the NFL and NBA portion of things, let's take a quick look at where Fernando Tatis Jr. ranks in his own sport. As it pertains to the 2021 MLB season, Fernando Tatis' $24.285 million salary would rank 23rd.
As he should, Mike Trout leads the way for the upcoming season at $37,116,66, followed by Gerrit Cole and Jacob deGrom, who will each make $36 million in 2021. Zach Greinke, Stephen Strasburg, and Nolan Arenado will all pull in a cool $35 million.
As for Tatis Jr., his $24.285 million ranks just behind the $24.416 million that Nationals pitcher Patrick Corbin will earn this season.
The Padres star's salary would currently rank 17th in the NFL
NFL contracts are pretty much the trickiest in sports to calculate given how complex they are. There's the base salary, the signing bonus (which is sometimes deferred and sometimes not, sometimes a roster bonus, and incentive bonuses and such. So what we're going to do here is use the cap hit numbers to calculate where Fernando Tatis Jr.'s average salary would rank in the NFL.
Longtime Steelers QB Ben Roethlisberger currently tops the list at $41.25 million and is followed by fellow quarterbacks Matt Ryan ($40.91 million), Aaron Rodgers ($37.57 million), Russell Wilson ($32 million), and Kirk Cousins ($31 million).
As for Tatis Jr., his $24.285 million would currently rank 17th between Alex Smith ($24.4 million) and Fletcher Cox ($23.88 million). However, that ranking will likely be lower when the Dallas Cowboys figure out what they're going to do with Dak Prescott.
Fernando Tatis Jr.'s salary would rank 46th in the NBA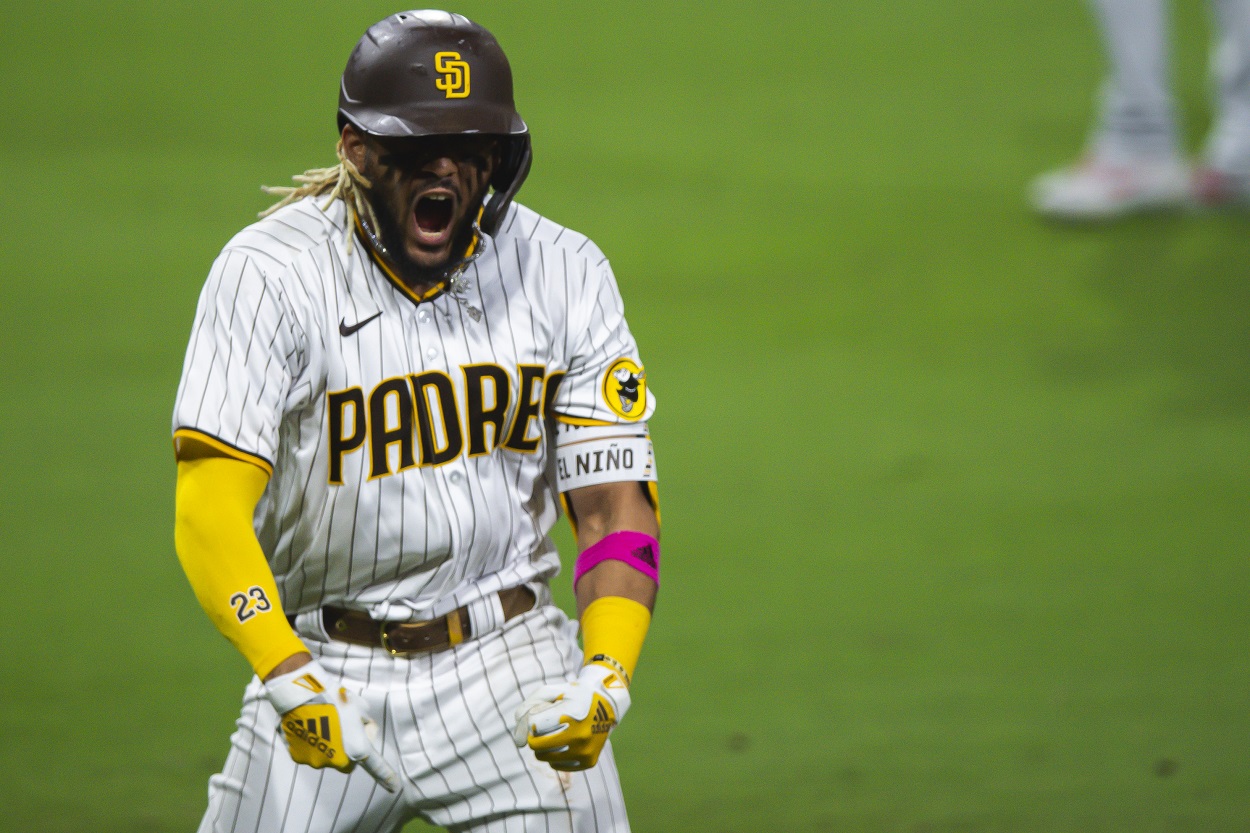 If you ever needed proof on just how inflated NBA contracts are these days, this is it. If Fernando Tatis Jr. were an NBA player making $24.285 million, he would be the 46th-highest-paid player in the league.
Looking at salaries for the 2020-2021 season, Stephen Curry leads the way at just over $43 million and is followed by Russell Westbrook and Chris Paul, who are each earning $41.358 million this year, and John Wall and James Harden, both of whom are pulling in $41.254 million.
Tatis Jr.'s salary would be sitting in between those of Sacramento Kings guard Buddy Hield ($24.7 million) and San Antonio Spurs forward LaMarcus Aldridge ($24 million).
Stats courtesy of Baseball Reference, Contract info courtesy of Spotrac