Why Jerry Jones Needs to Ditch Dak Prescott and Bring Russell Wilson to the Dallas Cowboys
Why Dallas Cowboys owner Jerry Jones needs to stop contract talks with Dak Prescott and trade for Seattle Seahawks QB Russell Wilson.
This NFL offseason is already shaping up to be quite the wild ride, especially at the quarterback position, and a name nobody thought would be involved in any of this madness just took things to an entirely different level. Of course, we're talking about apparently-disgruntled Seattle Seahawks quarterback, Russell Wilson, who made some shocking comments earlier this week that have many wondering if he's played his final game in a Seahawks uniform.
Now, it would take a lot for Seattle to give him up given the cap hit the franchise would take but if he does end up being available, Jerry Jones would be wise to bring him to the Dallas Cowboys to replace Dak Prescott.
Dak Prescott and the Dallas Cowboys still haven't come to terms on a new contract
While Jerry Jones and the Dallas Cowboys organization as a whole continue to say that Dak Prescott is the future of the franchise, there has been nothing to indicate that the two sides are anywhere close to coming to terms on a long-term extension.
This will be the third NFL offseason in which Dak and Jerry Jones will try to figure things out. But if the Cowboys don't end up bringing Russell Wilson into the mix, it's likely that Prescott will play a second straight season under the franchise tag, which will cost Jones $37.69 million, which is actually more than what he'd have to pay Wilson.
Russell Wilson would actually be cheaper than Dak Prescott
If the Dallas Cowboys and Dak Prescott do come to terms on an extension, the general consensus is that Jerry Jones would likely have to shell out around $40 million per year on average. As just mentioned, the Cowboys are going to have to pay Dak $37.69 million if they tag the two-time Pro Bowler again, which is actually more than what Russell Wilson is scheduled to make in 2021.
Wilson, who signed a four-year/$140 million extension with the Seahawks ahead of the 2019 season, carries a base salary of just $19 million for the '21 campaign but his cap number is $32 million due to the $13 million prorated cap hit from his signing bonus.
So not only would Jones not have to worry about the pesky Prescott contract situation any longer, he'd be saving millions of dollars — which he could perhaps use to help bolster a shaky Dallas defense — and would get a better quarterback. Sorry, Dak fans, but it's true. Sure, the Cowboys would likely have to give up some draft picks, which is never fun, but adding Wilson to the mix would obviously be worth it. However, there's also the possibility of a sign-and-trade, a scenario in which Dallas might not have to give up as much.
Now, Russell Wilson would have to sign off on any trade but if he truly is unhappy with the Seahawks, one wouldn't think he'd have much of a problem going to Dallas seeing as the Cowboys have a much better offensive line (when everyone's healthy anyway), which Wilson obviously wants, and plenty of weapons for him to throw to.
Russell Wilson to the Dallas Cowboys makes more sense in 2022 but Jerry Jones needs to pull the trigger now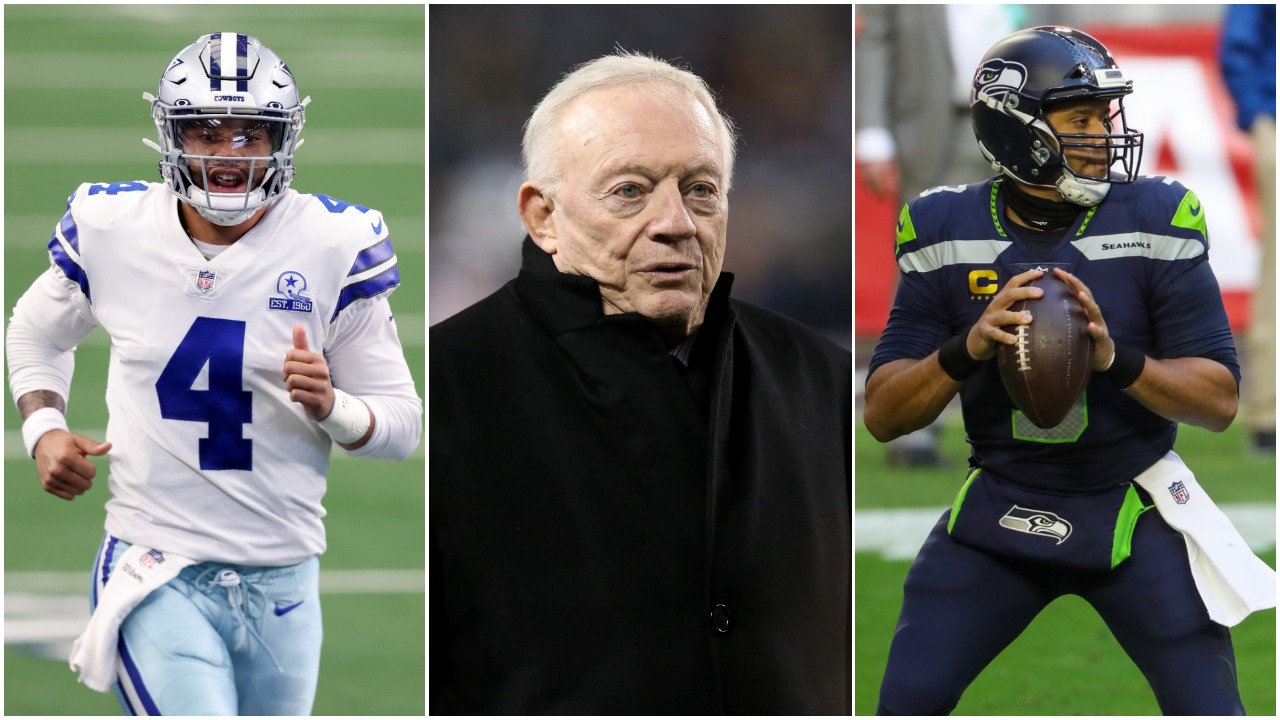 While Russell Wilson replacing Dak Prescott as the quarterback of the Dallas Cowboys in 2021 is certainly an intriguing situation, 2022 actually might make a little more sense.
If Prescott stays in Dallas and plays a second year on the tag, there's no way there would be a third tag as Jerry Jones would have to pay him more than $54 million in 2022 and that's just not going to happen. And it's interesting to note that there will no longer be any guaranteed money on Wilson's deal after this upcoming season.
But could 2022 be too late for the Cowboys? Sure, there's a strong chance that the Seattle Seahawks don't trade Wilson anywhere. But then what if they do?
Jones just needs to go ahead and pull the trigger now. If he's truly invested in getting the Dallas Cowboys back to the Super Bowl for the first time in more than a quarter-century, which he keeps saying he is, he needs to ditch Dak Prescott and bring in Russell Wilson. It's not that Dak isn't a good quarterback as he certainly has a lot of talent. But, plain and simple, he's not Wilson.
Any offseason in Big D is always entertaining and things just got a lot more interesting.
Contract information courtesy of Spotrac