Vladimir Guerrero Jr. Just Accomplished Something His Hall-of-Fame Father Never Did in 16 MLB Seasons
Vladimir Guerrero had a Hall-of-Fame MLB career that included 449 home runs, 1,496 RBIs, nine All-Star appearances, and an AL MVP award. His legendary baseball resume is one that will be hard to replicate for his son, Vladimir Guerrero Jr. But just three years into his MLB career, Vlad Jr. already accomplished something Tuesday night that his father never did.
Vladimir Guerrero Jr. is following in his father's footsteps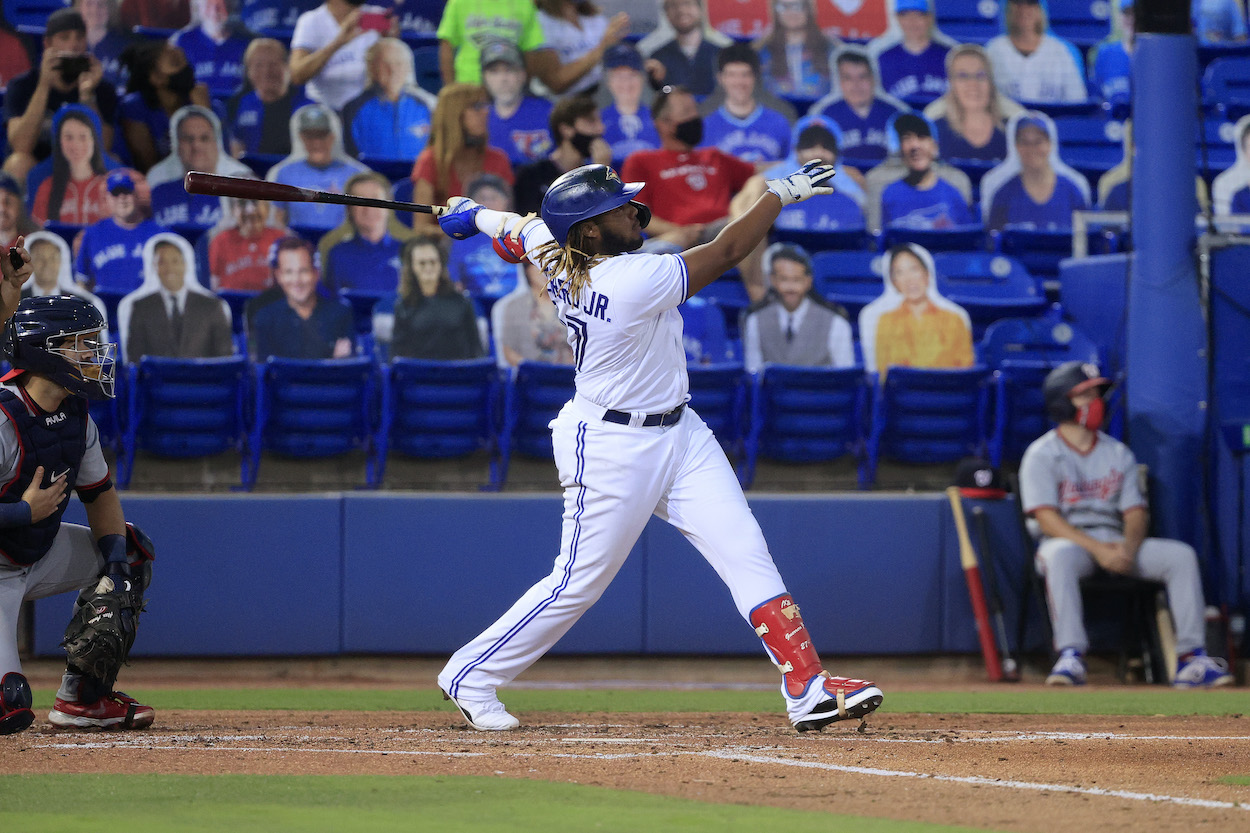 Bobby and Barry Bonds. Ken Griffey and Ken Griffey Jr. Felipe and Moises Alou. The MLB is a family affair for many father-son duos, and Vladimir and Vlad Jr. are the next in line.
Vladimir had a spectacular MLB career that spanned 16 seasons. He's considered one of the most feared hitters of the last two decades, as he smashed nearly 450 home runs and batted .318 over the course of his career. Pitchers were so afraid of pitching to Guerrero that he racked up 250 intentional walks in the MLB. He led the league in intentional walks in five different seasons.
Eight years after Vladimir played his final game in the MLB, his son, Vlad Jr. played his first. As a rookie in 2019, Vlad Jr. batted .272, hit 15 home runs, and drove in 69 runs for the Toronto Blue Jays. He finished the season sixth in the Rookie of the Year voting.
During last year's shortened season, Vlad Jr. hit nine more homers and recorded 33 RBIs in 60 games played. A month into his third season in the MLB, Vlad Jr. is already having his best year as a pro.
Through 22 games played this year, Vlad Jr. is hitting .360 with a league-leading seven home runs and 19 RBIs. His on-base percentage (.484), slugging percentage (.693), and OPS (1.177) are all career-bests for the 22-year-old.
And on Tuesday night, he made history.
Vladimir Jr. just accomplished something his father never did
Vladimir had a Hall-of-Fame career in the MLB. It would be unfair to place those lofty expectations on his son this early into his own professional career. But it only took Vlad Jr. 205 games to accomplish something his father couldn't do in 2,147.
On Tuesday night, Vlad Jr. belted three home runs, including a third-inning grand slam, against the Washington Nationals. By doing so, he became the youngest player in MLB history to have a three-homer, seven-RBI game, per ESPN Stats and Info.
Vladimir never had a three-home run game in his entire MLB career.
But the Montreal Expos legend wasn't jealous of his son getting the best of him. He was the proudest dad on Twitter Tuesday night.
Vladimir celebrates his son's big night on Twitter
During last night's Blue Jays game, Vladimir, as he often does, started live-tweeting his son's performance from his official Twitter account. He sent out the eyes emoji when Vlad Jr. blasted a grand slam off Max Scherzer in the third inning. Then, after his son's second dinger, Vladimir wrote, "Yes, another one" with two flame emojis.
After the game, Vladimir tweeted, "Tremenda noche para mi niño. Los frutos de tantos trabajos se están viendo," which translates roughly to, "Tremendous night for my boy. The fruits of so much work are being seen."
All stats courtesy of Baseball Reference