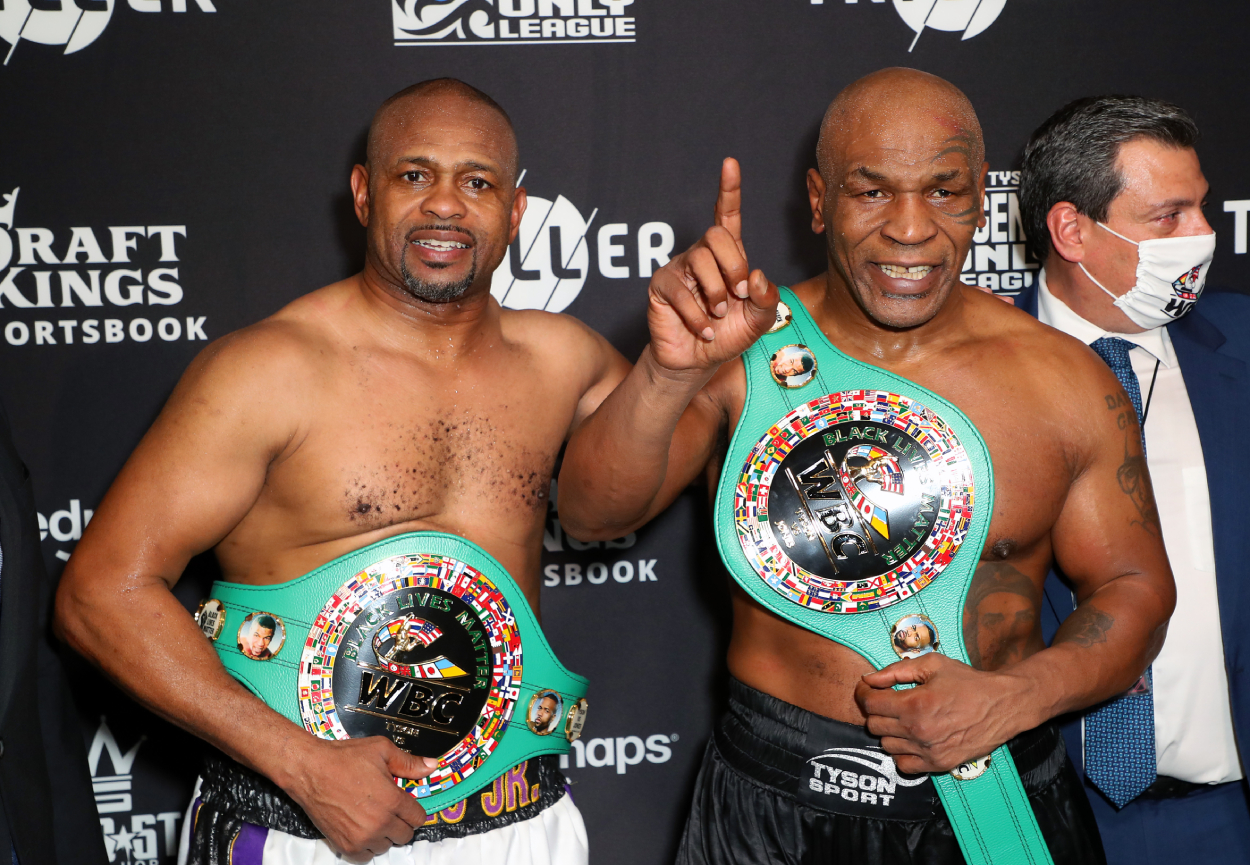 Mike Tyson Says He'll Fight Jake Paul to Break the PPV Record: 'Let's Do It, Jakey'
For the right price, Mike Tyson would get back into the boxing ring.
Mike Tyson back in the ring? For the right price, he said he'll do it. During an episode of his podcast Hotboxin' With Mike Tyson, special guest Joe Rogan and Tyson spoke about the last time the former heavyweight champion stepped into the boxing ring.
That was back in November 2020. Rogan asked if he'd step back in the ring again, perhaps against YouTuber Jake Paul. For the right price, Tyson said he'd definitely get back in the ring.
Mike Tyson never second-guessed himself preparing for the Roy Jones Jr. fight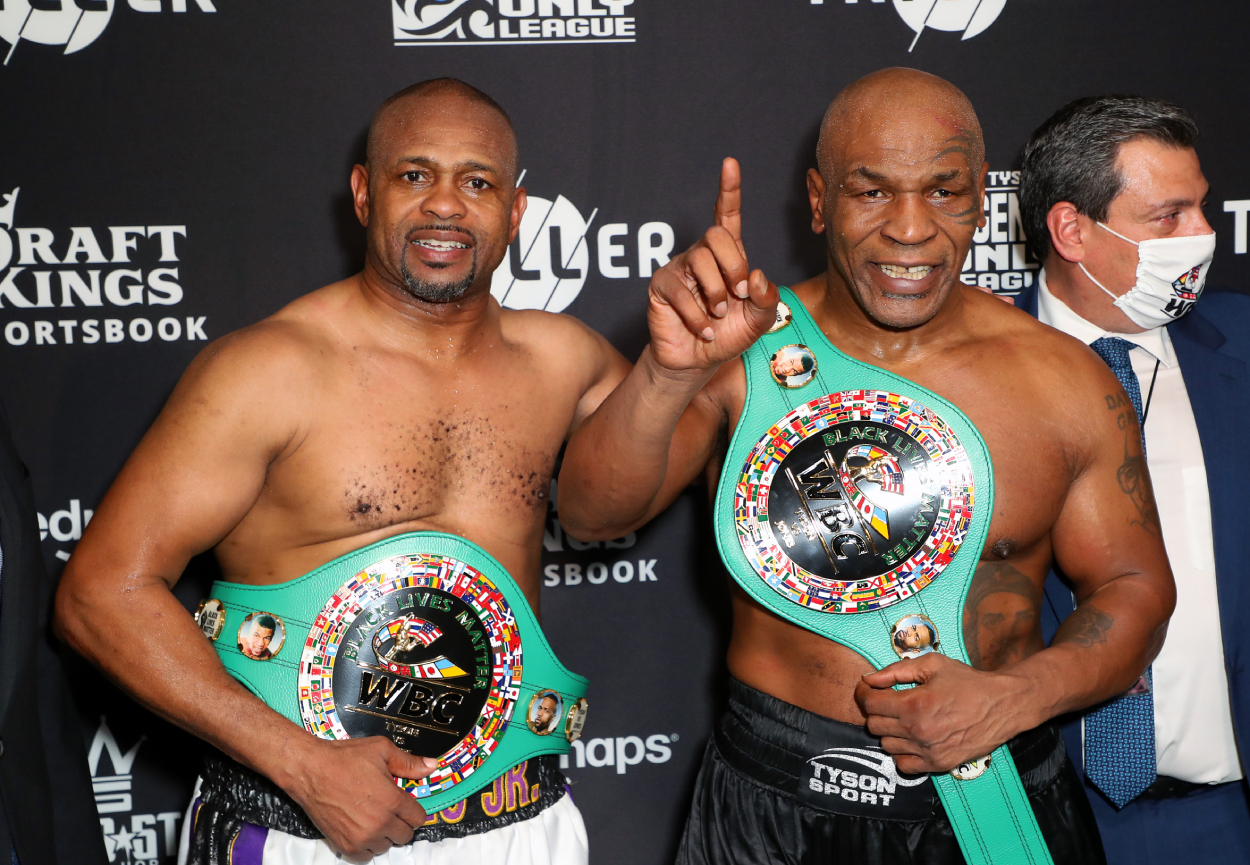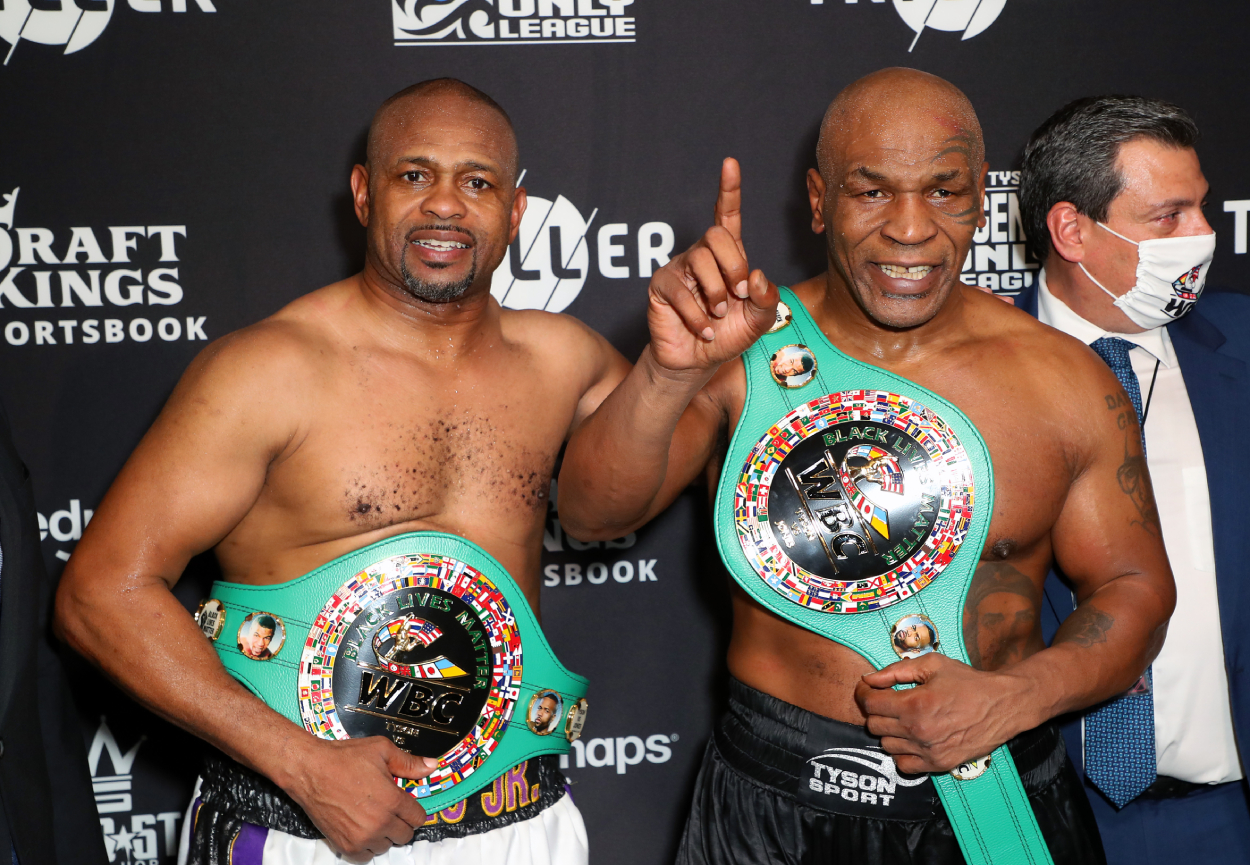 Tyson's return to the ring against Roy Jones Jr. was as hyped-up as any of his previous fights. After all, he was a 54-year-old boxer who hadn't fought professionally since 2005. His opponent was a 51-year-old former champion. There was hype and intrigue. Some thought there might be doubt on Tyson's part. He told Rogan that wasn't the case, although he said nerves gt the best of him.
"Very scary, very apprehensive," Tyson said. "It was pretty weird. It went faster than I thought it would go. I was really nervous. I'm always calm in the ring, but I was actually nervous.
"This is interesting. The first day I was sparring, this young guy just pow, wow (hit me hard), and I never once said, 'what the f*** am I doing here?' I was getting shellacked, and I got the s*** kicked out of me. I started sparring with these you guys, and they started kicking the s*** out of me.
"Hit them with some shots, and they didn't move. That put it in perspective. I had to run, train, and fight. The other guy who kicked my ass, I said to make sure that I spar the same guy because I'm not going to let him get away with kicking my ass."
Mike Tyson said he would fight Jake Paul to break the PPV record
Paul always throws his name around when it comes to fighting. He's 5-0 in his matches, winning four by knockout. There has been a lot of talk of him getting into the ring with Tyson, but nothing has ever materialized. Rogan asked Tyson about the possibility of getting into the ring with Paul.
"Jake Paul, believe it or not, is more profitable than the champs," Tyson said on his Hotboxin' With Mike Tyson podcast. "This guy probably brings like 80 million people to the table."
Rogan said he believes a pay-per-view fight between Tyson ad Paul would draw big numbers. The biggest PPV fight ever is Floyd Mayweather vs. Manny Pacquiao in 2015. That bout sold 4.6 million PPVs.
Co-host Sebastian Joseph-Day asked Tyson if he would do it.
"Only to break the record," Tyson said.
Rogan said Mayweather/Pacquiao was big, but Paul fighting one of the greatest heavyweights ever would be massive.
"I love that," Tyson said. "That sounds good. Let's do it, Jakey. God, wouldn't that be cool?"
Tyson said he's more worried about Paul outside the ring
Rogan kept pushing for the fight. He built it up, saying many people would love to see Tyson knock Paul's block off. He did say that Paul is no slouch in the ring.
Tyson said he's worried about Paul, but not about what he can do inside the ring.
"Know what I worry about?" Tyson asked. "I worry about him getting in trouble before the fight happens. "I'd tell him, 'Hey man, you're going to go to jail for real, chill out.' You can be wild without going to jail."
It sounds like Tyson is willing to make it happen if the money is right.
Then again, this Hotboxin' podcast was billed as a special 4/20 episode, so we'll always be left wondering if Tyson even remembers what he said.