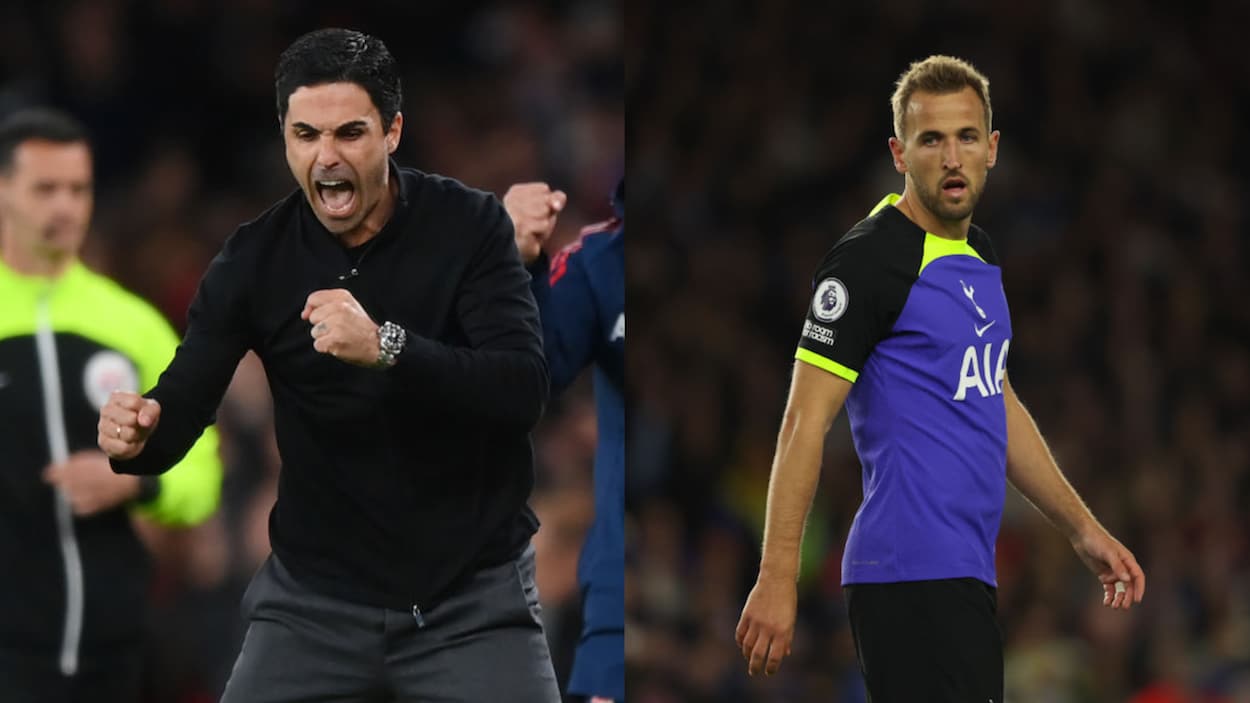 Mikel Arteta, Tottenham Hotspur, and the Winners and Losers of Premier League Matchday 10
With Premier League Matchday 10 in the books, let's break down the shining stars and biggest flops of this weekend's action.
After a bit of stop and start period, Premier League soccer is flowing thick and fast. Last weekend, we saw some major derbies and plenty of fireworks, which took us into a full slate of weekday European soccer matches. Then we returned to England for Matchday 10; things might have been less exciting on paper, barring Arsenal hosting Liverpool, but there was still a good deal of action to break down.
So, whether you watched every match and want to relive the weekend or are hoping to catch up on what you missed, let's look at the winners and losers from Premier League Matchday 10.
Winner: Mikel Arteta
In fairness, there was some tight competition for this spot. Bukayo Saka and Gabriel Martinelli had legitimate claims for it, but I ultimately gave the nod to Mikel Arteta as something of a catch-all.
After losing to Manchester United, Arsenal needed to prove two things: that they could rebound and avoid one slip turning into a losing streak and that they could beat the big teams. The Gunners did that with flying colors by quickly dispatching Brentford, then overcoming both Tottenham and Liverpool.
In regards to the manager himself, all of his work seems to be coming together. The team is playing with confidence, competence, and cohesion. The supporters are seeing the project come together and are, well, supportive. Tactical tweaks, like starting the right-footed Takehiro Tomiyasu at left-back to neutralize Mohamed Salah, are paying dividends.
And, on the subject of Martinelli and Saka, consider this from Arteta's time at Manchester City. There, the Spaniard worked with Raheem Sterling and Leroy Sane, helping them maximize their talents within Pep Guardiola's system. The two Arsenal wingers, it seems, could be reaping the rewards of similar tutelage.
Loser: Trent Alexander-Arnold
Before getting any further, I wanted to acknowledge that Trent Alexander-Arnold is a tricky player to analyze and assess. Everyone has different feelings about how you balance his offensive output with his defensive struggles. Even TAA's most hardcore supporters, however, can admit that he's been going through a tough stretch.
This season, the right-back had taken most of the blame for Liverpool's defensive struggles. Jurgen Klopp tried to mitigate things by pulling Trent into something of a back three in possession. Against Arsenal, though, that didn't help.
Beyond that, the Liverpool defender also suffered a nasty kick to the ankle and had to be substituted off at halftime. Whether you believe the official line that it was due to an injury or think that Klopp was simply taking him out of the firing line, it's not ideal either way. Alexander-Arnold is out of form, struggling, and already losing his grasp on a role with the English national team. Now he's either hurt or playing so poorly that he had to be hooked for his own protection.
Winner: Antony
When he arrived from the Netherlands, there were questions about his scoring record and ability to handle his defensive workload. Thus far, though, the Brazilian has answered the questions.
Antony scored on Sunday as United dispatched Everton, making him the first Red Devil to score in his first three Premier League matches. While that's a neat piece of history, I'm more interested in his overall play and the implications than an unsustainable streak.
Even if Manchester United's brass are prepared to be patient, manager Erik ten Hag needs to establish credibility and show he's the right man for the job. There's no better way to do that than 1) winning games and 2) having the players you advocated for succeed. Antony is helping accomplish both of those.
Will the Brazilian winger come back to earth? Yes. Is he suggesting that he can be a solid contributor, if not an outright star, in England? Yes.
Loser: Leicester City
While I usually try to pick the names on this list from the bigger teams, Leicester warranted a special mention. Last weekend, the Foxes secured a big win, providing the faintest glimmer of hope that they could find some form. How did they follow that up? The squad laid a collective egg and lost 2-1 to Bournemouth.
Beyond their form — Leicester sits 19th in the table with four points through nine games — it's not clear who can turn things around. There are some nice players in the squad, like James Maddison, Harvey Barnes, and Youri Tielemans, but none of them are exactly game-breakers. The same can be said of the dugout. Brendan Rodgers has overseen some successes, but he seems to be trapped in limbo, unable to improve the results but too established (or expensive) to be sacked.
That all combines to create an ugly situation with no clear solution. Short of replacing Rodgers, getting 11 men behind the ball, and hoping to grind out some ugly results, Leicester don't seem to have many options left.
Winner: Tottenham Hotspur
After a tough week, which included a defeat in the North London Derby, a tough trip to Germany, and the death of fitness coach Gian Piero Ventrone, it would have been understandable if Spurs struggled during a visit to Brighton. And while the game wasn't exactly an instant classic, the North London club did enough to earn a 1-0 win, keeping them in third place in the table.
While there could be some red flags cropping up (we'll get to that shortly), Spurs have been getting points in the metaphorical bank during the opening quarter of the season. In an unusual campaign, which will feature a crowded schedule and a midseason World Cup, those points could be invaluable. Whether you're looking at things from a positive perspective — Manchester City and Arsenal could slip up, so you want to be close to the top of the table — or a more negative one — If Harry Kane starts to flag after playing every minute for England, you want a buffer to withstand some dropped points — no one will ever complain about winning matches.
Loser: Tottenham Hotspur
As I just wrote, you can't argue with Tottenham's results this season. With that being said, though, there are some potential issues on the horizon.
While Antonio Conte has always been a defensive manager, Spurs' play hasn't exactly looked like vintage Conte. They don't have the defensive stability of some of the Italian's best teams, conceding 10.3 expected goals against across their 10 Premier League matches, which is tied for the seventh-best in the division. Their offensive numbers are a bit better (13.9 expected goals, ranking fifth), but neither metric is exactly dominant. It's one thing to sacrifice offense to be a lock-down defensive team, but Spurs are looking a bit too leaky to justify their passivity.
Beyond that, Spurs are playing a game of incredibly tight margins. Coming out of the North London Derby, the narrative was that a few accurate passes could have changed the game. When you sit back and try to take advantage of opposition mistakes, though, you're willingly limiting yourself to those chances. This past weekend's win against Brighton showed the other side of the coin. Spurs converted their chance and won the game but didn't exactly dominate; a single slip, deflection, or other bad break could have turned a win into a draw.
As I mentioned in the previous Spurs section, winning can paper over a lot of cracks, and it's tough to complain when you're getting three points. And while there's some merit to finding ways to win without playing well, you eventually have to start playing well.
Can Tottenham be a top-four team this year and make a respectable run in the cups? Yes, but they're leaving a lot to chance by failing to press home their advantages.
Like Sportscasting on Facebook. Follow us on Twitter @sportscasting19 and subscribe to our YouTube channel.